What to do when you don't know what to do? Usually, I head over to one of my favorite trusty websites, the Florida Rambler and Authentic Florida, to come up with something to do on the weekend. And so it was the other weekend. We were in dire need of a new place to check out, that didn't entail a 2-3 hour drive. After scanning the Florida Rambler website and reading about the great snorkeling at Phil Foster Park, we decided to give it a go.
Where And What Is Phil Foster Park?
A little over an hour away from us here in Fort Lauderdale, Phil Foster Park is in Riviera Beach (900 E. Blue Heron Boulevard), just north of Peanut Island. Curious fact: it is situated underneath a bridge called Blue Heron Bridge. Phil Foster Park has a beach, play-ground and a boat ramp as well as a little fishing pier, and of course a great snorkel park!
It pays to get to the Park early, as parking is very limited and fills up quickly. We were lucky to get one of the last parking spaces on a Sunday late morning. As we were leaving in the mid-afternoon, there was a distinct air of parking mayhem about the place. Drivers were desperately trying to find parking, many waiting in the car park or circling endlessly. This park sure is pretty popular, I imagine not least because it's free.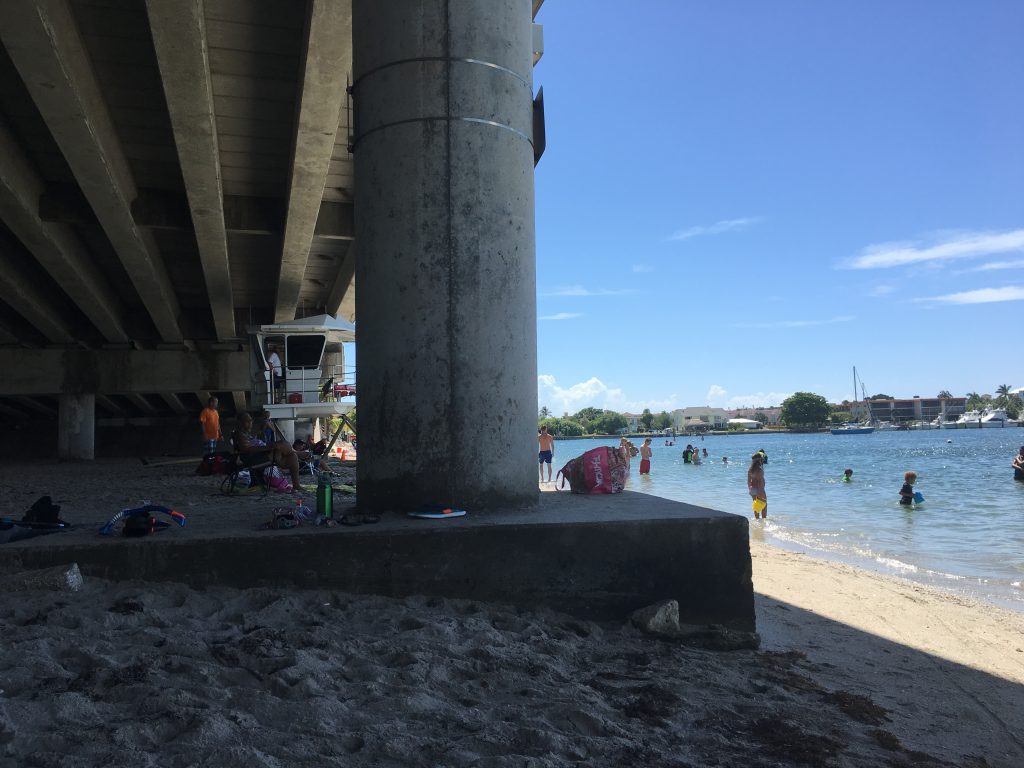 Shady
A definite bonus on hot summer days: most of the park is shaded by the bridge overhead. No need to bring your own shade in form of a beach umbrella, and no need to frazzle. Interestingly, even on an extremely hot July day, I felt positively chilled (and almost a bit too chilly) under the bridge. Pretty unusual for Florida in July and I hadn't felt 'chilly' outside anywhere for at least three months prior. Even the water felt cool!  In fact, the whole place felt like it was naturally air conditioned which makes it a pretty perfect summer expedition. I had to get up and stand in the sunshine for a couple of minutes every now and then! Definitely a 'cool' place to go in the summer for many reasons. It is also ideal for families with children who can play in the sand and even water, all within the shade of the bridge.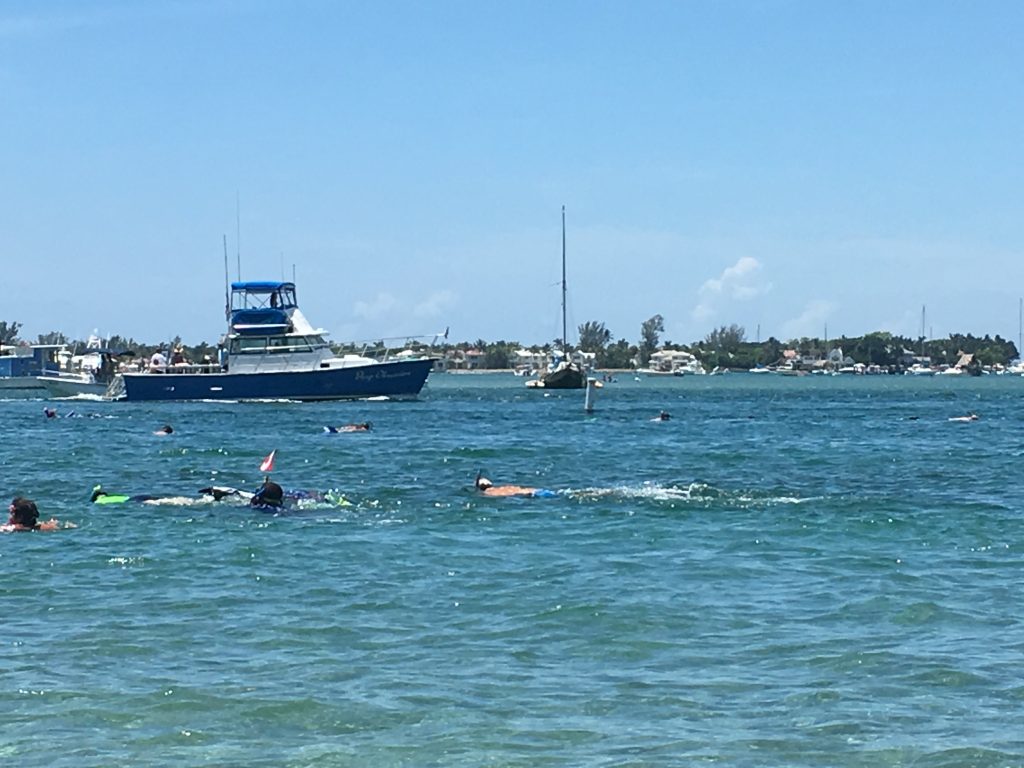 Snorkeling
There is a nice and safe guarded swimming area, which gets a little busy on the weekends, and then there is of course the snorkel park. If you have ever snorkeled at Peanut Island, you will know that this area is pretty much as good as beach snorkeling gets. This also applies to Phil Foster Park. What makes it really special is the 'snorkel trail' which consists of man made structures/artifical reefs, including three hammerhead statues, in relatively shallow water.
If you are a wimp like me, you will be fine and find that Phil Foster's snorkel trail is ideal for beginner snorkelers and divers. We also discovered that it is pretty well used. The trail was completed in 2013 and is around 800 foot long and only about 200 feet offshore. As well as the man-made reef of boulders and rock piles, there are other structures predating the artificial reef, such as shopping carts and a sunken boat. Unfortunately, I was not really up to snorkeling on the day we went, but found that swimming was pretty good there too. In fact, I saw plenty of fish just walking around and swimming around, especially close to the bridge pilings.
My husband disappeared for about an hour and came back with lots of GoPro footage (I might add a video to this post later). The footage served as evidence that he missed the main snorkel trail, something that was mentioned in the Florida Rambler article too – it is not all that easy to find. Nevertheless, he saw some structures (the shopping carts and sunken boat), and plenty of tropical fish. Well, we now have a great reason to come back to Phil Foster!
Oh, and this is what we came back with:

When is the best time to go snorkeling and what can you expect to see there?
I did a little research on this and apparently the consensus was that the best snorkeling time would be around half an hour before and after high tide. We could confirm that, for sure as the tide was falling and definitely at low tide, the water was starting to get pretty murky. We have noticed this also at nearby Peanut Island, where snorkeling conditions can really deteriorate depending on the current and tide. It can be crystal clear one moment and pretty silty the next. Therefore, it might make sense to time your snorkeling time or dive time with the tide.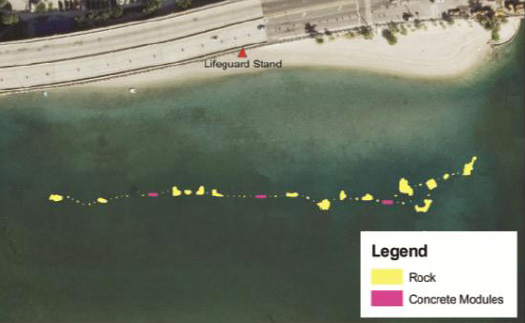 Snorkel Trail
(image courtesy of www.palmbeachillustrated.com)
The Blue Heron Bridge is well known for its abundance of marine life. We saw plenty of snappers, a couple of sheepshead, lots of needlefish, a huge cushion starfish and even a cute pufferfish. As per usual there were lots of little tropical looking fish we could not identify. Apparently, so we have heard, it is not uncommon to see squid, octopus and spotted rays.
Like I said above, it is pretty easy to miss the snorkeling trail and spend the whole day happily snorkeling around it – and we missed most of it too, despite coming prepared. It will help to print out this map: philfostersnorkeltrail
All in all this makes for a really nice and relaxing day out, I can highly recommend it and the fact that the park is totally free is a great bonus!
Have you been? What creatures have you seen snorkeling or diving the trail? Let's connect!