While we were 'up there' in the Suwannee River area, we wanted to spend some time exploring Cedar Key. Cedar Key is situated on the Gulf Coast, just over an hour's drive south-west of Gainesville on US24, and if you happen to be going north-south, it will be a short drive off US98 turning west onto US24 at Otter Creek.
1. Cedar Key Is Beautiful And Easy To Explore On Foot
Ok, I gave it away in the title. Why should you visit Cedar Key? For one, it is hard to come by charming places that exude 'Old Florida' romantic fishing village better than Cedar Key.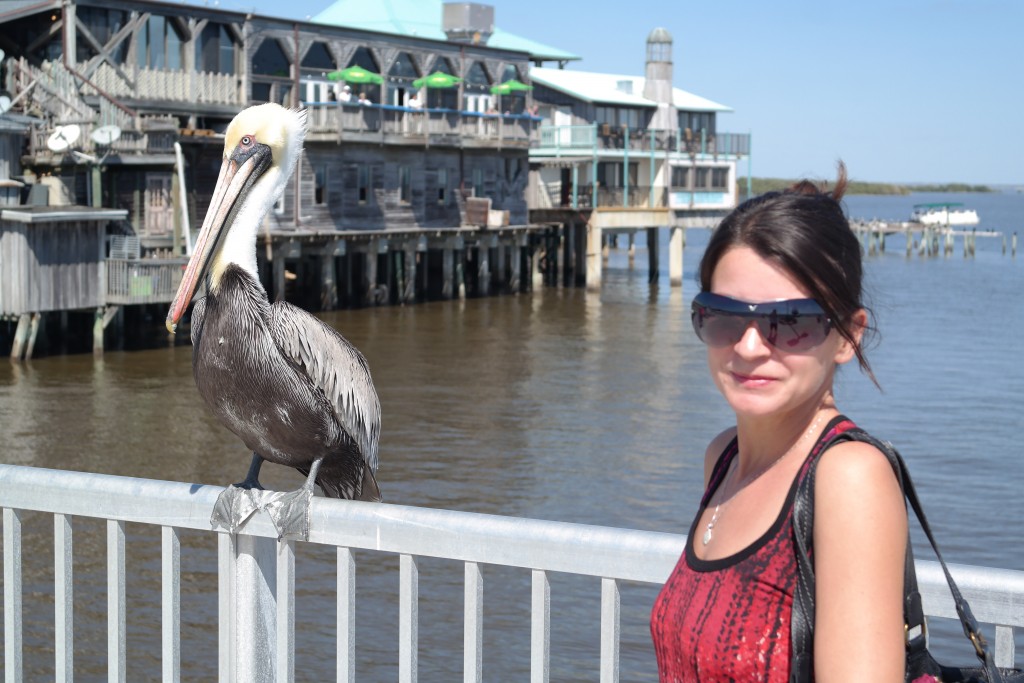 Cedar Key Is Beautiful And So Are Some Of The Locals
Cedar Key, in Levy County, is a sleepy little place with only about 700 inhabitants, according to the 2010 census. It is named after – you guessed it – the Cedar tree, specifically the Eastern Red Cedar, which once grew abundantly in the area.
Cedar Key is very easy to explore on foot, and first of all, you will probably be drawn into the pier area. We headed straight there, having seen the wooden buildings on stilts on many images of the town. The little pier jutting out of Central Street was our first stop.
Here, you can see the locals fishing and are presented with a fantastic view over the bay, the Gulf of Mexico, and the islands close-by. The pier also provides the visitor with a great photo opportunity to capture the close-by properties on stilts (mainly bars/restaurants and stores). We spent quite some time there, taking pictures and discussing which place we want to try for some food. It was also a lot of fun taking close-ups of a cheeky pelican!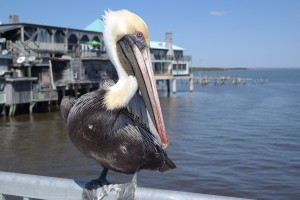 Pelican Hoping For Scraps
Cedar Key has some very good seafood restaurants which are worth trying. Check them out here. After refreshing ourselves with some food and cold drinks at one of the places opposite the pier on central street, it was time for some exploring. We only had an afternoon, having stopped off at Devil's Den spring in the morning. If you don't have much time, an afternoon or a morning is certainly sufficient to take in some the beauty and charm of Cedar Key. However, if you want to check out the entire Cedar Key and make a little trip out to the Cedar Key Museum And State Park, I would definitely recommend planning to spend a whole day in the area.
After checking out the pier area and central street, we had a great time just walking around the streets of Cedar Key and looking at the fabulous historic buildings and architecture.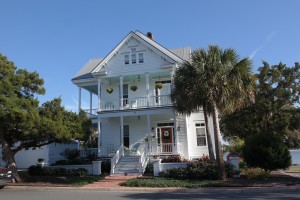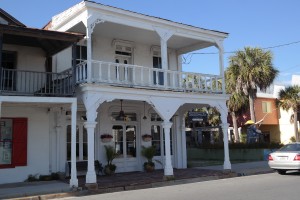 Cedar Key – Full Of Beautiful Historic Buildings
2. Cedar Key Is Full Of History
The Cedar Key area was first permanently occupied in 1839 (if one excludes native American occupation periods which began as far back as 500BC), when it started as a Fort during the Second Seminole War. It was known as 'Fort No. 4' and became the headquarters of the Army of the South under General Zachary Taylor.
In 1842, the Army base was abandoned, the Seminoles left the area and it became available for civilian settlement.
Cedar Key quickly rose to become an important port dealing in lumber and naval stores harvested on the mainland, for example shipping cedar to northern pencil factories. Adding to its importance and transport links, Cedar Key became the western terminus of the Florida railroad in 1860, connecting it to the east coast of Florida.
In the Civil War, Confederates had been guarding Cedar Key but most were sent to Fernandina expecting an attack there. Subsequently, the Union got control of the Cedar Key area and remained there until the end of the Civil War.
Cedar Key once again flourished with the building of a pencil factory and with freight and passenger traffic restored to Cedar Key by 1868. Cedar Key had a population of 400 by 1870.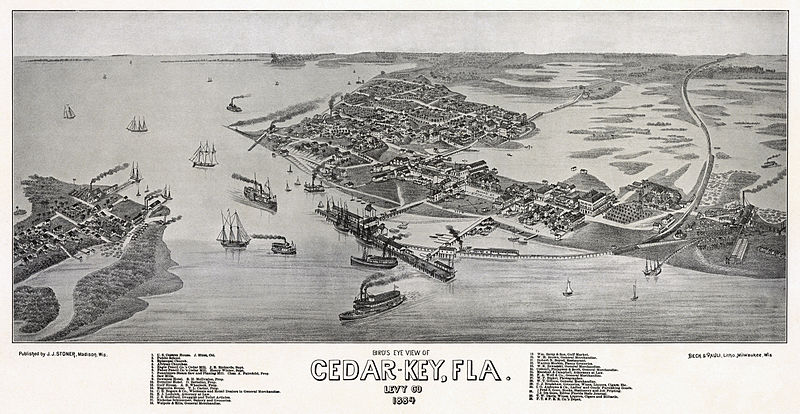 Historic 1884 Map Of Cedar Key (courtesy of www.seecedarkey.com)
Cedar Key fell into an economic decline at the end of the 19th century, with Tampa rising as a shipping port and a massive hurricane slamming down on the area in 1896 with a 10-foot storm surge killing more than 100 people (source Wikipedia.com)
The start of the 20th century saw industries such as fishing, sponging and oystering rise in the Cedar Key area. In 1939 the Cedar Key National Wildlife Refuge was established, providing an important breeding ground for colonial birds.
3. Cedar Key Is An Ideal Kayaking And Canoeing Destination
If you are into watersports and especially those of the manually operated kind, this place is absolutely ideal for you, whether you like kayaking, canoeing or paddle-boarding. There is a spectacular amount of wildlife to see and the island is surrounded by no less than 13 barrier islands, all begging to be explored. Atsena Otie Key, the original site of the town of Cedar Key, and part of the Cedar Keys National Wildlife Refuge, is only half a mile's paddle away from Cedar Key. There, you can explore the remains of old buildings, such as the Faber Mill (pencil factory), an old cemetery and other sights.
Cedar Key's back bay is also worth exploring by paddle, as is Shell Mound and Hog Island. Find more information on how to get there here.
4. Cedar Key Has Wonderful Museums
Worth visiting are notably the Cedar Key Historical Society Museum downtown and Cedar Key Museum State Park.
The Historical Society Museum is full of local history and staffed with knowledgeable and enthusiastic volunteers. As an added bonus, it is housed in a beautiful historic building located on the corner of D Street and 2nd Street.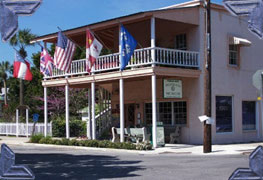 Cedar Key Historical Society Museum
(credit: http://www.parkplaceincedarkey.com/)
Cedar Key Museum State Park is situated in the northern part of the island, at 12231 SW 166th Ct. It boasts a little museum, short nature trail and historic house, former residence of Saint Clair Whitman (the house depicts life in the 1920's). Part of the collection is sea shells and Indian artifacts collected by Mr. Whitman, who was the founder of the first museum in Cedar Key.
5. You Will Be Surrounded By Beautiful Historic Houses And A 'Chill' Vibe
This really is 'Old Florida' seaside town at its best. Sleepy, cute, with lovely historic houses, plenty of seafood restaurants and friendly locals. Cedar Key is perfect to brush up on a little history of the area, have a relaxed stroll around, sample some of the cute shops and cuisine, and perhaps even indulge in a spot of kayaking in the calm waters of the Gulf. One thing I can promise: you will leave totally relaxed and re-invigorated. It really is a very special place!