If you ever needed some time to 'get away from it all', a cabin stay in one of Florida's beautiful State Parks
is just the ticket! On our way to explore north Florida and the Panhandle, we decided to spend a few days in a furnished cabin in Fanning Springs State Park. On the way up there we made a little pit stop in cute and historical Dade City.
The Journey Is The Destination – Dade City
To me it is important to have fun travelling as much as arriving at the destination. Therefore, as we set off to get away from the hustle and bustle of South Florida for a few days, we decided to take the long route and enjoy the journey. First, a lunch stop in Dade City was in order.
Why Dade City? My interest for this little quiet gem had been sparked a few days earlier, by an article on 'Authentic Florida' , about three small authentic towns worth visiting in central Florida. It described Dade City as an 'unhurried, laid-back Florida southern town' and when we got there, found this description very fitting.
Dade City is situated in the Tampa Bay area of central Florida and with just over 7.000 inhabitants (at 2010 census according to Wikipedia) a cute and relaxing, almost sleepy town. The central focus is the lovely Pasco County courthouse – from 1909 – with plenty of old and charming buildings in the immediate vicinity. Dade City is the county seat of Pasco County. Officially mentioned first in 1884, Dade City was incorporated by 1885 although an earlier settlement had existed nearby from as early as the 1870s, known as 'Fort Dade'.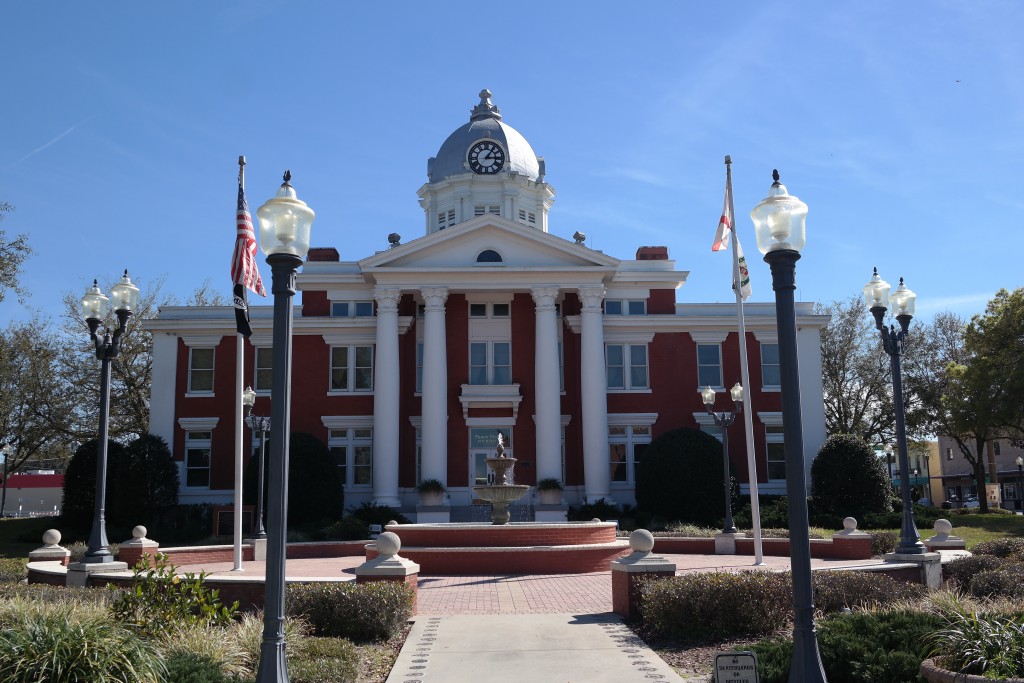 Beautiful Pasco Courthouse from 1909
Dade City's center is small enough to walk and explore in under an hour and therefore perfect for a lunch excursion to stretch stiff road trip legs. There are unpretentious eateries and small quaint antique shops to peruse, if you want to make an afternoon or even day of it. There is also a Pioneer Museum and Village worth visiting if you have a little more time to spend here. It is situated just north of the town and provides the visitor with the opportunity to catch a glimpse of the daily life of pioneers in the later 19th century, with renovated old buildings from the late 19th and early 20th century, including a church and a school-house.
Alas, we had to get moving again, in order to reach our final destination before darkness. However, there always has to be a little time for fooling around. After all, this was the start to our week long 'engagement-moon'!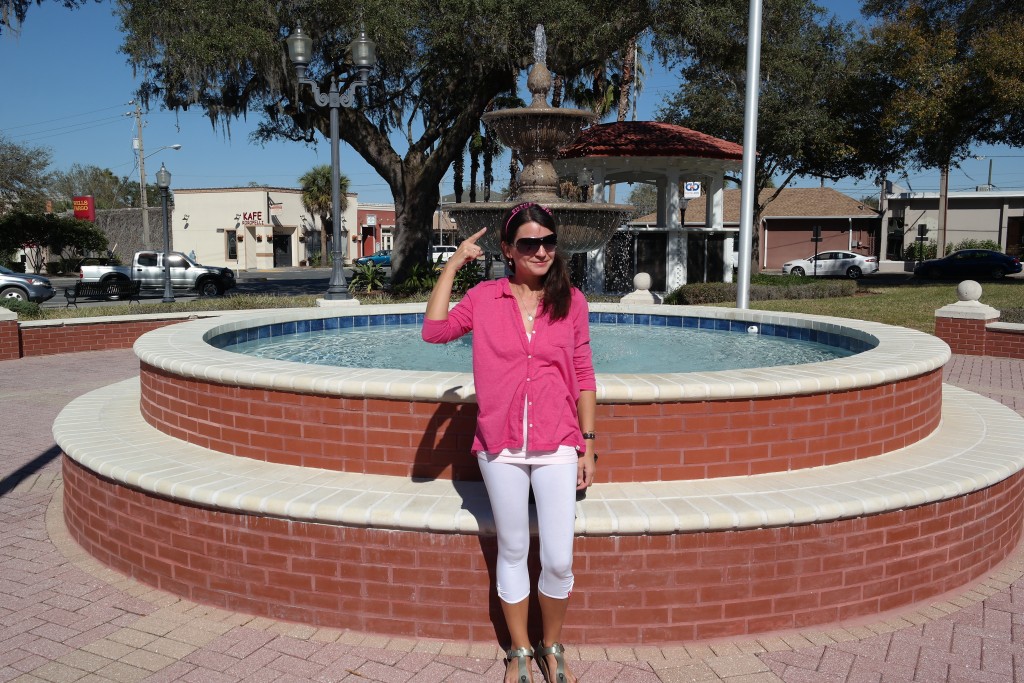 No, I Am Not Cuckoo – Just Pointing Out My 'Future Mrs' Tiara
As it happened, more by coincidence than design, staying with US98 on our way north, we later drove through Brooksville. This charming cute town is another of the three towns mentioned in the article I refer to above. We had no time to stop but it was nevertheless a charming drive-through with yet more  historic buildings and the feel from a different era.
Fanning Springs – The Perfect Getaway For Those Who Want To Really Get Away
No more than a couple of hours of relaxed driving later (compared to South Florida at any rate), we arrived at Fanning Springs State Park just before the sun set. Relaxation in this quiet and woody area was immediate upon arrival. The cabins in this State Park – there are five – are spacious and easily sleep a family of four and more, so they are actually a bargain for about $100 a night!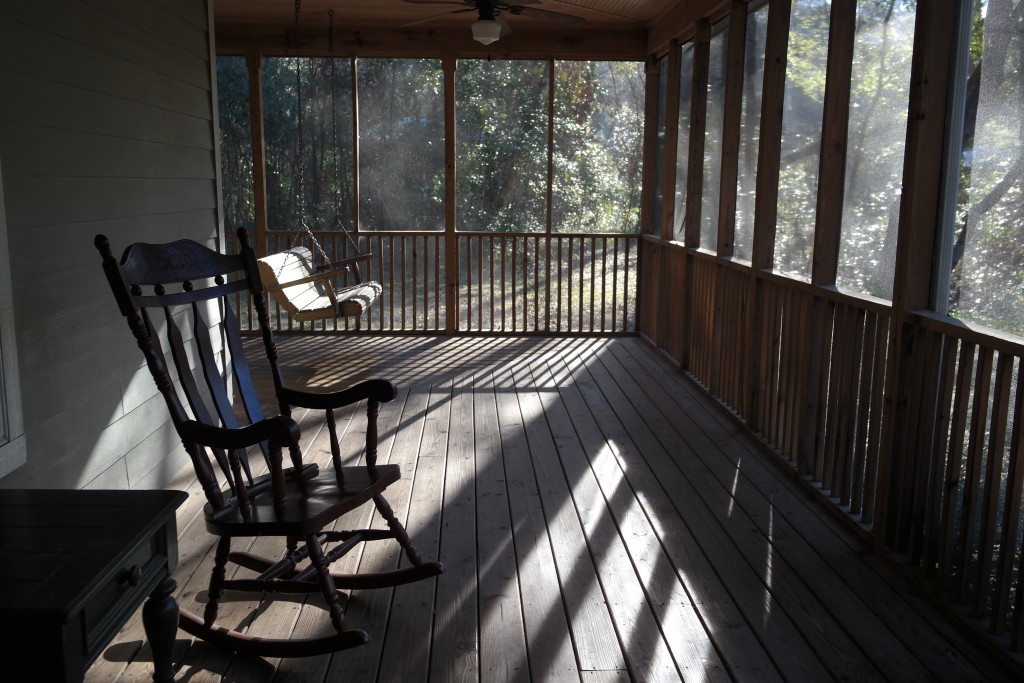 This could be all yours…
Ours had two bedrooms and a couch that could be converted to a bed also. They are not as 'rustic' as you might think, we really were pleasantly surprised. They even have electric fires for the cold nights in winter. Cabins come with plenty of towels, bedding and clean sheets in a bag, so be prepared to make your own beds on arrival. The kitchens are equipped with all you need and more, although we discovered that we had an ice-maker that on occasion sounded like a wild animal. Also, you can get fire wood from the State Park and use the fire pit that comes with your cabin! Some cabins have grills outside. I could happily have spent a couple of weeks there for total relaxation!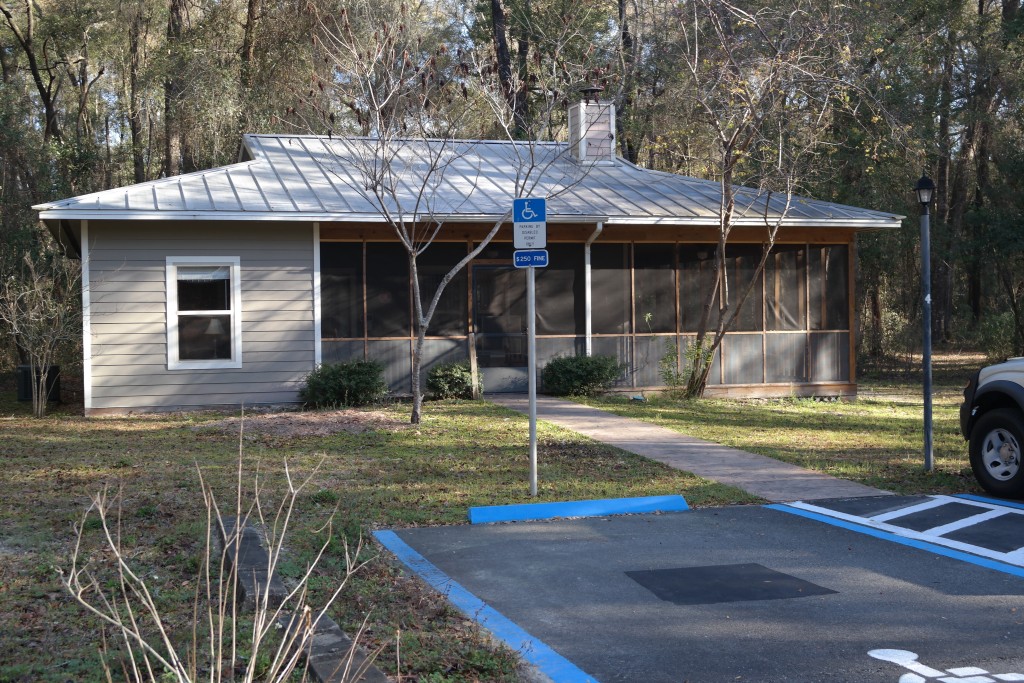 This was indeed total relaxation also for other reasons: no television, limited cell-phone access and no Wifi! So although you find some mod cons such as a microwave and all the other modern appliances, be prepared for actually having to make conversation with your family or friends – why not bring some games?
All joking apart, when you come from a city and are used to constant traffic noise and people all around you, this is pure heaven for those who appreciate nature. Sitting on the porch (thankfully they are screened in) and listening to the sounds of nature was one of the most relaxing things ever. Waking up to total silence in the morning almost felt strange but so incredibly wonderful at the same time. Getting up and sitting on the porch with our own special breakfast of salmon, bagels and champagne meanwhile listening to birds chirping and squirrels digging for nuts was just magical. The simple pleasures are the best!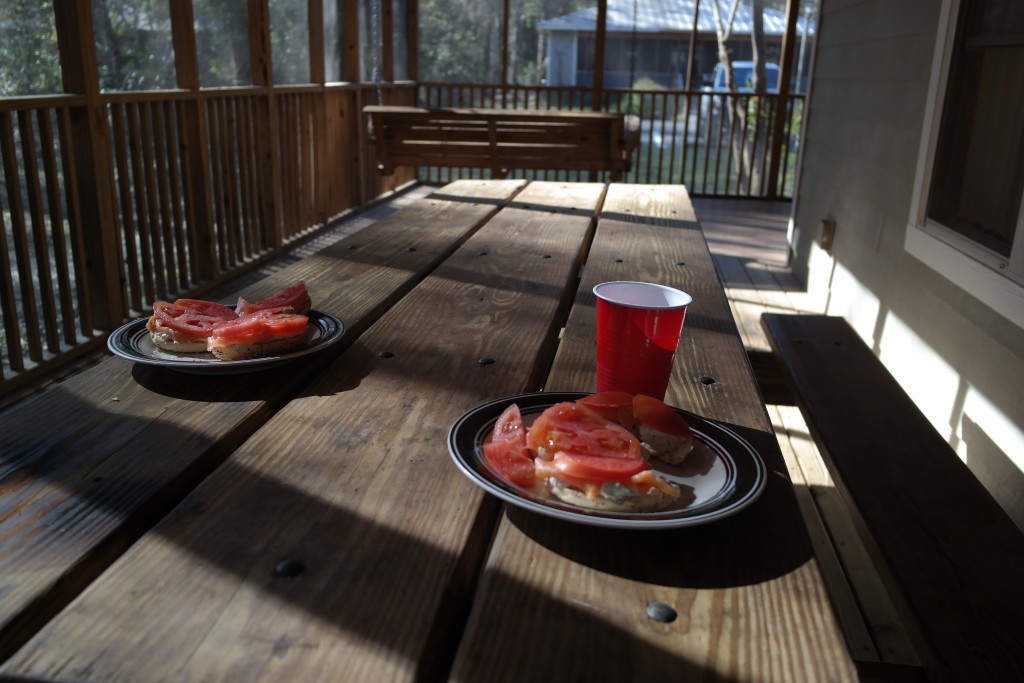 Breakfast Time – A Classy Red Solo Cup With Champagne Should Not Be Missing

The Springs Area
Not too far away from the Cabins is the actual Fanning Springs area. Fanning Springs is now a second magnitude spring but used to be a first magnitude spring as recently as the 1990s. The spring water feeds  into the mighty Suwannee River and the spring head makes for a great place to swim and snorkel, with a picnic area and a boardwalk also close by. Of course, staying at the cabins meant we had the privilege of having access to the springs whenever we wanted, even when the park was closed which was a special perk.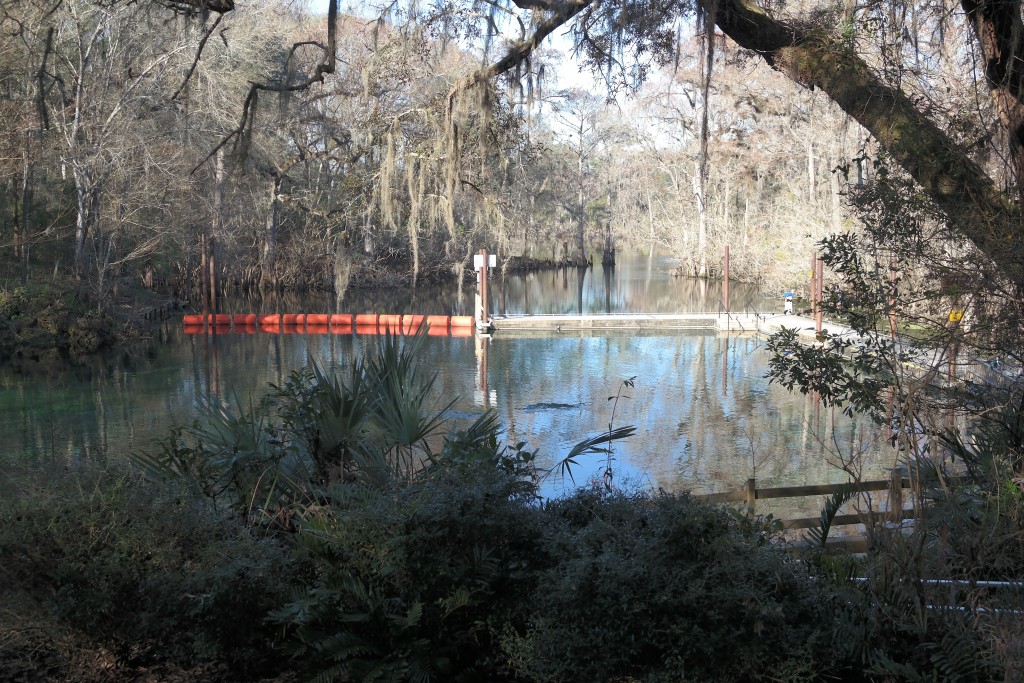 Fanning Springs Swimming Area
I just love the turquoise water that is so typical of springs in these parts of Florida. I have a fascination with staring into it and watching the life down below. Doesn't it look ethereal and somewhat unreal?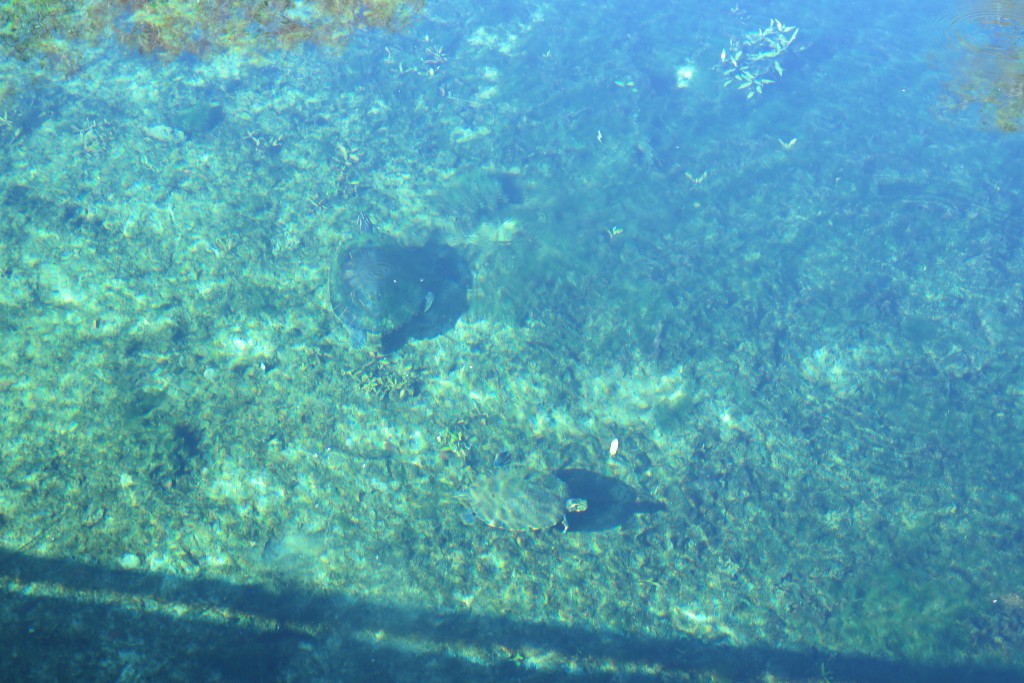 Can You Spot The Turtles?
The Verdict
I must admit to being a little skeptic about staying in a cabin at first, just before setting off I suddenly panicked: what if there are no sheets? maybe there are no towels? are there going to be critters?
I needn't have worried, the cabins are lovely and have everything you might need.  Of course, don't go there expecting a luxury hotel, it is still supposed to be a rustic experience – this is part of the fun! The master bedroom mattress was certainly 'interesting' , by which I mean spending the night trapped in a hole not being able to turn around. Some of the furnishings have also seen better days, but everything works and is perfectly fine.
Not having access to TV or the internet might be too much for some people, but for us it was the sort of getaway we craved – getting away from it all and recharging from our busy and noisy city lives.
Interested in staying there and have any questions and/or comments? Have you stayed in these cabins or other cabins around Florida? What was your experience? I would love to connect!