It's winter in Florida and while the rest of the country moans and groans we breathe a huge sigh of relief. Aaaah – the temperatures finally fall below 75 degrees and at last it is possible to make two worlds come together: hiking and South Florida.
So, where can you go hiking in a place that is hardly overflowing with good long distance hiking trails, unless you want to get your feet wet wading in swamp and getting eaten alive by swamp angels? Well, actually there are quite a few options. Although South Florida is not really known for outstanding hiking, which is probably a result of the weather not being conducive for hiking for most of the year, there are many places to go to especially when the weather has cooled down a little.
I am giving three examples here of somewhat interesting trails that are mainly in the open. There are plenty of trails that lead through swampy areas and high vegetation areas such as in the southern Everglades, but for personal preference (trying to avoid mosquitos), I prefer the more open trails. I like to catch a breeze and always hope this breeze will carry away my little blood sucking friends. The trails remain fairly pleasant to walk on even in higher temperatures, as long as the humidity is not overwhelming and the temperature doesn't rise to much above 80°. It really depends on what you want to do and what you want to see on your trail, whether it be alligators, historic areas or complete wilderness. All is possible!
Shark Valley Loop

Let's look at one of my favorites: Shark Valley, part of the vast Everglades National Park. Shark Valley visitor center can be found just off Tamiami Trail, close to the Miccosukee Indian Village. You may ask yourself why it is named 'Shark' Valley, as it is situated in the middle of the Everglades and nowhere near the ocean and therefore nowhere near any sharks. Although I have not found a huge amount of information regarding the name, I have come across some snippets. The naming originates from the Shark River, which flows into the Gulf of Mexico some miles southwest of Shark Valley. Apparently, bull sharks are known to swim some way upstream Shark River and breed in it, therefore the name can be explained so. Don't expect any sharks in Shark Valley! What you can expect, however, are plenty of alligators, birds, turtles and other assorted Everglades creatures and critters. All you need is a good eye!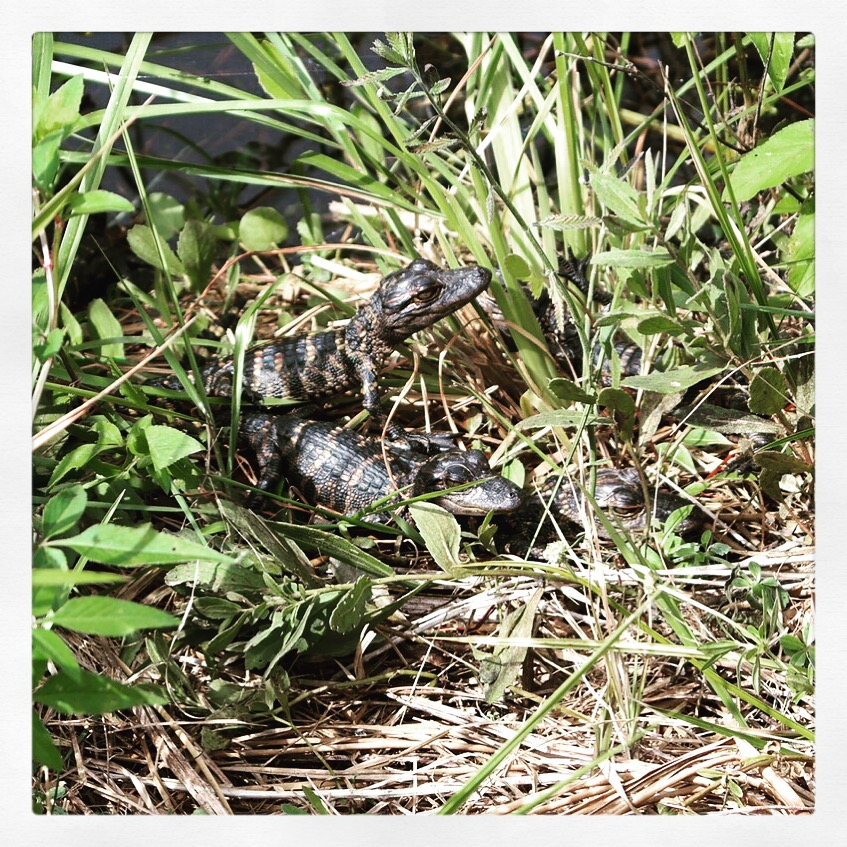 You can walk or cycle the roughly 15 mile loop, or indeed go on a tram tour! As this post is focused on hiking, you may wonder why I am sending you to walk Shark Valley instead of cycling, which is what everybody around you seems to be doing. Well, having walked Shark Valley multiple times, I guarantee you will be seeing a whole lot more wildlife when you walk. Mostly, the animals are not in the open or easy to spot. They are generally hidden behind vegetation, or immersed in water.
Alligators and friends tend to blend in with the surrounding vegetation, which makes them hard to see, unless one takes time to look. This is obviously easier when walking, as with cycling one has to keep an eye on the road so as not to mow down other cyclists or pedestrians, incidentally something some people seem to forget…
Last time we walked the path, a lady on a bicycle told us that whenever we stop walking, they stop cycling, because she has learned that there is always something to see when we stop, and that it must be easier to see wildlife when on foot. Indeed it is!
Sometimes, it is easier to spot wildlife than at other times. For example, once we walked Shark Valley and saw alligators absolutely everywhere, lying on the banks in full view and really showing off! Other times, particularly when it is very cold and the water table relatively high, one really has to look hard for alligators and Co. You will always see some, it will just take a little search and a good eye!
A particular highlight of Shark Valley is the mother alligator with babies, who without fail is always there and if you don't spot her, see if you can hear a little high pitched guttural noise, which is the call of the baby alligators. We have seen her several times and always with the season's latest babies, like a proud mama. Sometimes she also has last year's brood all around her!
In fact, Shark Valley was the first time I realized alligators have something akin to motherly feelings. The babies will always be close to the mother, and if they feel in anyway threatened, they emit this little guttural sound, and more often than not will return to mommy for safety. She will look relaxed, but rest assured that she has her beady eye on you! Although the babies make for wonderful photographs, just make sure you don't get carried away and go too close. In all likelihood the mother will flee with the babies, but I certainly wouldn't count on it!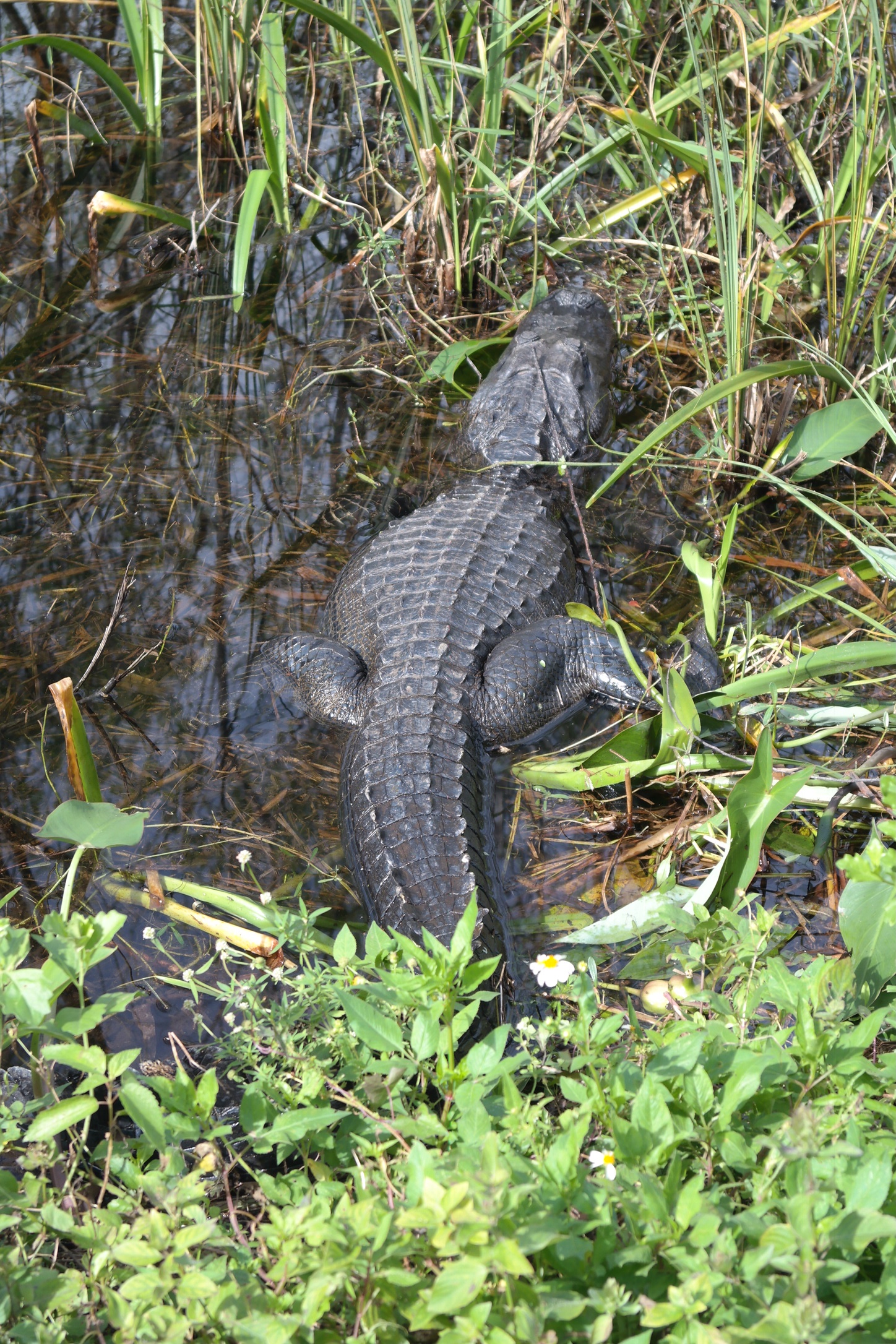 Shark Valley makes for a lovely walk and if you set off early in the morning, you could do the entire loop on foot, although we tend to walk between 3-4 miles and then turn around. Walking the whole loop would take you most of the day and you would have to bring lots of water and some provisions, but you would certainly see a lot of wildlife and do some valuable exercise to boot. On the loop there are various little trails worth investigating also, such as the Bobcat Boardwalk and the Otter Hammock Trail.
Sawgrass Recreation Park Levee Walk
One of my other favorites is walking levees. Yes, they may not be the most exciting places but when there is a breeze, they are almost always easy to walk, cool-ish and mosquito free which holds a special attraction for me! I must be honest though, even though levees are elevated and you get a great view over the area, I have never seen too much wildlife from a levee, with the exception of lots birds and the odd alligator.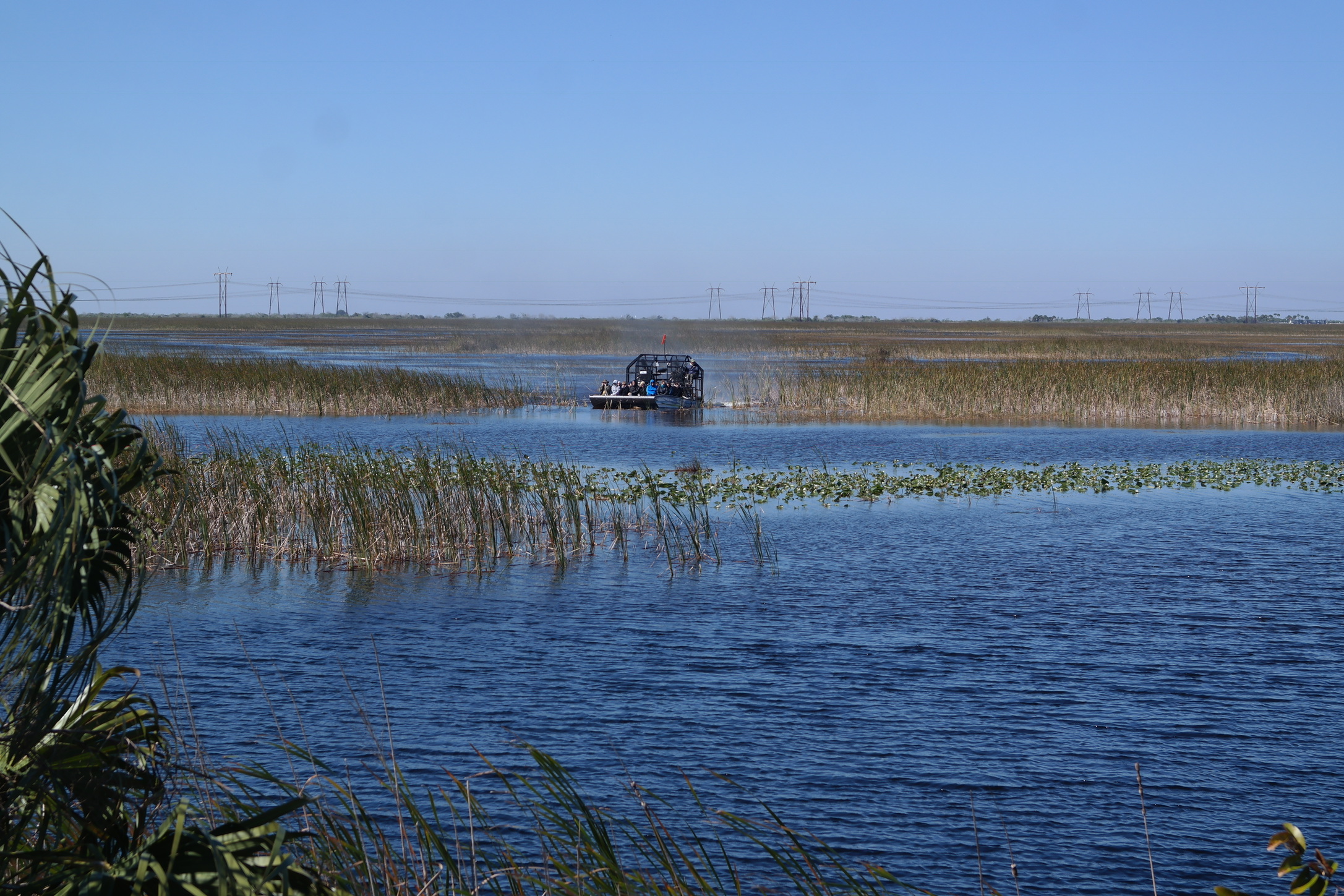 Having said that, I am going to suggest The Sawgrass Recreational Park levee walk, again in the Everglades, because not only did we see otters here, but also bobcat scat, which leads me to suggest that this area has a lot of potential for wildlife sightings. The levee is pretty substantial (over ten miles long to the next road, West Atlantic Boulevard south of Coral Springs) and I do suggest to walk a good few miles to get away from the constant airboat and road noise close to the entrance of the park. Most of the wildlife we saw was definitely at least 2 miles into the levee and the Everglades. Also, if you are looking for something a little more remote than Shark Valley with its high visitor numbers, the levee is certainly not overrun, and you would likely just encounter a few cyclists. It is a very nice path for experiencing the vastness of the Everglades and understanding why it is called the river of grass!
The Davie Linear Trail

The third option worth mentioning here, the Davie Linear Trail on Griffin Road and Orange Drive, is a much more urban walk. It still runs along a nice canal and there is the potential to see wildlife. However, the trail also runs parallel to a major road, developments and historic areas, which makes this interesting for those who not only want to see nature and wildlife on the hike. Not being a remote trail, it is also the perfect walk for a solo female hiker.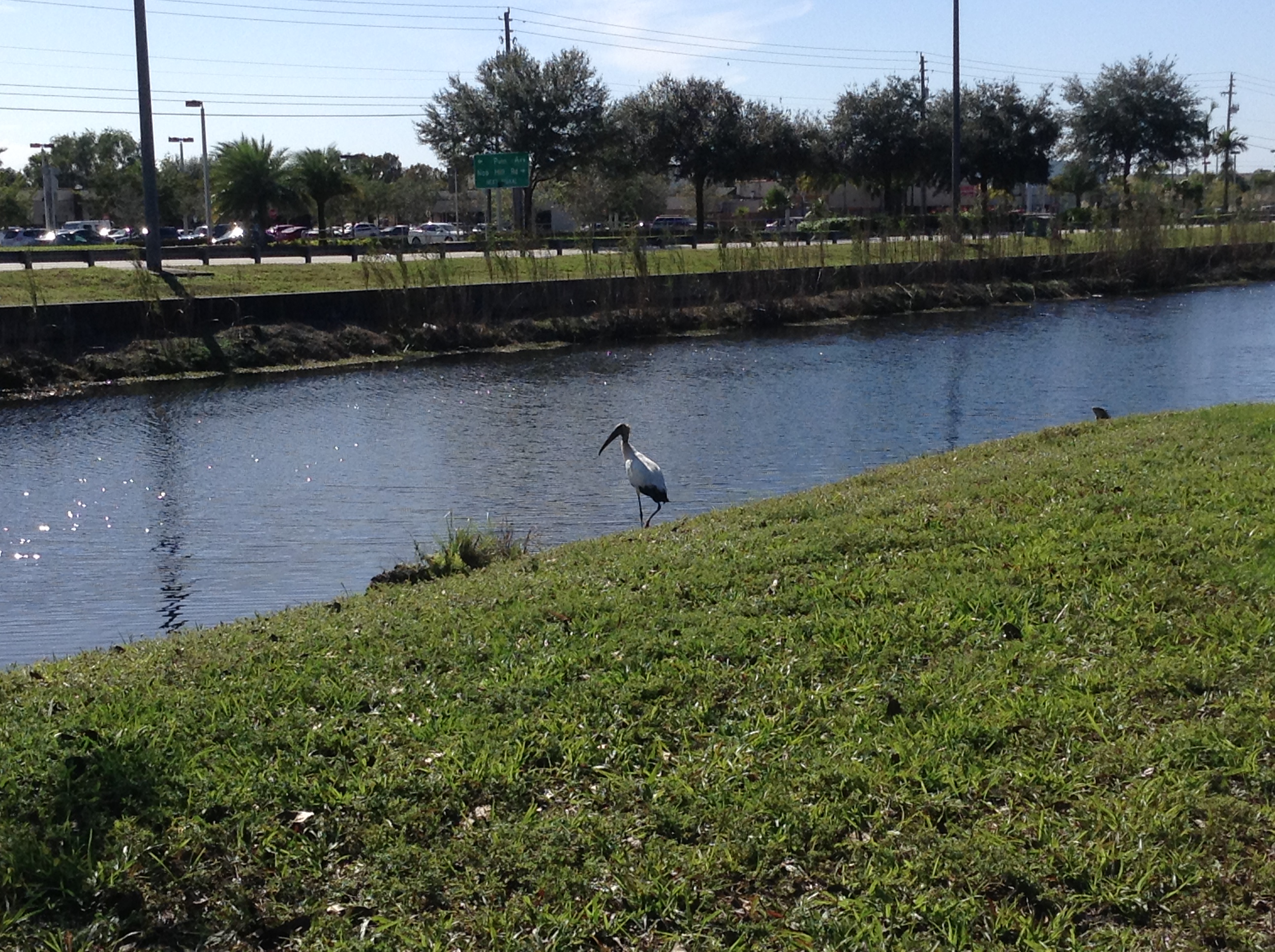 The Davie linear trail is, as the name helpfully suggests, linear, and in its entirety  9.3 miles long. Being linear means you have to come back the way you walked, more or less. Here's to stating the blatantly obvious!
In fact, on this trail it is easy to measure the distance you will be walking in total, as it sports helpful mile markers along the path. You can start it from Vista View Park in the west, or the eastern entrance close to the Turnpike (the entrance to the trail is on Orange Drive, off Griffin road). I usually prefer to start the trail in the east as there are more historic buildings to see at first.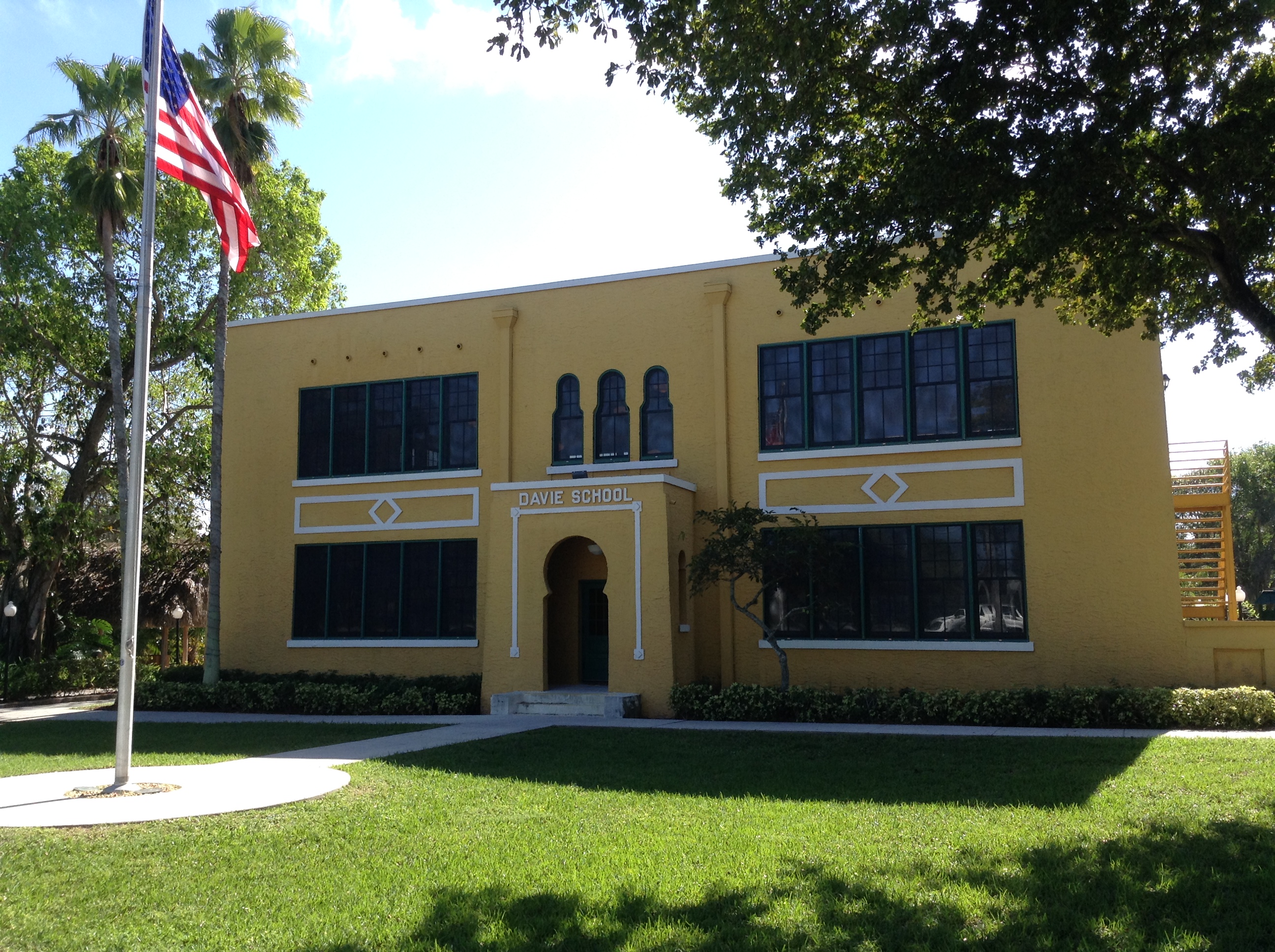 As it is unlikely you will want to walk the whole thing and back, which would make it a whopping 19 mile walk, I suggest doing it in two stages – half of it starting from the western entrance, and the other half another day from the eastern entrance. Unless you have someone to pick you up at the end of the trail, which would be a great option allowing you to walk the entirety of it, without having to walk back to your car. 9.3 miles is a perfectly manageable distance for one day (for a reasonably fit person).
In my opinion they have done a very nice job with this path,  as it has various pavilions to rest at (or fish from) and is relatively tranquil to walk, despite being parallel to a main road. Also, with it being fairly rural yet urban (does that make sense?), you have the opportunity to see parts of historical old Davie such as the historic schoolhouse which was the first in the county I believe, and some other old buildings, as well as a historic lock in the canal. There's also the possibility to stop off at the parks in the area, such as Treetops Park, or you could even visit Flamingo gardens, which is relatively close to the trail also.
Just Don't Do It In The Summertime…
It has to be said that hiking in Florida, especially in South Florida, is much more enjoyable in the winter time, by which I mean roughly December till April, and especially so when a cold front is passing over. When the temperatures drop to around 70 in the daytime and there is little humidity, it is possible to walk much greater distances than in the sticky summer months. In fact, I prefer to be on the water (or better: in the water) in the summertime. Therefore I like to make full use of the winter months because I love hiking, and the winter time is pretty much the only time hiking is pleasant around here in my humble opinion. Of course you will never, and I repeat NEVER see me in the Everglades in the summer…I refuse to become a mosquito restaurant!
Got any nice trails that you can share with me? Have you walked any of the ones I suggest? I would love to connect! tamara.sunandsea@gmail.com