If all you know about Weeki Wachee are the famous mermaid shows, which are in fact historic and have been taking place since 1947, then let me take you on a little excursion to this truly magnificent and magical, as well as breathtakingly beautiful spring system and river. I will throw in a little history about the tourist attraction too!
Weeki Wachee Springs is located about an hour north of Tampa at the crossroads of US19 and State Road 50 and became incorporated into the State Park system in 2008, after having been in private hands for over 50 years.
History of Weeki Wachee As A Tourist Attraction – The Mermaids!
A man by the name of Newton Perry decided on Weeki Wachee as his new business venture in 1946 and came up with the novel idea of humans breathing through a free floating  air hose when underwater. Perry went on to build an 18 seat theater partly submerged below the surface of the spring. It was possible for visitors to look right into the spring and its turquoise beautiful waters with mermaids putting on a show of swimming, eating and drinking underwater all the while breathing through these airhoses that were hidden from plain view in the scenery. The first mermaid show, nothing short of a sensation, was held in October of 1947.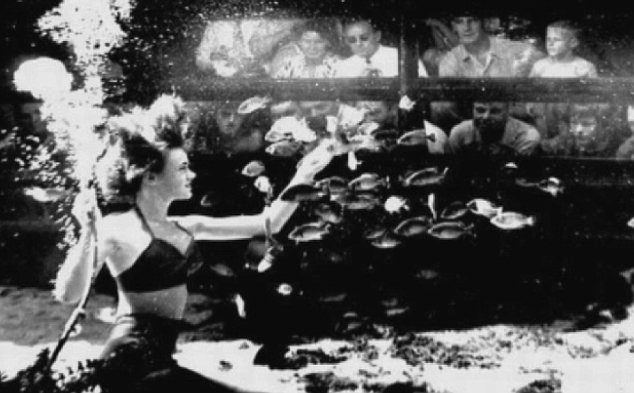 One Of The First Mermaid Shows
(Image Courtesy of Florida State Archives)
The tourist attraction gained fame quickly and was one of the Nation's top tourist stops in the 1950's and 1960's when it was purchased by ABC and the theatre greatly enlarged. The mermaids were swimming in sold-out and by now greatly refined shows and became celebrities throughout Florida. Many well-known celebrities also came to see them and the shows, most notably perhaps Elvis Presley.
The area was once again enlarged and made yet more 'tourist friendly' by introducing water slides, a lazy river and a white sandy beach in 1982.
Maybe not quite as popular as it was in the 1950's and 1960's but Weeki Wachee still pulls in the crowds on weekends, and the shows and park certainly struck me as a great family thing to do, especially for little aspiring mermaids and mermen! Red more about the tourist attraction here.
The Incredible Weeki Wachee Spring System
'The spring is so deep that the bottom has never been found. Each day, more than 117 million gallons of clear, fresh 74-degree water bubbles up out of subterranean caverns. Deep in the spring, the surge of the current is so strong that it can knock a scuba diver's mask off. The basin of the spring is 100 feet wide with limestone sides and there, where the mermaids swim, 16 to 20 feet below the surface, the current runs a strong five miles an hour' (from weekiwachee.com)
The spring-head of Weeki Wachee is at the State Park and Mermaid Show entrance, something we did not have the time to do as we set out to paddle the actual Weeki Wachee river. However, the spring itself is incredibly interesting, being the deepest known fresh water spring and cave system in the United States! Massive caverns and sink holes are evident in the surroundings and alarmingly under US19, the main road in the area. I am glad to have been blissfully ignorant of the fact that there is a cavern filled with water big enough to hold a commercial airliner just a few feet below the road surface!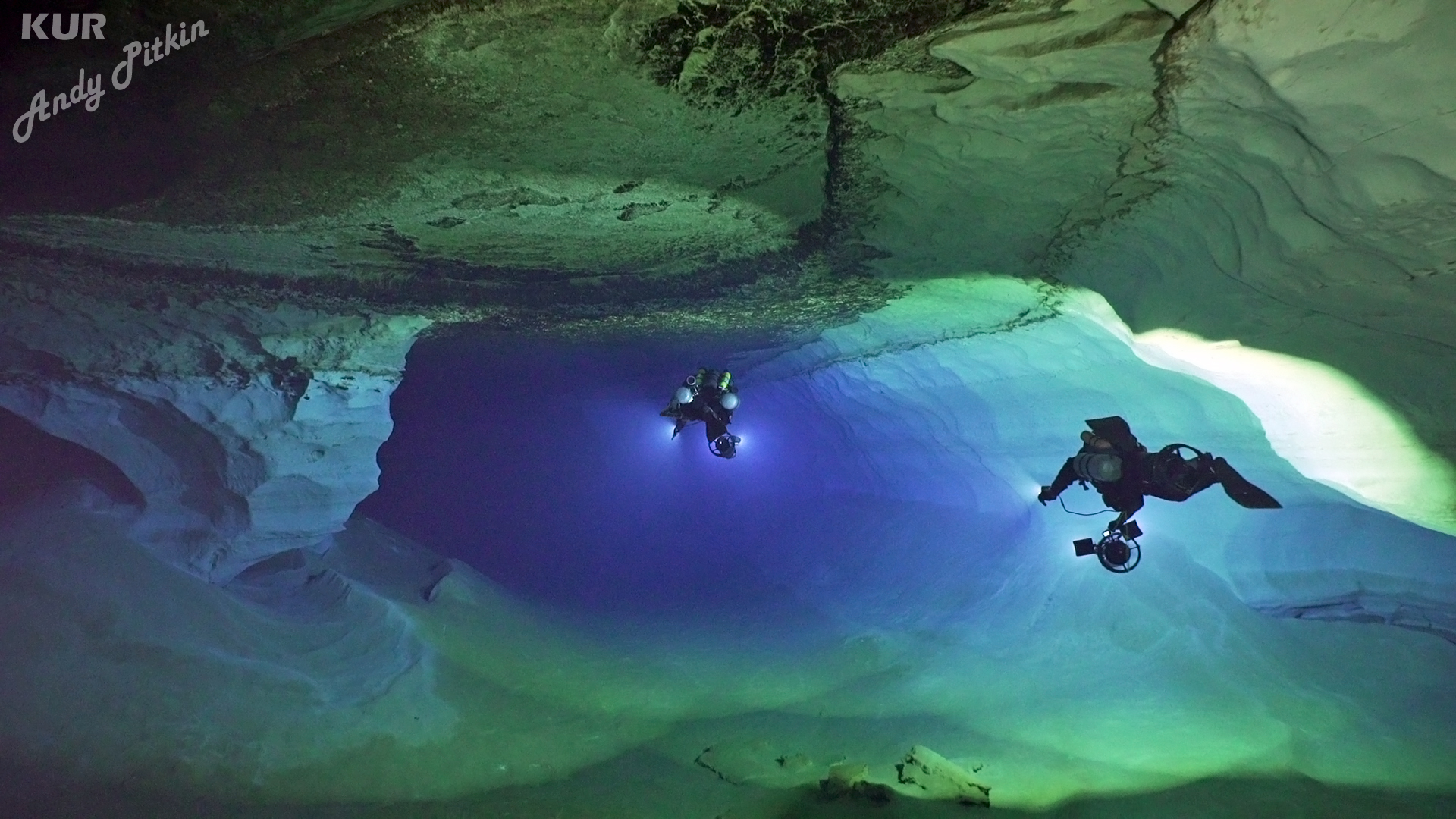 The Unbelievable Weeki Wachee Spring System
(Image credit: Karst Underwater Research)
Karst Research, a non-for-profit research organisation and its director, Brent Hamphill have undertaken the arduous and at times dangerous task to map the Weeki Wachee cavern and spring system. In 2007, Brent Hamphill and his team found that Weeki Wachee Springs is the deepest naturally formed spring in the United States at a depth of 407 feet:
'From May 22 until August 30, 2007, the discharge level at Weeki Wachee spring dropped to a level that allowed for cave divers to gain effective entry into the cave system at the spring. The KUR team successfully executed exploration dives and the necessary in-water decompression to explore approximately 6,700 feet in multiple passages at an average depth of 265 Feet Fresh Water (ffw) with a maximum depth of 407 ffw' (from www.wikipedia.com).
This alone would make Weeki Wachee worth visiting, but that is not all there is to know and see. The spring feeds into the Weeki Wachee river which will fascinate you with its turquoise and at times emerald and crystal clear waters. As soon as you start floating downstream in your vessel of choice, be it a canoe or a kayak, you will feel as though you are entering another world!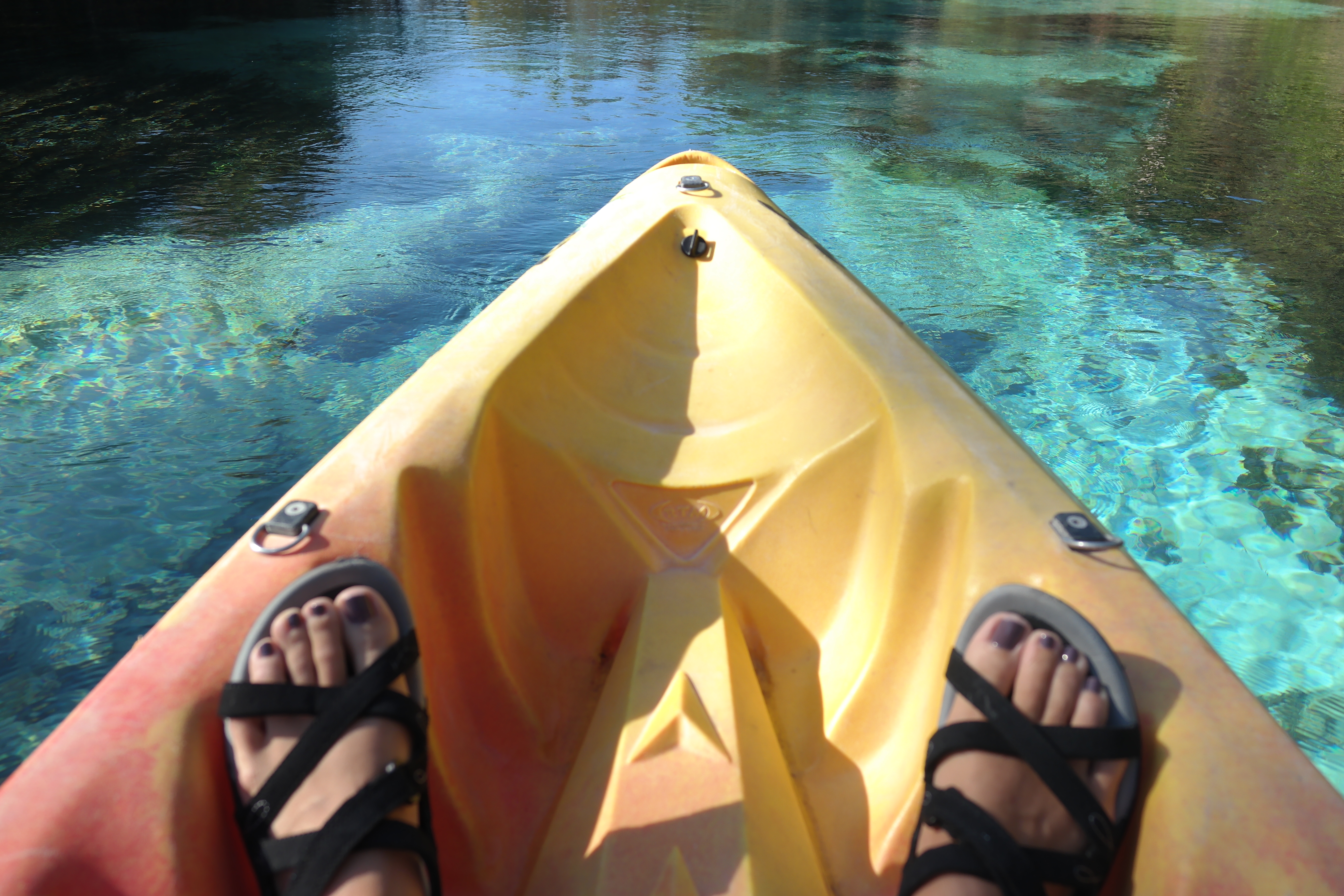 Kayaking The Weeki Wache River
If like me, you couldn't care less about touristy things, this is where I recommend you head: Paddling Adventures, the only company that exists right at the spring, which means you can paddle downstream the whole way and they even pick you up at the bottom with a shuttle back to the car park – perfect, right? That's what I thought! Being a great believer in going the path of least resistance,  when you are dealing with rivers that almost always means going downstream! I should mention that there are other kayak rental places downstream on the Weeki Wachee river – which, yes, you guessed it, would mean paddling upstream. Do that if you wish. I warned you!
You may also bring your own kayaks but you will get charged for launching them at the Paddling Adventures launch (currently $6 per boat) and if you did want a return shuttle, they will charge you a nominal amount also. Of course, you are always free to kayak back up the stream! We did see a few (though not many)  people kayaking upstream. It is a work-out.
As soon as they gave our kayak the 'push' at the launch site, it was clear that we had come upon something very special. Within the first few effortless yards – yes, the river really does carry you along effortlessly – you come upon the most amazing vista and the unbelievable clear emerald green and turquoise blue waters, and no I am not exaggerating: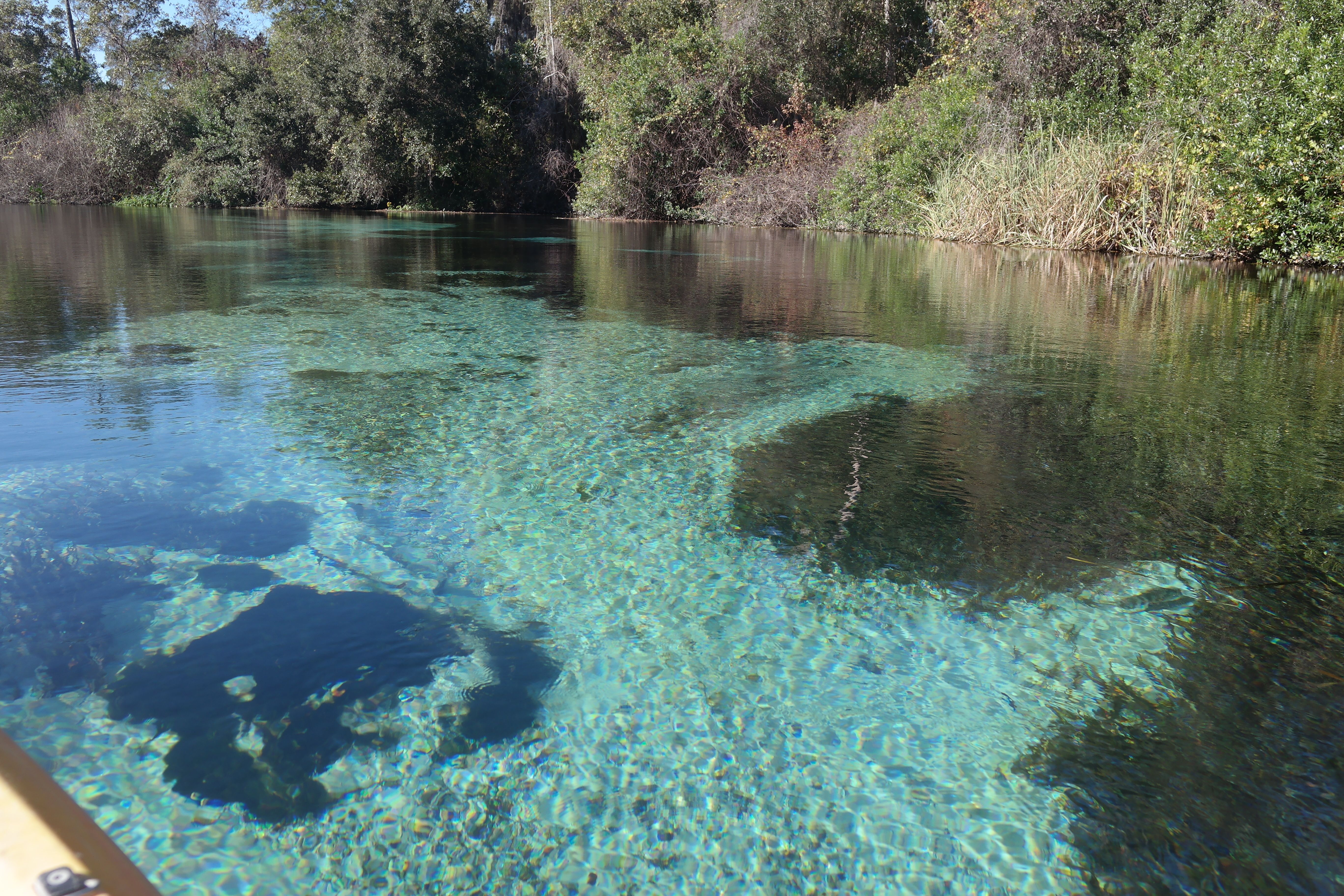 The other amazing feature on a crisp winter's day and the air temperature starting off in the low 60's: the water felt warm! It was just like gliding into a heated pool. The water at the spring is a constant 74 degrees, so when it gets colder in the winter time and the air temperature drops, it really feels wonderful!
The stream gently carries you through this lovely winding river at a nice pace. You will wonder about the time going too fast, because if you are like me, you could have stayed there forever! Mind you, your backside will know exactly what time it is after about 3 hours: 'numb time' !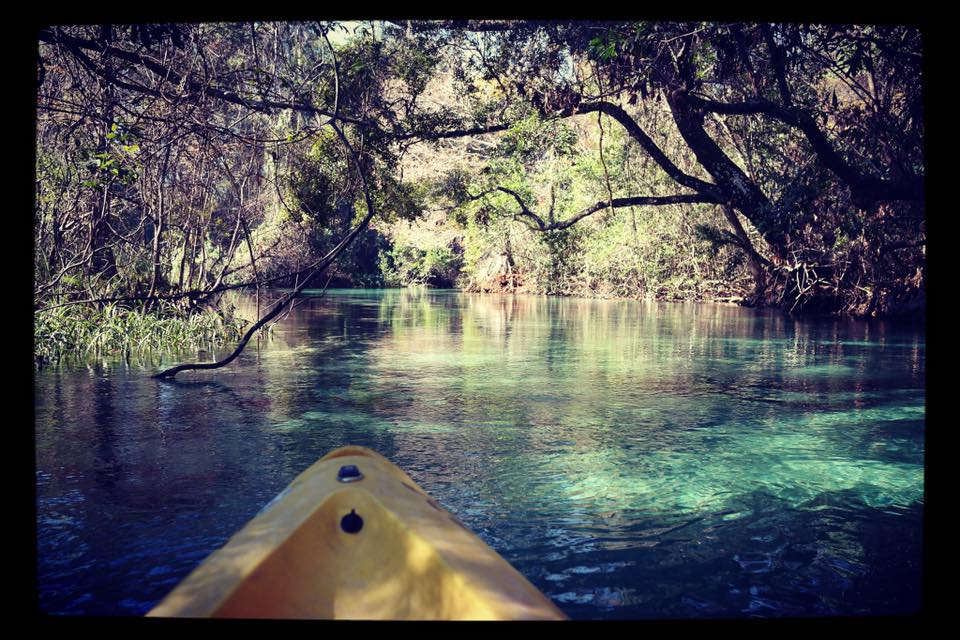 Along the way, if you need to stop for a picnic, a little rest or even a swim (as soon as you are out of the State Park, swimming is allowed), there are plenty of sand dunes along the river, some are out of the water and others barely covered. Those lend themselves to pulling up your kayak onto, and making the day go by slower than simply letting the stream take you down the river non-stop! The actual trip takes about 2 1/2-3 hours without stopping. Those will probably be the easiest 5.5 Miles you have ever paddled and most probably also the most picturesque!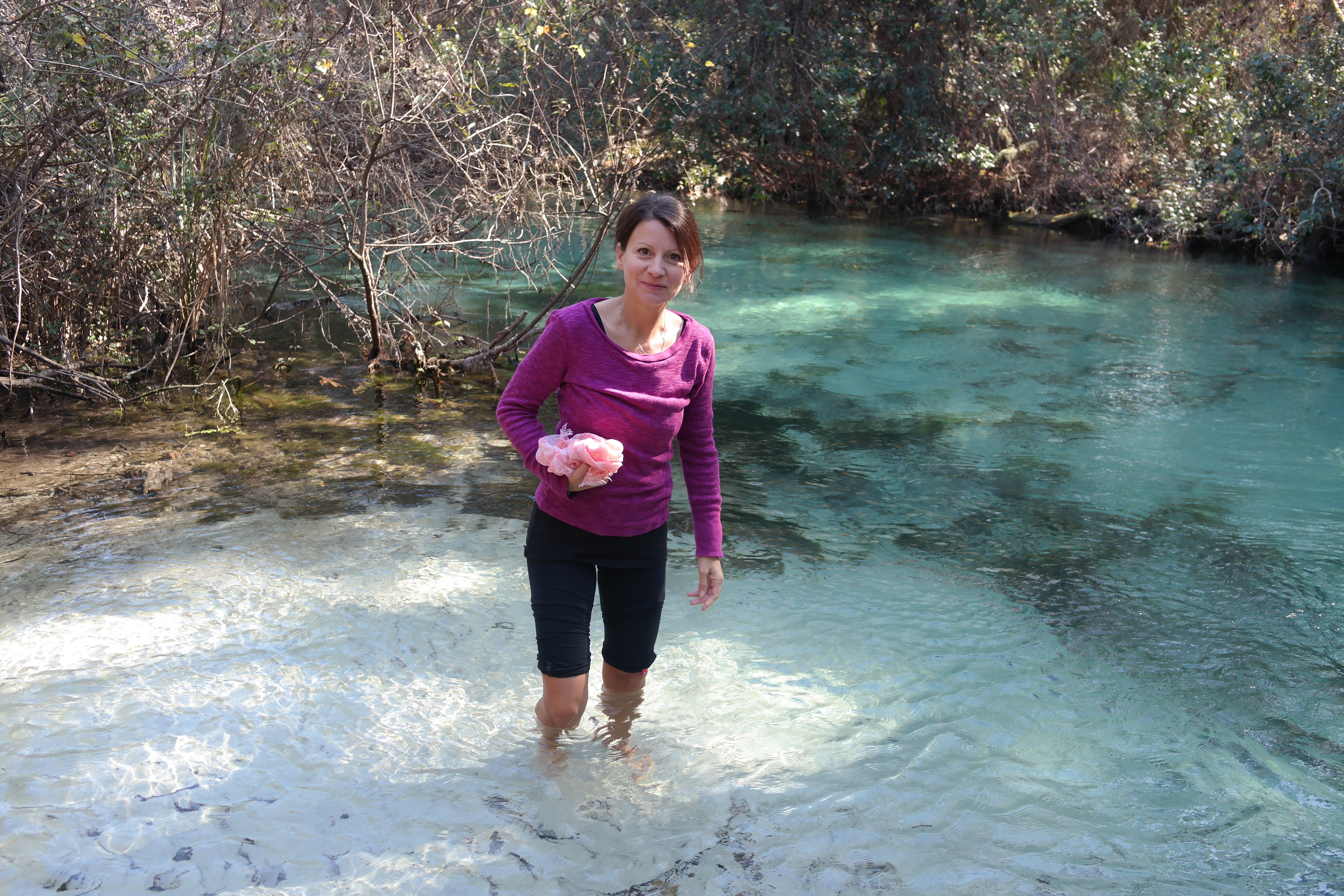 Picnic and Rest Stop At A Sand-Dune
You will also come across many charming properties along the river. As you cruise along, there are little (and bigger) fish perfectly visible in the crystal clear waters, as well as turtles and manatees – although we did not see any manatees they were present on the day of our outing as some lucky kayakers had seen them further downstream at the 'hospital hole'.
The name 'hospital home' comes from local legend. Apparently, according to Folklore, fish used to come from the ocean to search shelter in this sink hole (also a sulfur spring) and to 'heal' before returning to the sea. We did see divers exploring the hole, which is situated just before you get to Rogers Park (the pick-up point) at a bend in the river. We also saw plenty of boats and people fishing there, apparently a great spot for catching mangrove snappers!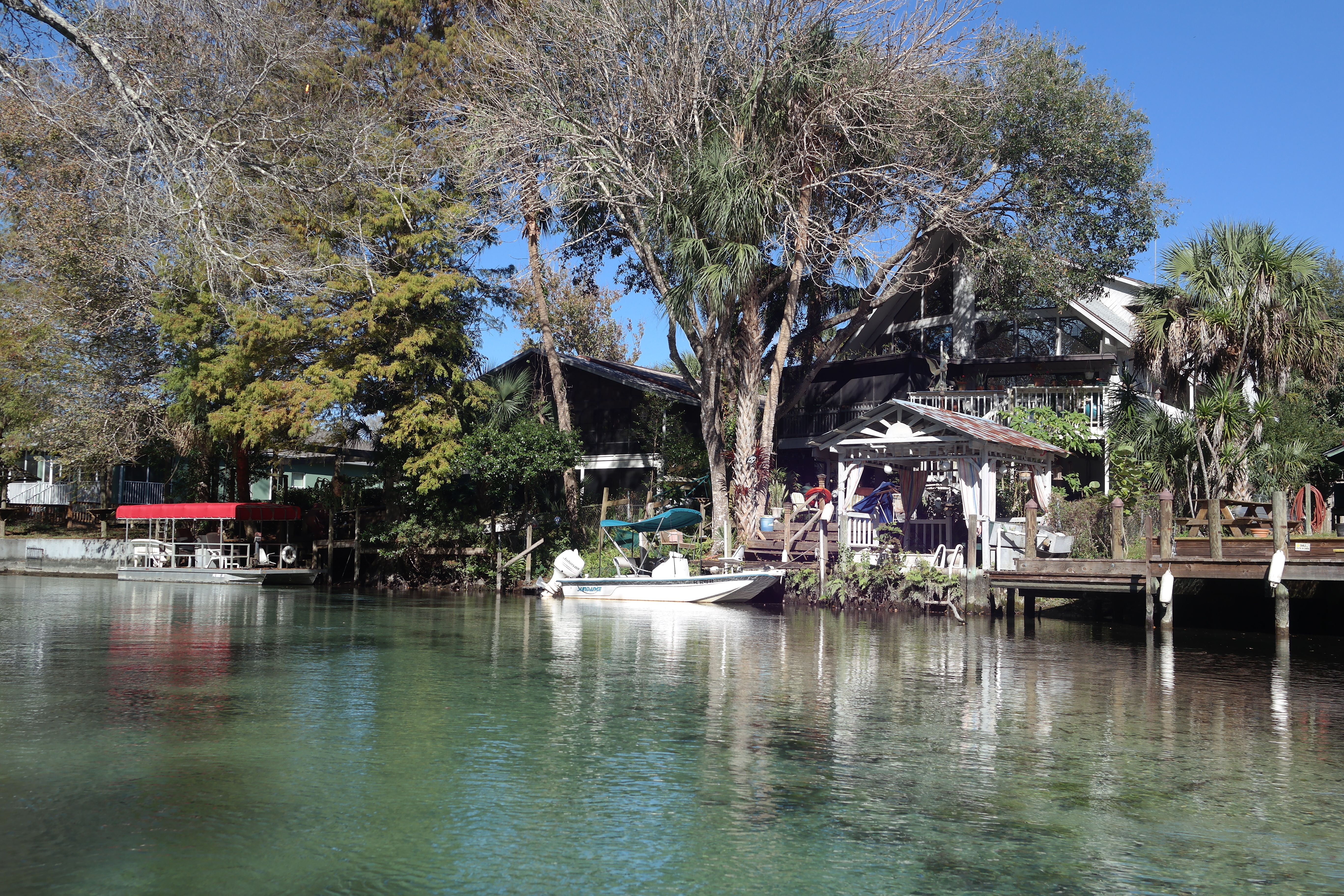 A Sample Of The Many Charming Properties Along The Paddle
As all good things come to an end, so did our paddle of this amazing river. We were greeted at Rogers Park by one of the knowledgeable and super friendly staff of Paddling Adventures, who was happy to fill us in on some local knowledge of the spring, river and surrounding area. The shuttle back was convenient and prompt, I can wholeheartedly recommend this company and the paddle.
Have you been to Weeki Wachee and done this paddle? Any pictures you care to share? I would love to hear from you!