In my previous blog post on Stranahan House's holiday events, I covered the house's history and their famous 'Victorian Christmas' event.
Stranahan House is the oldest house of Fort Lauderdale and holds plenty of history and stories from the city's earliest days. The house was built by Frank Stranahan in 1901 and later converted from a trading post into a home for Frank and his wife Ivy. You can read more about the history of Stranahan house here in my previous post.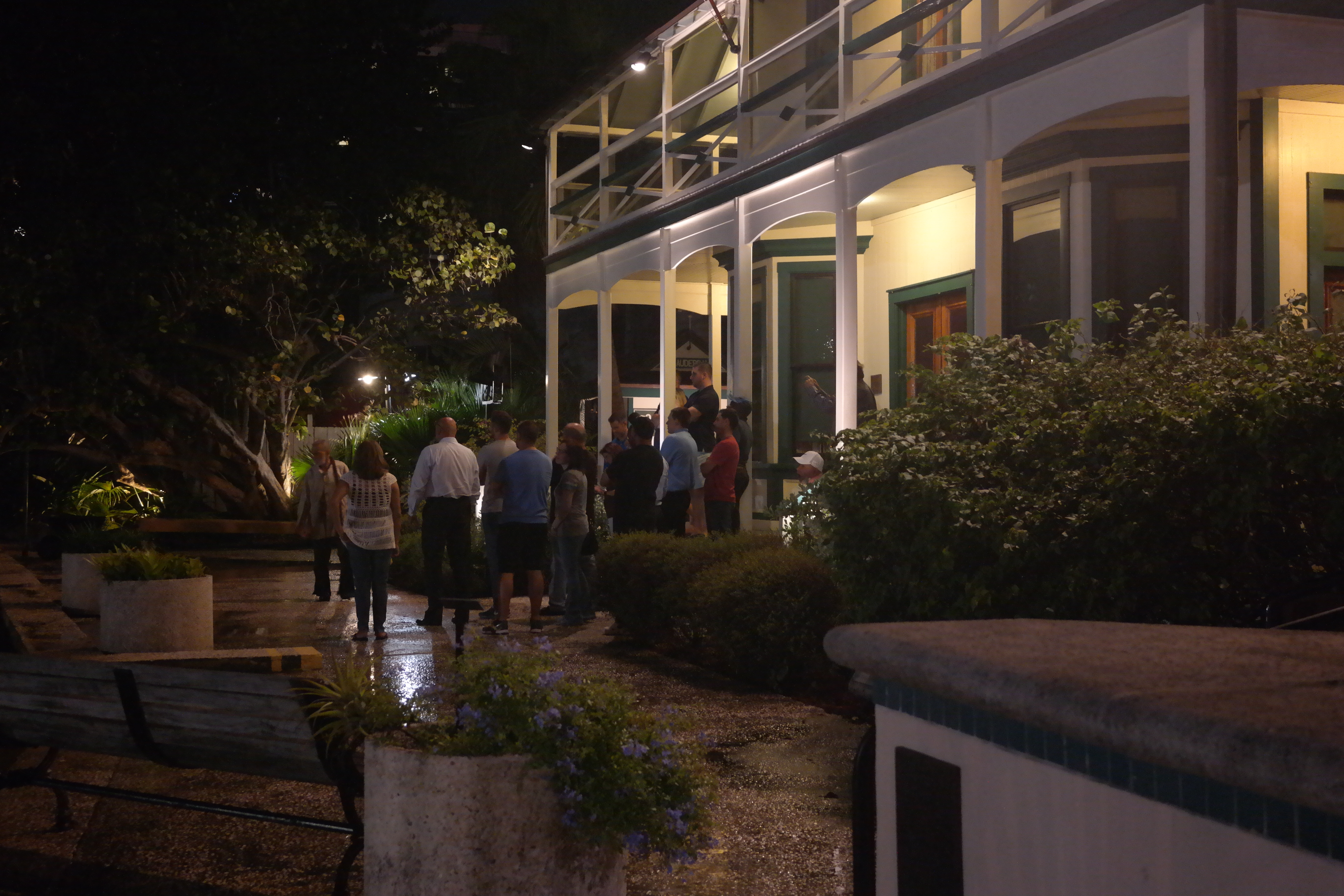 Spirits Of Halloween Tour In Progress
Right now during Halloween week, Stranahan House has a fantastic event for those of us who love a good old haunted house and ghost story combined with local history! The staff and volunteers at Stranahan House have worked hard again this year to bring us the spirits and tales of the former inhabitants of Stranahan House with their fabulous 'Spirits Of Stranahan House Halloween Tour'. Don't miss it!
The Annual Spirits Of Stranahan House Halloween Tour
This truly is a Halloween experience like no other. Where else can you walk through an over 100 year-old beautiful historic house, furnished as it was during the early 1900's, only lit by small (electric) candles? In addition, somber Victorian mourners are there at your every step, recounting the souls that lived and perished in Stranahan House. Those souls are still believed to be haunting the house now. As soon as you step into the house, the creaky floor boards, Victorian furnishings and barely-there lighting all help to take you on an instant time-travel trip back to the early 1900's: Ivy and Frank Stranahan's time.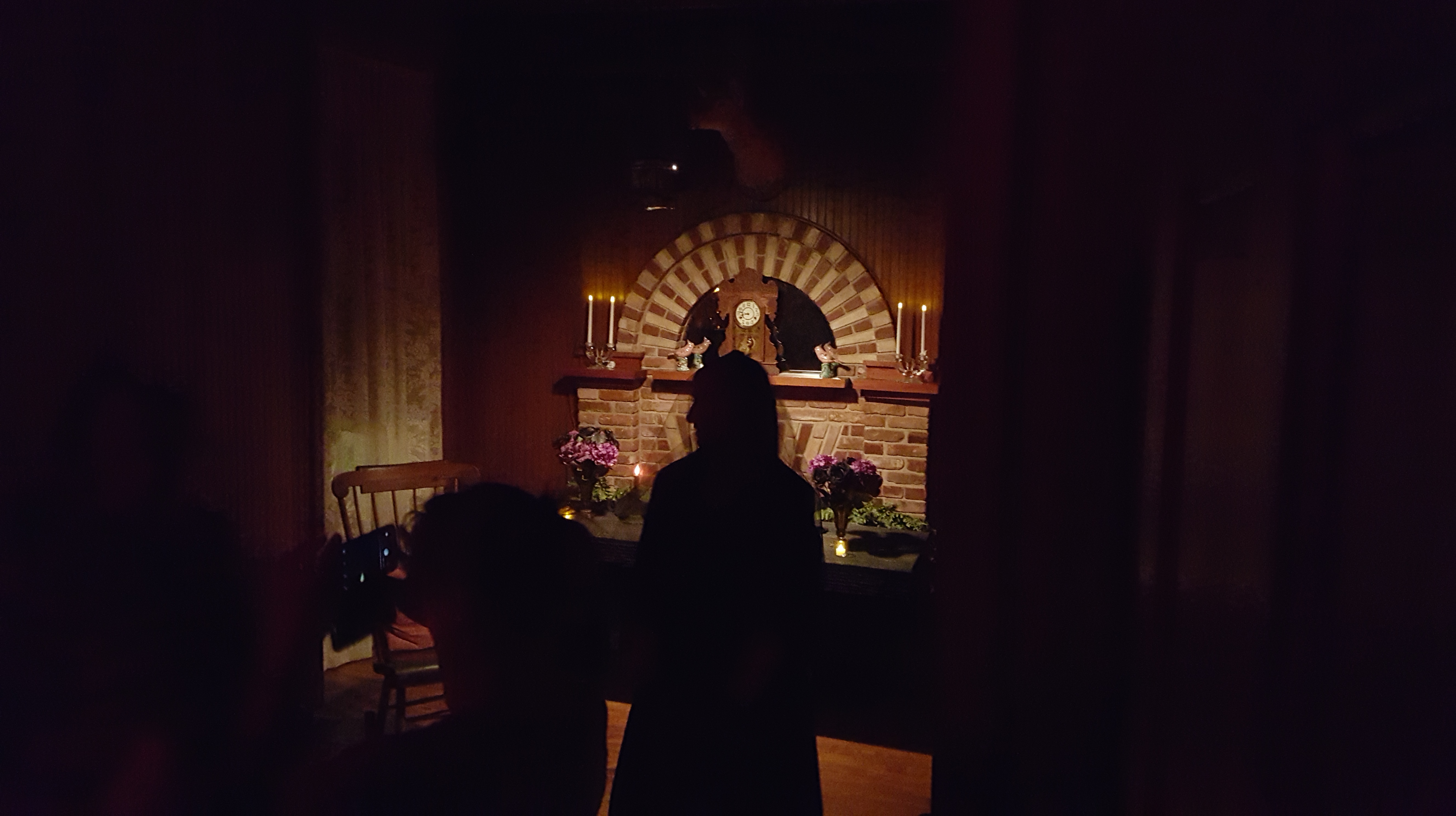 Ivy Stranahan's Sister Passed Away In This Room
First, you will enter the front room where Ivy Stranahan's sister Pink died by the window, reportedly of a broken heart as well as having just lost a baby at birth. Prior to her death, she had found out her husband was already married with children and the shock was simply too much for her. Pink is said to be one of the spirits haunting Stranahan House. Once your eyes have adjusted, make sure to look around the room and check the area close to the window, in case you catch a glimpse of poor Pink and her baby!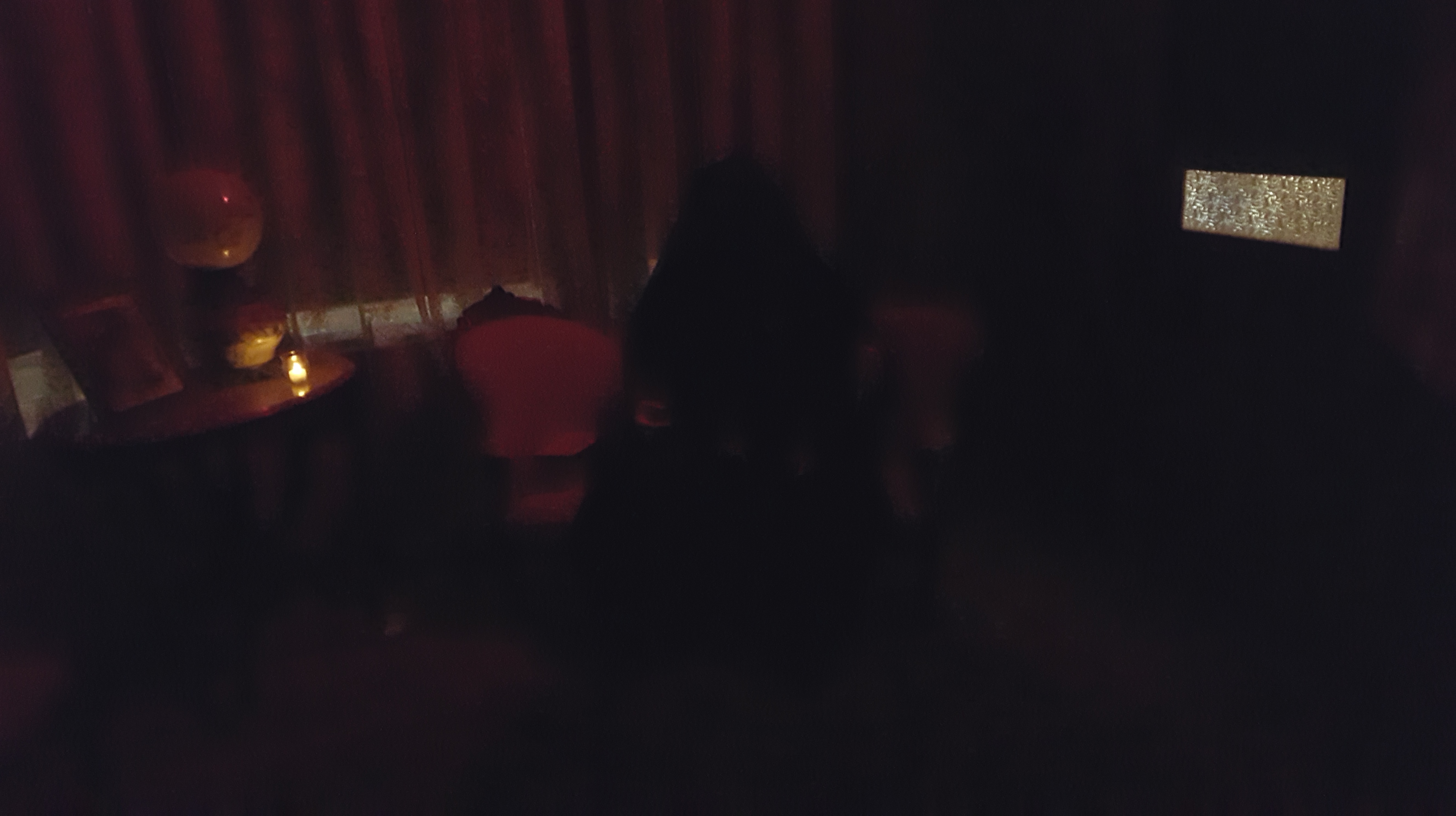 Pink And Her Baby By The Window? Or Is It Just A Shadow?
The Victorian mourners will lead you quietly around the house in darkness, recounting stories of the Stranahan and Cromartie families. There was Albert, for example, the brother of Ivy Stranahan, who died in his room at Stranahan House of Tuberculosis in his late 20's. We were told that all the pretty young ladies entering his room should watch out – especially fiery red-heads, his favorites – he might make his presence known!
You will also hear about Ivy Stranahan and her spirit at the house. A formidable lady, involved with many charitable causes right up to her death, she died peacefully in her sleep aged 90.  For a little preview of the tour, you can see a very short video of Ivy's room here – I did not want to spoil all the fun, so here is just a little taster:
One of the highlights of the tour was getting to hold a pair of dowsing rods  in the dark rooms. Dowsing rods were used in Victorian times for several reasons, the main one perhaps being to locate ground water sources. They were also, importantly, used to detect the presence of spirits  and grave sites. Some people holding the dowsing rods on the tour of the Stranahan House felt them moving…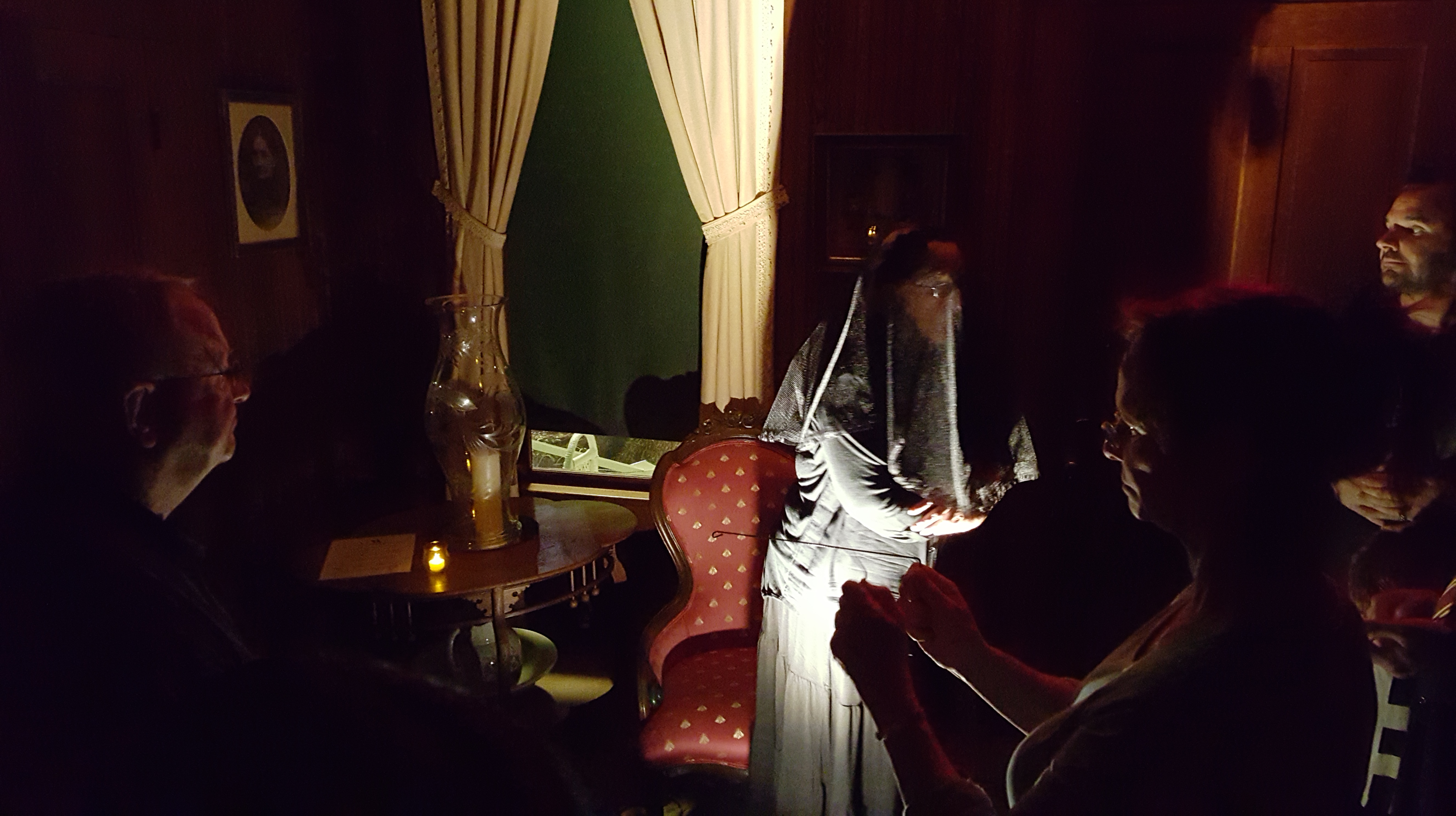 Tour Guest Feeling Movement Of The Dowsing Rods
While I won't give you any more details here, as I am hoping you pay Stranahan House a visit to experience the 'Spirits of Stranahan House Halloween' tour for yourself, I can promise there is still lots to come. You might be lucky enough to meet the spirit of Frank Stranahan himself, recounting his successes, failures and untimely death at Stranahan House!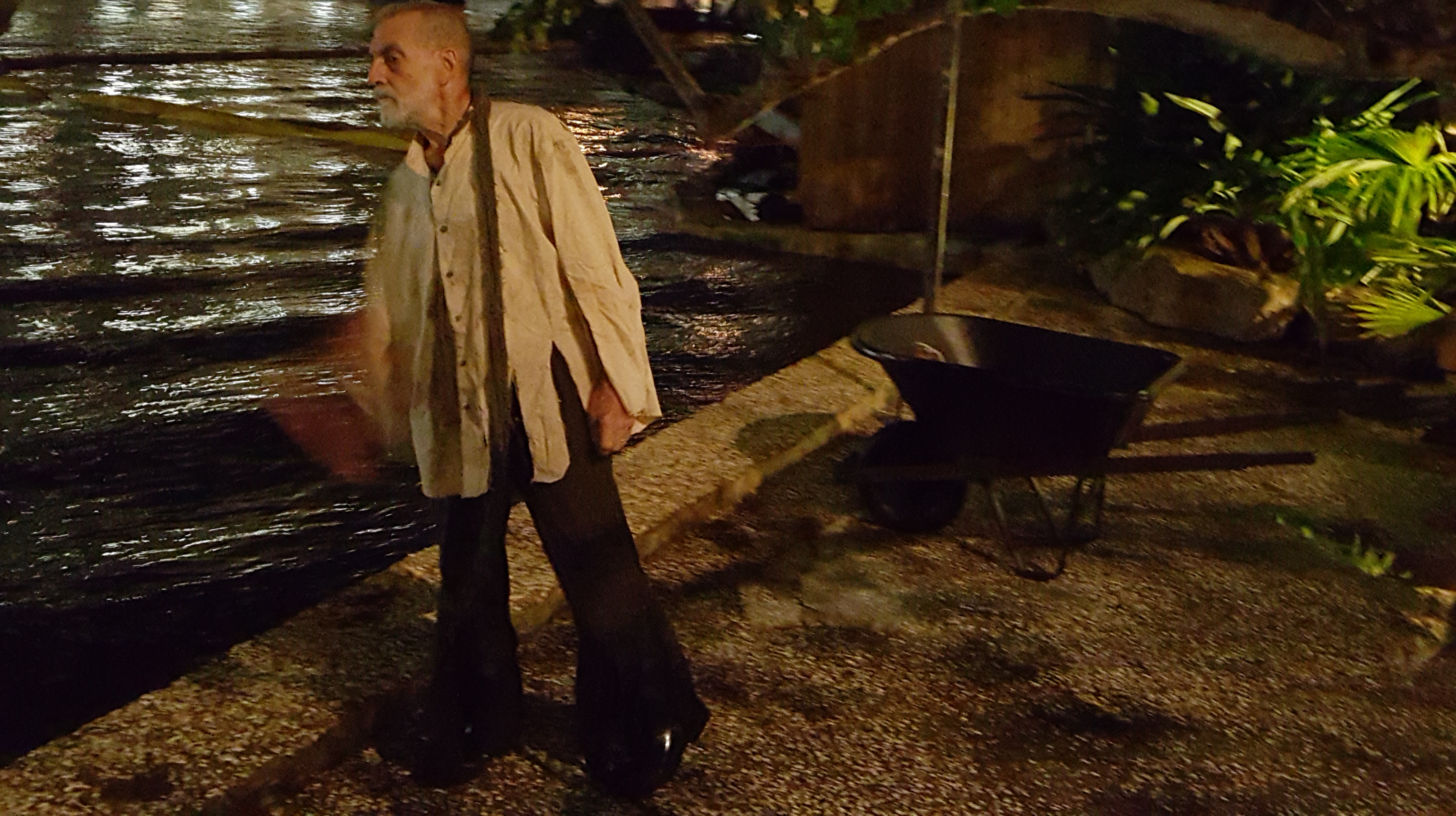 Frank Stranahan's Spirit Reflecting On Bygone Days
Frank tragically committed suicide after having been financially ruined. He jumped right into the New River outside Stranahan House and drowned himself  –  his restless spirit is still said to be haunting the house.
My Verdict Of The Tour
This is an absolute must-see even if you don't believe in spirits, ghosts and haunted houses. Perfect to get you into the Halloween mood, you will experience a historic house in virtual darkness, which is always a little creepy. The docents dressed in Victorian mourning attire certainly add to the somber and dark atmosphere. There is plenty of (hi)story-telling, based on actual events having taken place in Stranahan House. You will also learn about the Stranahan and Cromartie family members who lived and died in the house. Last but not least it is a joy to see the knowledgeable and enthusiastic staff and volunteers in action, including Frank Stranahan' s 'spirit', who – in real life – is long time care taker of Stranahan House John Della-Cerra.
Details Of The Stranahan House Halloween Tour
Tours are held on October 25, 30, 31 and November 1st beginning at 7:30pm. Additional tours may be added at 8:30pm on these days, depending on the popularity of the event.
Tickets are $25 per person, please call Stranahan House Museum to reserve your ticket: 954-524-4736
Don't forget, you can also tour Stranahan House Museum all year round, tours are held daily at 1pm, 2pm and 3pm.
A Big Thank You 
A big thank you to Lexi Robinson and Stranahan House management for the invitation to the tour! Also a huge thank you to Merry Wajda and John Della-Cerra for letting me sample their Halloween tour, as well as generously allowing me to interview them afterwards. I hope this post will serve to raise awareness of the house, the fabulous tours and all the hard work and countless hours the staff and volunteers expend at Fort Lauderdale's oldest house, helping to keep history alive for all of us!
Merry Wajda (Guest Services and Gift Shop Manager) reminded me of the main reason for the house being such a beautiful gem: John, who has been caretaker of Stranahan House for almost 30 years. Not being content with beautifying and renovating the house, he is also expert tour guide, as well as volunteering many hours at events such as this Halloween tour.
John himself can perhaps be described as a piece of Fort Lauderdale's living history:
He used to eat in the restaurant which once occupied the lower floor of Stranahan House and even met Ivy Stranahan herself. John described her as 'no-nonsense' and a formidable lady indeed, with many charitable interests and passions.
It was truly fascinating talking with John and Merry (who also dedicates much of her free time to Stranahan House).
Have you been to Stranahan House? Do you have any 'spirit' experience or spooky photos? I would love to hear from you! Please use the contact form below. I look forward to connecting!