You may wonder how to get into that elusive holiday spirit with those balmy 'flip-flop' days here in South Florida, while the rest of the country is shivering and very much aware of the impending holiday season.
December sneaks up on us flip-flopped and bathing-suited creatures almost unnoticed. Suddenly we are looking for ways to feel festive. You may be forgiven for thinking it is almost impossible to get into the holiday spirit while the air conditioning is still busily humming, but fear not, Stranahan house will make it happen for you!
Visiting Stranahan House's 'Victorian Christmas' will leave you feeling very festive indeed, ready for the holiday season! While I can't give you cold temperatures or snow, I can promise you history, education and culture with holiday cheer, sparkly lights and docents in Victorian dress bringing history to life. Sounds good to you? Read on for a little history of the house and details of the 'Victorian Christmas' event.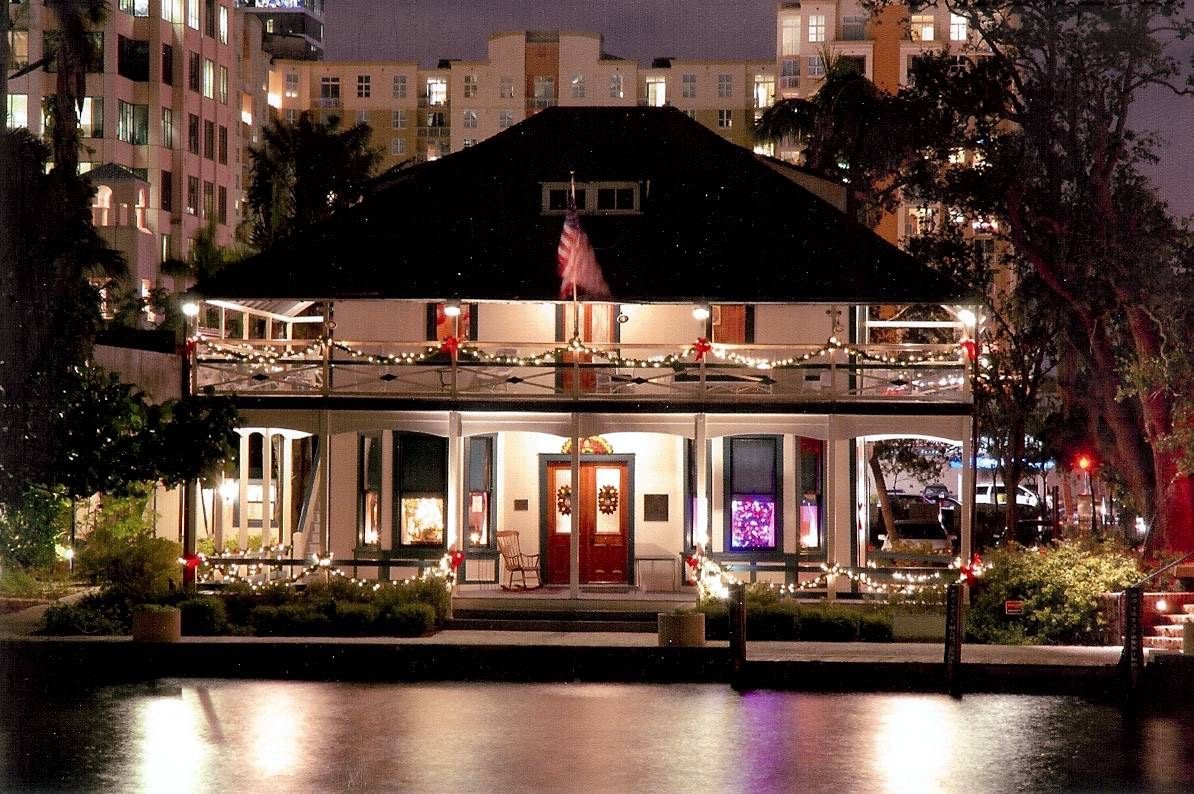 Stranahan House With Holiday Lighting And Decorations
(image credit: 'Historic Stranahan House Museum')

Stranahan House – The Oldest House In Fort Lauderdale
Stranahan House – the oldest house in Fort Lauderdale – was built in 1901 by Frank Stranahan, a native of Ohio, who reportedly came to Florida for health reasons. The unassuming wooden building had originally been designed as a trading post and was later converted to a residence for Frank and his wife Ivy.
The Stranahans were prominent personalities in Fort Lauderdale's early history: Frank established the first post office in Fort Lauderdale, along with the trading post (Stranahan House) and a ferry service for crossing the New River. Ivy Stranahan was no less formidable. She was in fact the first teacher in Fort Lauderdale before she got married to Frank. After getting married, Ivy became well known for her ambition to  educate Seminole children, which made her a lifelong friend of the Seminole tribe.
For those reasons and more, Frank and Ivy Stranahan are often described as the 'founders of Fort Lauderdale'.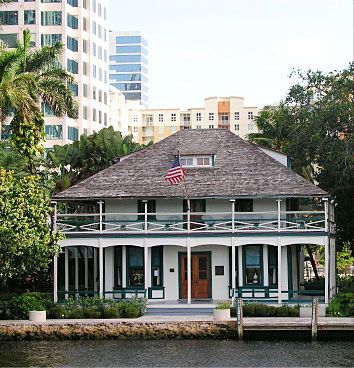 Stranahan House In Downtown Fort Lauderdale
(image credit: www.riverwalkae.com)
Stranahan house sits like a beautiful forgotten gem defiantly between high rises, banks, boutiques and hotels in the middle of downtown Fort Lauderdale on the New River. The house stands as a reminder of a time when Fort Lauderdale was a remote outpost and far cry from the hustling and bustling city and vacation spot we all know as the Fort Lauderdale of today.

Victorian Christmas At Stranahan House
Stranahan house was purchased by the Fort Lauderdale Historic Society in 1975, after Ivy Stranahan's death four years prior. The society has carefully renovated, furnished and decorated this wonderful gem of a historic house, which now functions as a museum and is open year round (Monday to Saturday), offering tours of the house at 1pm, 2pm and 3pm.
Something very special happens during the holidays: in early November, the house will be totally transformed into an old-fashioned fully decorated house of Frank and Ivy's era, which is worth seeing by itself, and a time-honored family tradition in Fort Lauderdale.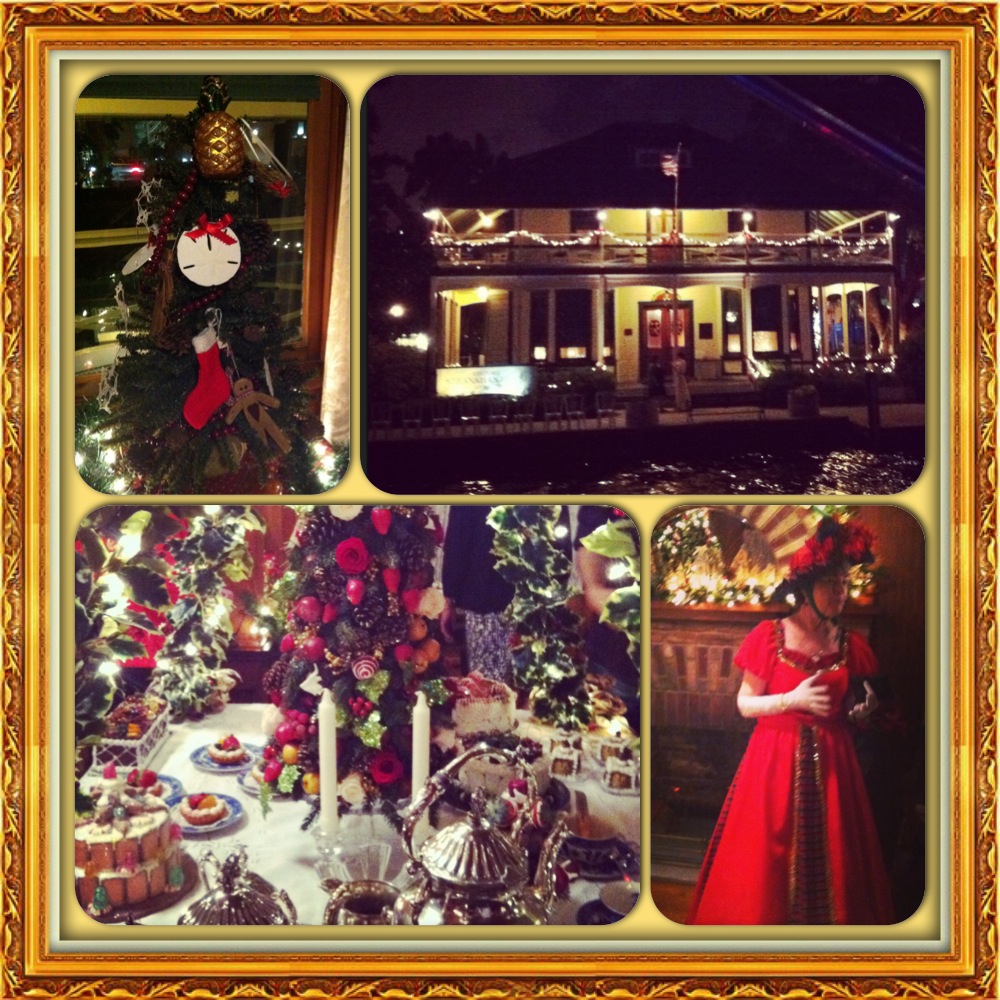 If you truly want to immerse yourself into a Christmas of Victorian times complete with dressed up docents, however, the 'Victorian Christmas' event at Stranahan House will be just the ticket to get you into the holiday spirit.  No 'Bah Humbugs' here! Stranahan House brings you the wonderful and cozy Christmas feeling of generations past with  decorations, lights and dressed-up docents telling stories of bygone days.
Can it get any better, you ask? Why, yes! As well as giving you a glimpse into holidays in the Victorian era, the 'Victorian Christmas' event also includes a boat tour down the New River to see some fabulous Christmas lights and mansions. This is probably the only event in the area during the holiday season that gives you the opportunity to combine a historical outing with one of the most wonderful things to do on the water during the holidays in Fort Lauderdale. What's not to love?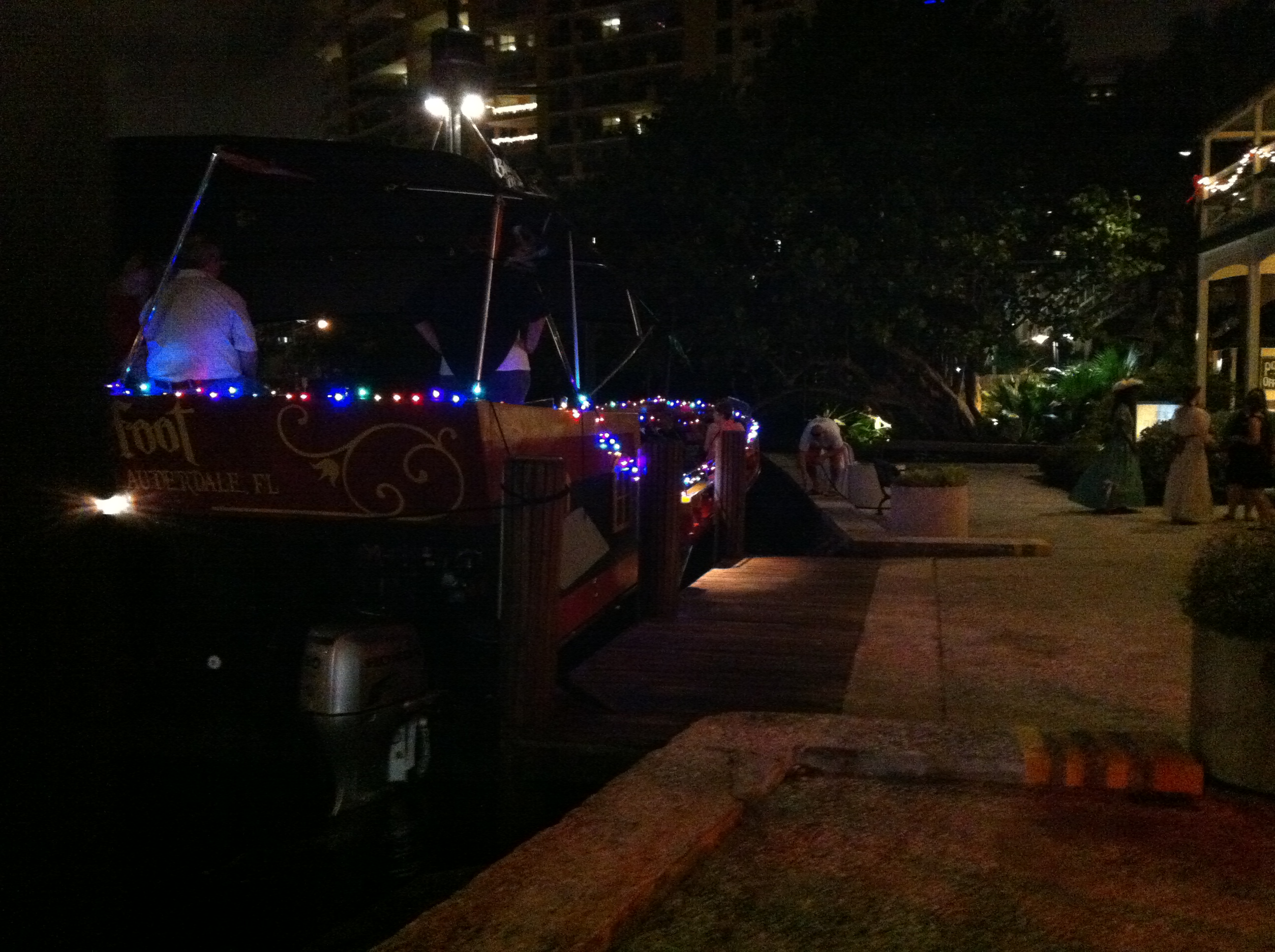 Time To Board The Lovely Decorated Boat
I was lucky enough to attend the 'Victorian Christmas' event with boat tour a couple of years ago, and it is certainly one of the best historical holiday events I ever attended, if not 'the' best. Being a lover of all things historical, all things 'museum' and anything to do with boats and water, it just happened to have that perfect combination for me.
However, I can see how this event would appeal to a wide range of people, and especially older children. The 'Victorian Christmas' brings history and culture into our lives in a most playful and effortless way.  Judging by all the 'ooohs' and 'aaaahs' I heard not only in the house but also on the boat, I am not alone with my opinion!
 
Details Of Events Offered At Stranahan House During The Holidays
 Stranahan house is decorated for the holidays from mid November and open as usual for tours at 1pm, 2pm and 3pm.
The Victorian Christmas event is held on December 15th – 23rd at 7:00pm. It includes a tour of the house given by docents dressed in Victorian attire, as well as a boat tour on Fort Lauderdale's New River. Tickets are $30 per person and advance registration is required. Please visit the website www.stranahanhouse.org/visit/victorian-christmas or call the house for further information and tickets: 954-524-4736
The house is also hosting a 'Cookies With Santa' event for children (please call the house for dates), where children have the opportunity to take a photo with Santa, create crafts with Mrs. Claus, enjoy music and stories with Mr Winter, and get a free cookie from Hoffman's Chocolates. Tickets are $10 per child which includes crafts, story-time and the photo. Advance registration is required, please call Stranahan house for details: 954-524-4736

Credits
I found much of the information contained in this article at Stranahan House's official website here. Wonderful images of the property, such as one I used here with permission, can be found on Stranahan House's Pinterest site here.
Last but not least: a huge 'thank you' to Stranahan House's April Kirk (Director) and Lexi Robinson for providing me with additional information in a most professional, pleasant and timely way.
As a former Museum Curator, I certainly recognize the enthusiasm and love for history displayed by the management, staff and volunteers at Stranahan House, who are all going the extra mile to provide the public with these wonderful events bringing history to life. Let's support them by visiting!
Have you been? Are you planning to go? Any tips, hints, photos to share or questions? I would love to connect!