So you are in Fort Myers and it is raining. Oh dear! Perhaps you simply had enough of the beach for a day, and are nursing a sunburn. What now?
Why not head over to the Edison and Ford Winter Estates in downtown Fort Myers for a few hours of history, culture, inventions and botany? The site offers over 20 acres of botanical gardens, nine historic buildings including Edison's Botanic Research Laboratory and the Edison Ford Museum with a wonderful collection of many of Edison's inventions. There is something for everyone! Plan to spend at least 3 hours for all there is to see, including all the buildings and the charming grounds.
A Little History of Thomas Edison and Henry Ford in Fort Myers
Thomas Edison came to Fort Myers in 1885 at the age of 38. Apparently Edison had a little health problem he wanted to cure with a dose of Florida sunshine. He subsequently decided to purchase the beautiful property called 'Seminole Lodge' and 14 acres on the banks of the Caloosahatchee River. This pretty much coincided with Edison marrying his second wife Mina in 1886.
By then he was, of course, already a wealthy and established inventor and industrialist. We all know him for the lightbulb, but Edison has a long list of inventions to his name. Before he came to Florida, he had already invented the phonograph (patented in 1878), and by the end of his life had collected a staggering number of patents, 1093 to be precise, some of them singly and some jointly.  (from: http://www.history.com/topics/inventions/thomas-edison)
For 50 years the Edisons, whose main residence was in West Orange, N.J., spent the winter and spring in Fort Myers, making use of all that the area had to offer. Thomas and Mina Edison took full advantage of having the Caloosahatchee River on their doorstep, spending many hours boating, swimming, and sporting in its waters.  Both also dearly loved gardening and botany, and indulged in their hobby at the Edison Ford Winter Estates.
The Edisons liked to share their enthusiasm and love of the outdoors with family, friends and even business partners, taking them on camping trips around the area and even into the Everglades. This brings us to one of the deepest and most enduring friendships and business partnerships of Edison, which was of course with Henry Ford:
Ford's Famous Model T
In 1912, Henry Ford asked Edison to design a battery for the self-starter, which would be introduced on the iconic T Model Ford. This collaboration started a continuing relationship and friendship between the two well-known American entrepreneurs.  The two had become great friends and used to spend business and leisure time together.  Finally, in 1916, Ford purchased the property next door to Edison's Seminole Lodge, 'The Mangoes' for $20,000. (www.edisonfordwinterestatesblog.com)
Edison and Ford Winter Estates – An Introduction
Even before you get to the Estate, you can see Edison's influence on Fort Myers, for it was him who had all those lovely palm trees planted alongside McGregor Boulevard, which is one of the main thoroughfares along the river in Fort Myers, and also the road on which the Estates are situated. Edison reportedly planted 200 imported palm trees in the area, many are now over 75 feet tall, providing shade and a lovely tropical ambience along the road.
First of all, as you enter the property through the gift shop and ticketing area, you are given the option of a guided tour or a self-guided tour with an audio guide. Most people opt for the self-guided tour and so did we. It affords you the opportunity to tour the big estate on your own terms while still getting relevant information, so you can spend as little or as much time as you want at the individual stop-off points and in the garden.
On a side note, let me know once you finished strolling through the museum, how many pictures of Edison snoozing on lawns, workshops and in random places you counted – that man loved his naps!
The Museum
If, like most of us and myself included, all you ever associated with Edison was the humble light-bulb, well then be prepared for a 'light-bulb moment'! You will be absolutely amazed to learn just how many inventions this man, who as a boy never really took to school and was also hard of hearing, has under his belt! I can only name a few here, most notably he invented: the phonograph (later called gramophone) , batteries, the Carbon microphone and the movie camera (!) amongst many others.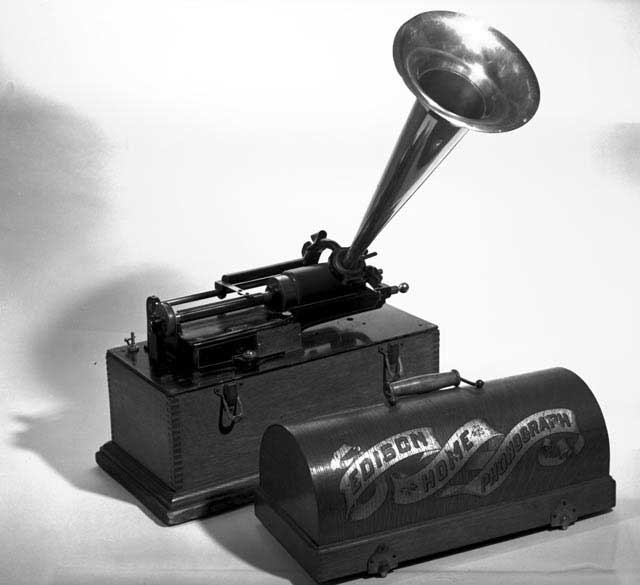 Edison's Phonograph – The Beginning Of Recorded Music In The Home
(Image credit: http://www.profcraig.com/edison/home)
In fact, as an archaeologist, I always shake my head when'alien's built this' theories are postulated, but even I find it hard to believe and explain how one man could possibly come up with all these inventions in one lifetime.
If you are lucky – we were – you might even catch one of the wonderful museum's staff playing one of the phonographs for you. They still work! I love it when history comes to life and I can imagine people back in the day gathering in awe around these little things belting out music.
The museum is a great place not only showcasing Edison's (and Ford's) achievements, but it also has a lovely personal touch. There are many photographs illustrating the activities the families undertook while at their annual retreat, centered around enjoying the great outdoors in Florida.
Edison's 'Seminole Lodge' And Ford's 'The Mangoes'
The Edison Seminole Lodge complex and Ford's 'The Mangoes' have been very lovingly restored and are a joy to visit. At Edison and Ford Winter Estates, they managed to 'open up' the individual houses by providing open windows into the property, rather than having visitors walk through the houses, which would undoubtedly do a great deal of damage over time.
Artefacts, furniture and furnishings are lovingly placed throughout the properties, making them look just like houses of the era and it looks like you  could move right in, everything is 'just so', down to the light fittings and even textiles!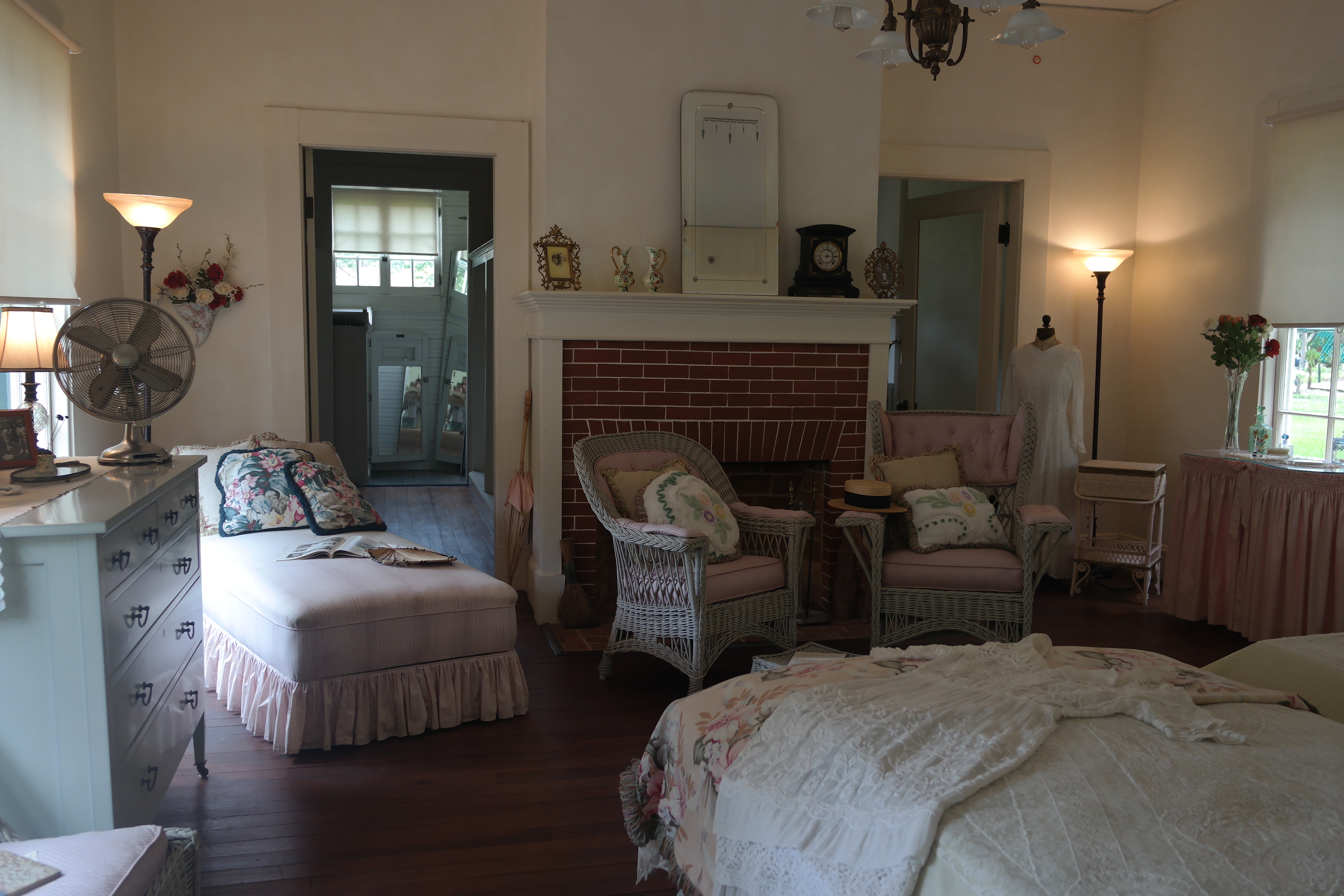 Thomas and Mina Edison's Bedroom At The Seminole Lodge
Edison's estate consists of the main house, a guest house, a caretaker's house (this is one house you can actually walk into) and the lovely pool, one of the oldest in Florida.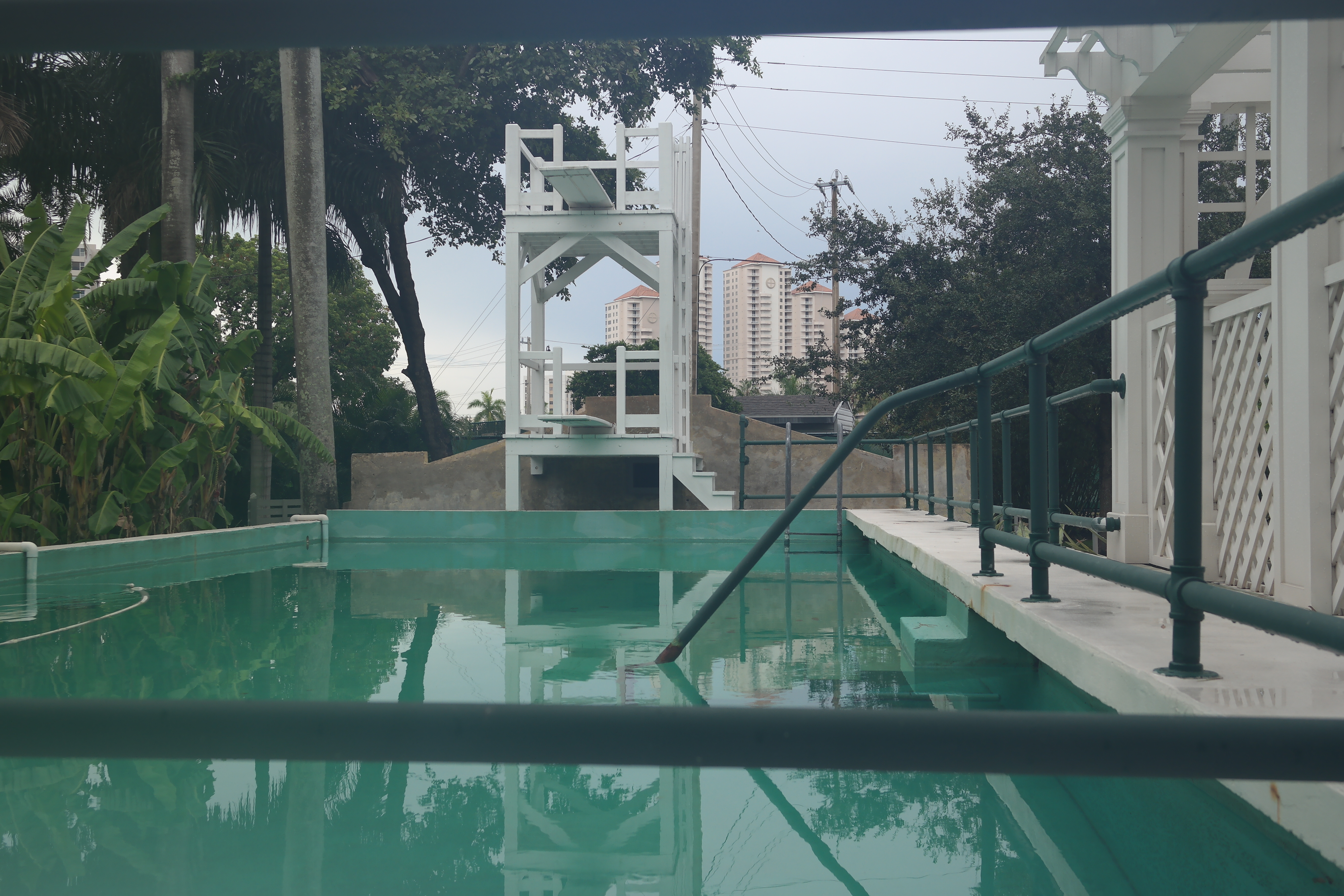 Edison's Pool – One Of The First In The Whole State
I am a big fan of small things and as such loved Edison's little office and Mina's moonlight garden, both added to the estate in 1929. The moonlight garden has also been lovingly restored to its original design, including many of the flowers Mina would remember from when she used to enjoy the garden.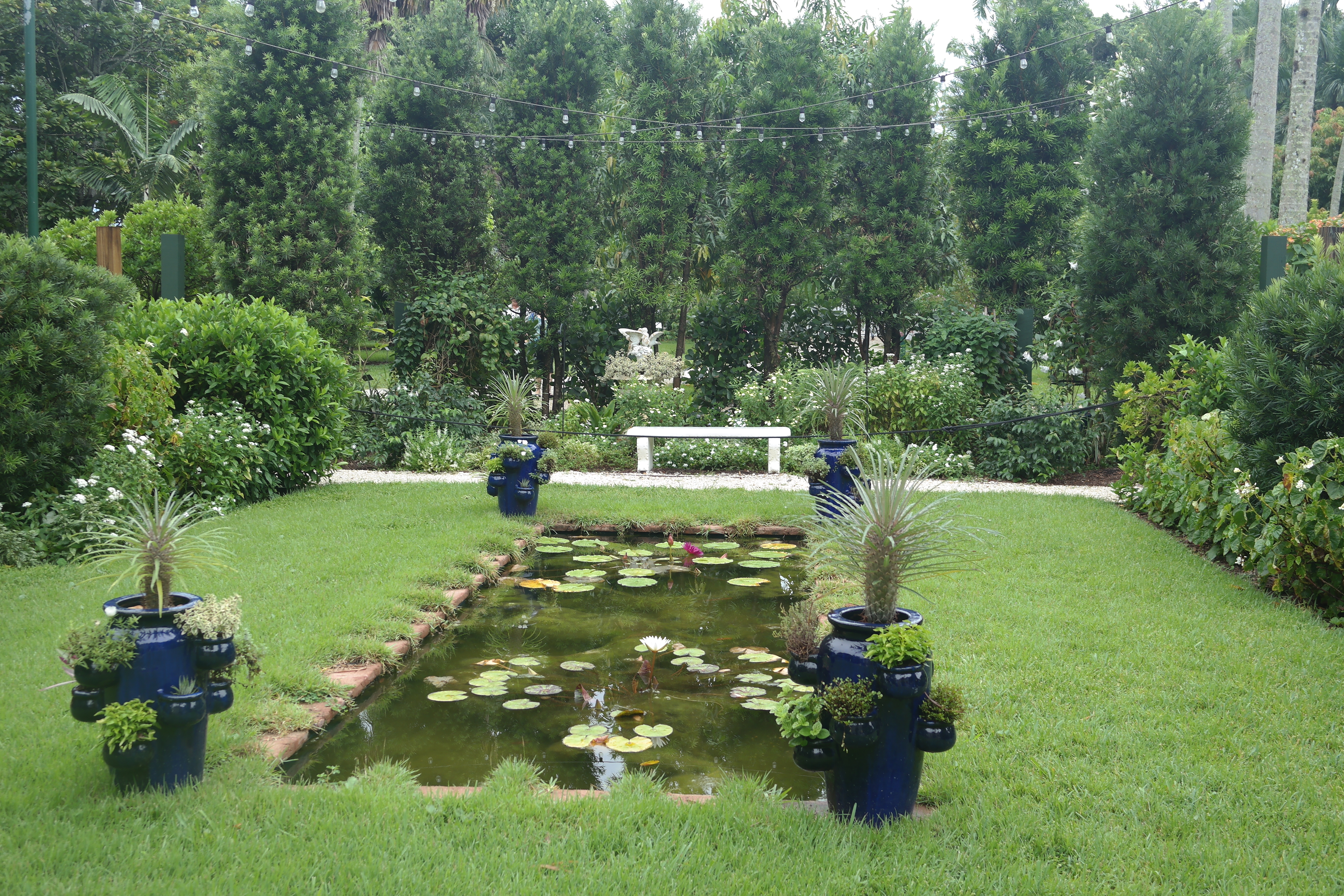 The Moonlight Garden – One Of My Favorites
Henry Ford's property 'The Mangoes' is slightly more modest but no less beautiful, comprising a main house, caretakers cottage and – naturally – a garage!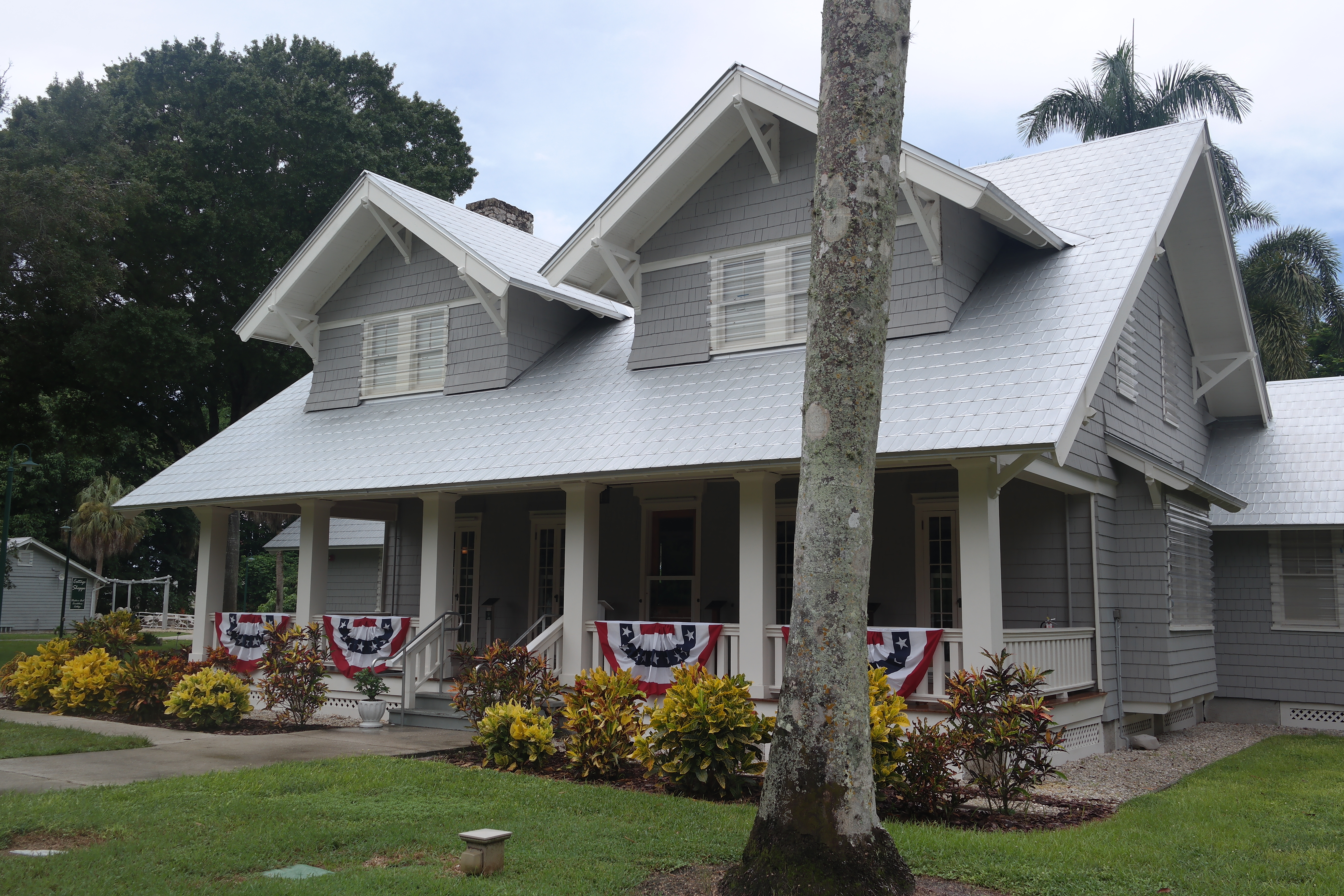 As far as I remember, the Fords did not spend a great deal of time here, only about two weeks a year.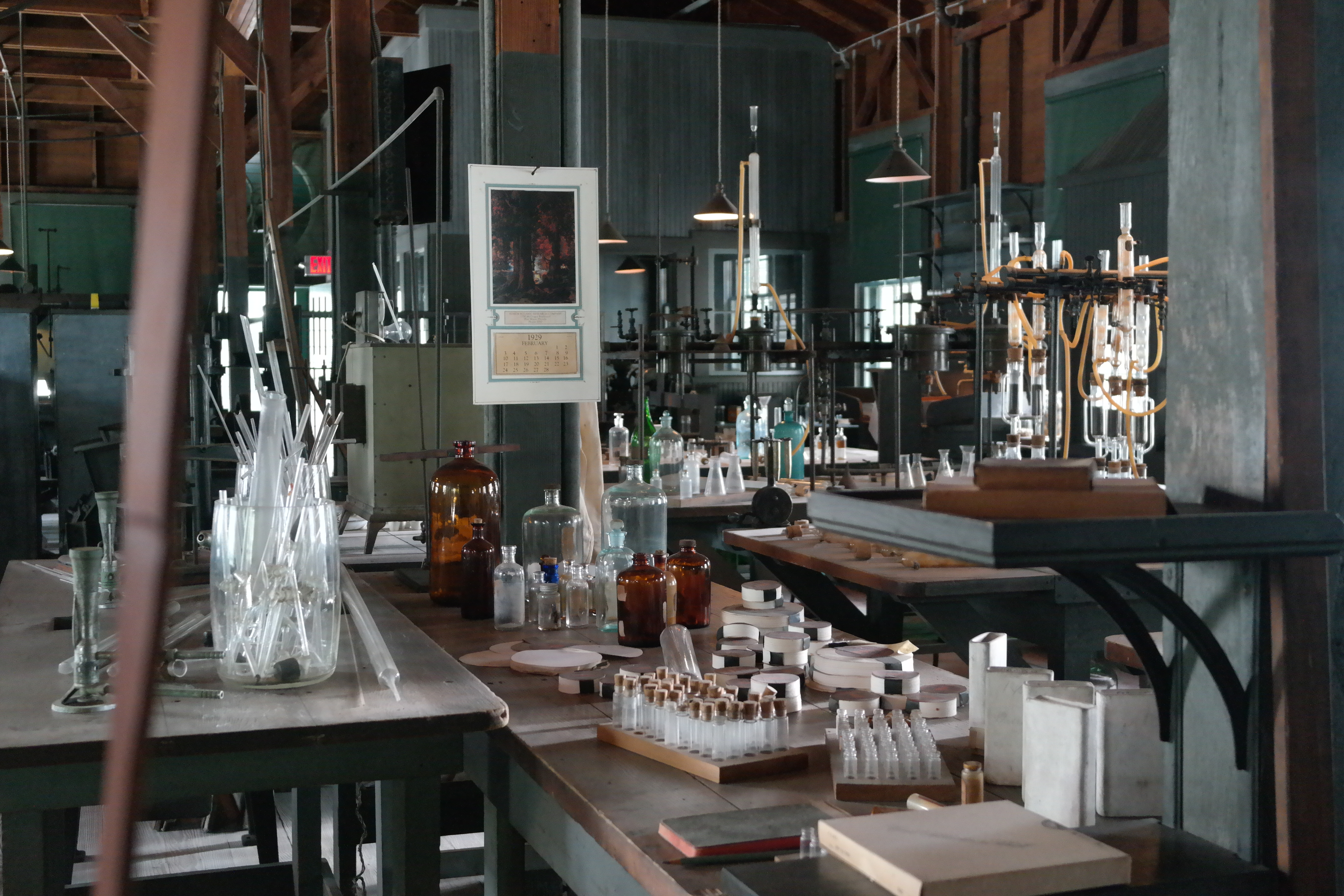 Thomas Edison's Laboratory 
The Grounds Of Edison and Ford Winter Estates
As you wander around the grounds and in-between the cottages and houses, you will notice a great deal of trees from all over, including an African Sausage tree, which amused me for a while. You will also see quite a few fruit trees. There are plenty of different citrus trees, and of course mango trees amongst many other flowering trees, bushes and plants.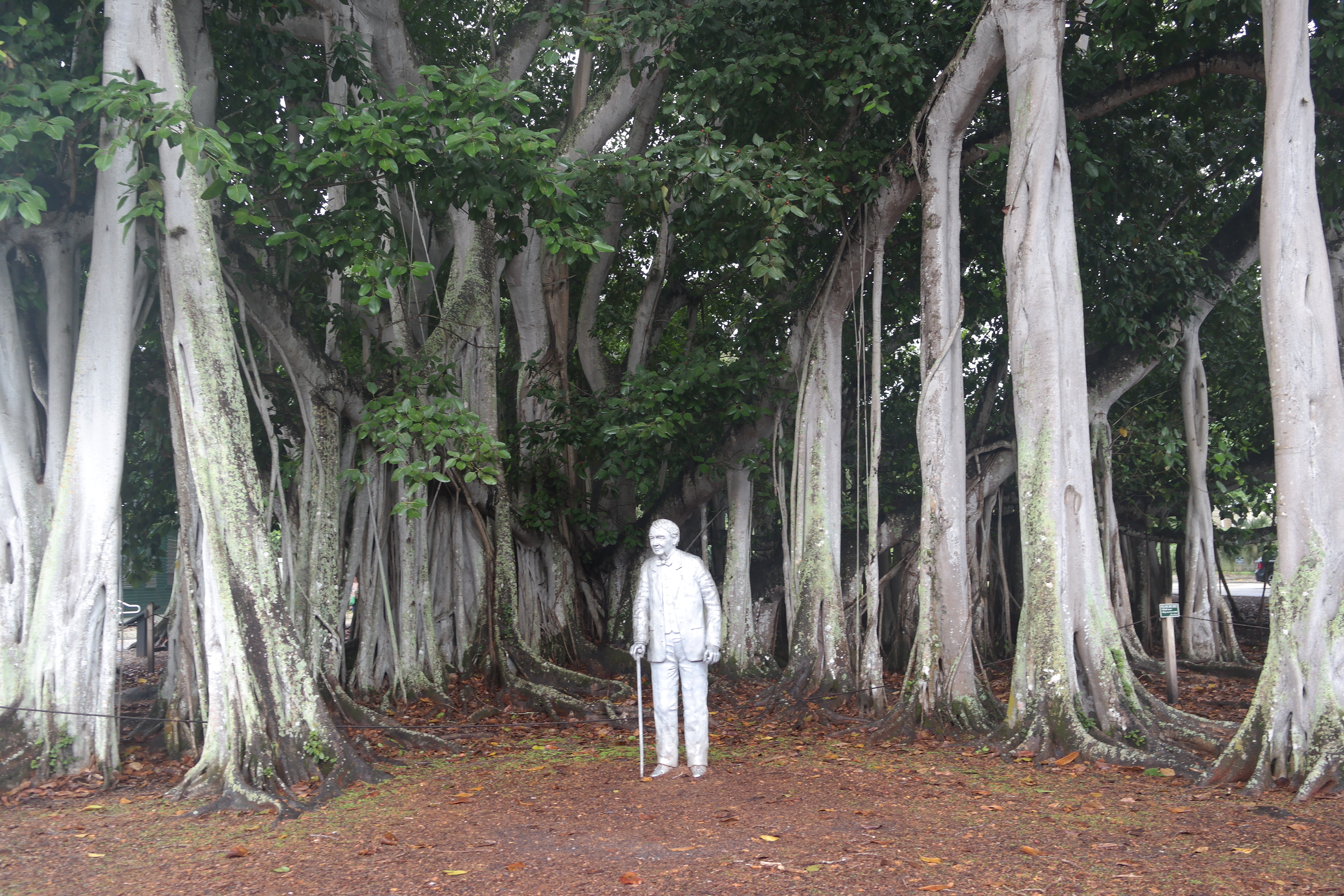 Most notably, there are some very large rubber trees of the Banyan group of figs, which did play a significant role in Edison's latter years:
"The last experimental work of Edison's life was done at the request of Henry Ford and Harvey Firestone in the late 1920's. They asked Edison to find a substitute source of rubber for use in automobile tires. The natural rubber used for tires up to that time came from the rubber tree, which does not grow in the United States. It was becoming increasingly expensive. Edison tested thousands of different plants to find a suitable alternative, eventually finding a type of Goldenrod weed that could produce enough rubber to be practicable. Edison was still working on this at the time of his death."
(from: http://www.u-s-history.com )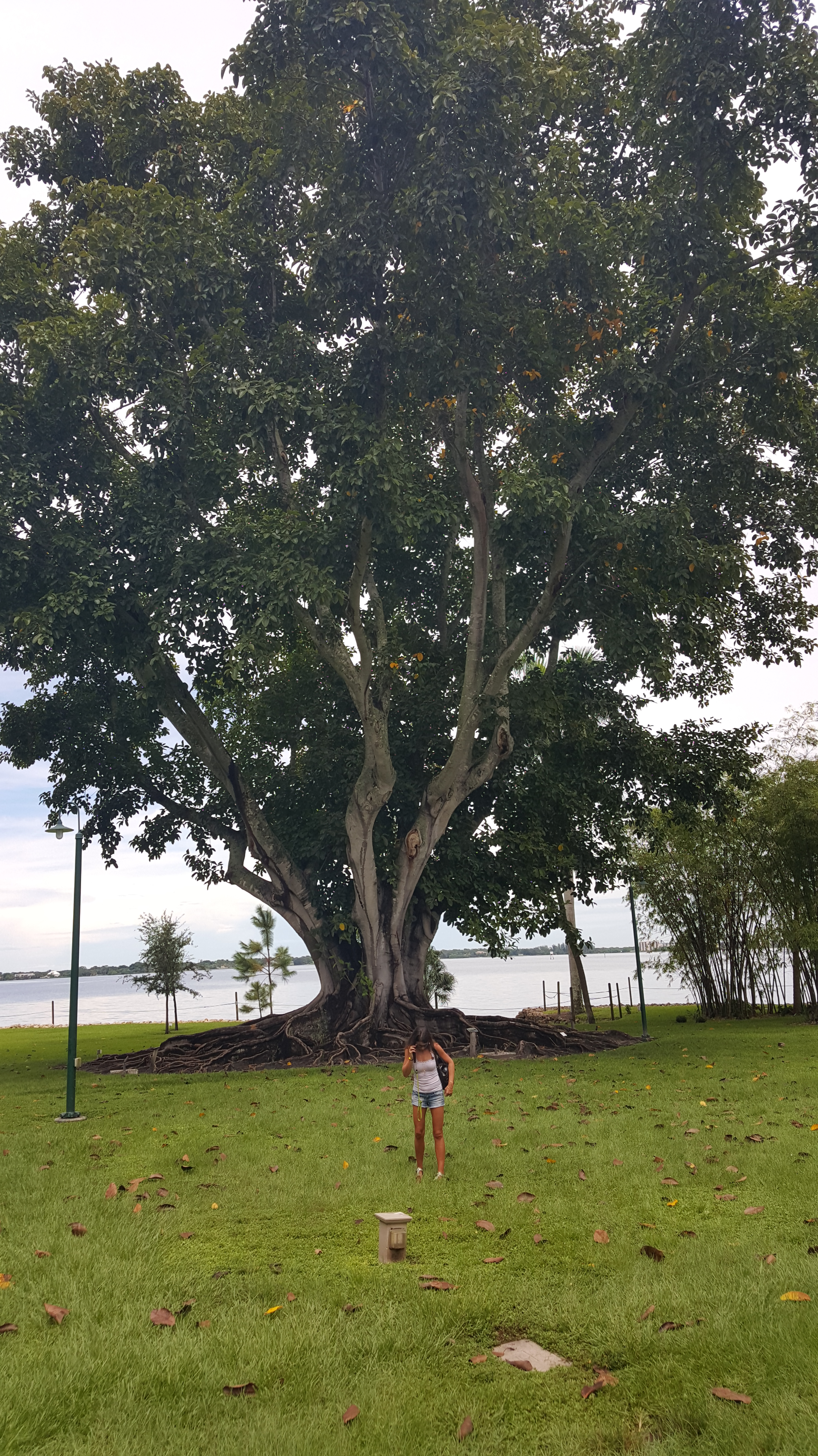 Rubber Tree At Edison and Ford Winter Estates
If you would like to see the man in action, I found a sweet little videofrom back in the day when Edison aged 74 was shadowed on a day's work, a little PR for him no doubt but still nice to watch:
The Verdict?
It truly is a  wonderful and educating way to spend an afternoon away from the beaches, if the weather is not co-operating or simply  to do something different. You can make a whole day of your visit, and the estates are open around the year daily from 9-5:30. I wholeheartedly recommend it, having been twice already and still discovering new things!
Have you been?  Maybe you have some older photos to share? I would love to connect!