Lovers Key State Park
Lovers Key State Park is located just minutes south of Fort Myers Beach. The Park is made up of Lovers Key and three other barrier islands: Black Island, Inner Key and Long Key.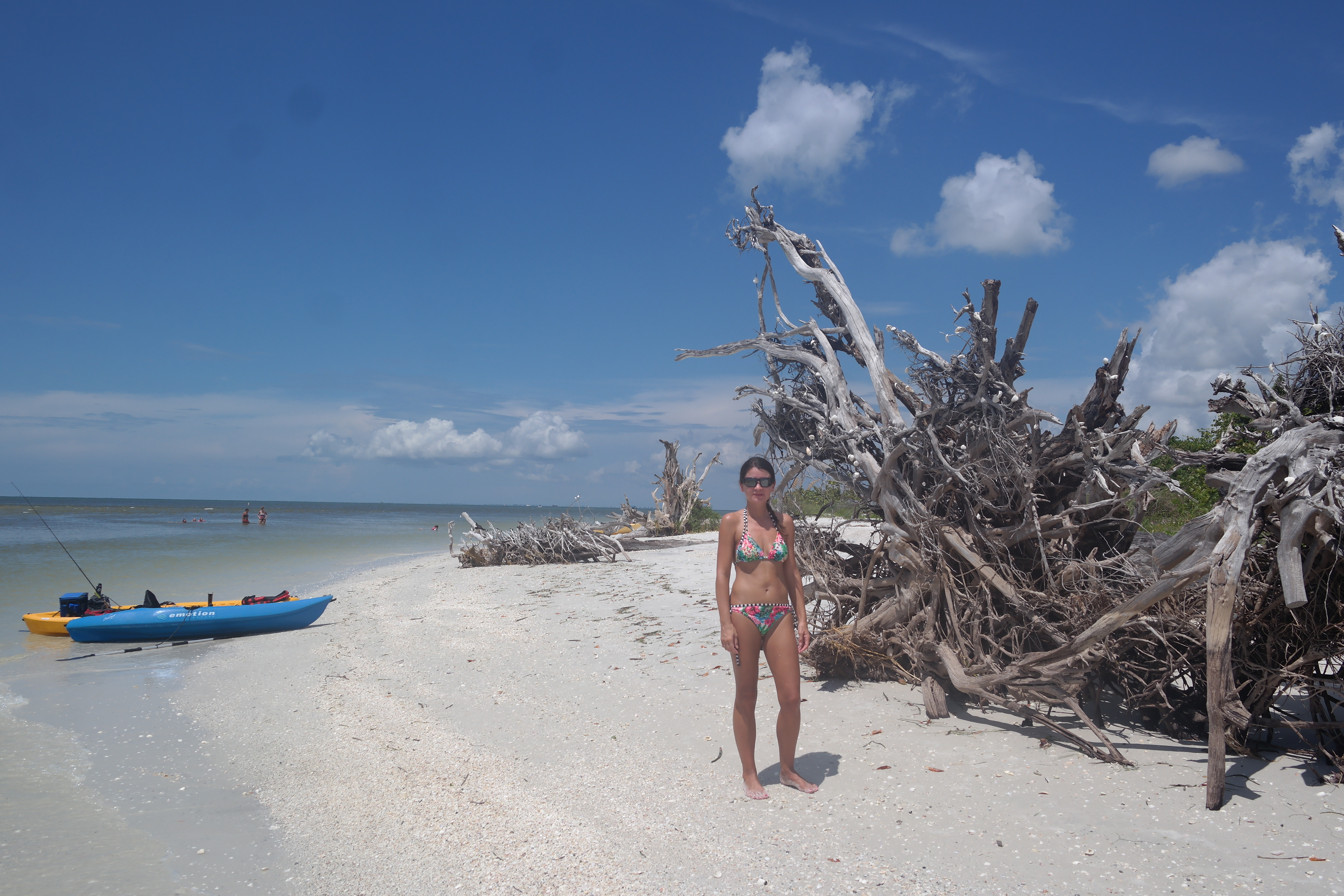 Lovers Key State Park Is Heaven On Earth
On The Florida State Parks website, we are told about Lovers Key State Park:
"A haven for wildlife, the islands and their waters are home to West Indian manatees, bottle-nose dolphins, roseate spoonbills, marsh rabbits, and bald eagles. The two mile long beach is accessible by boardwalk or tram and is popular for shelling, swimming, picnicking and sunbathing. Anglers and boaters can launch their vessels from the park's boat ramp. The park's concession offers kayak tours, as well as bicycle, canoe, kayak, paddleboard, beach chair and umbrella rentals'.
I am concentrating on kayaking here, but of course you don't have to kayak, there are plenty of options here and if you would rather stay on the dry, you can enjoy the beaches on foot too. There is also the option to explore the nearby waters with an organized boat tour, some offer the option to go on a Dolphin viewing trip. The waters here are teeming with life, we saw Dolphins on both days spent in the area, so I can imagine this would make for a great few hours out!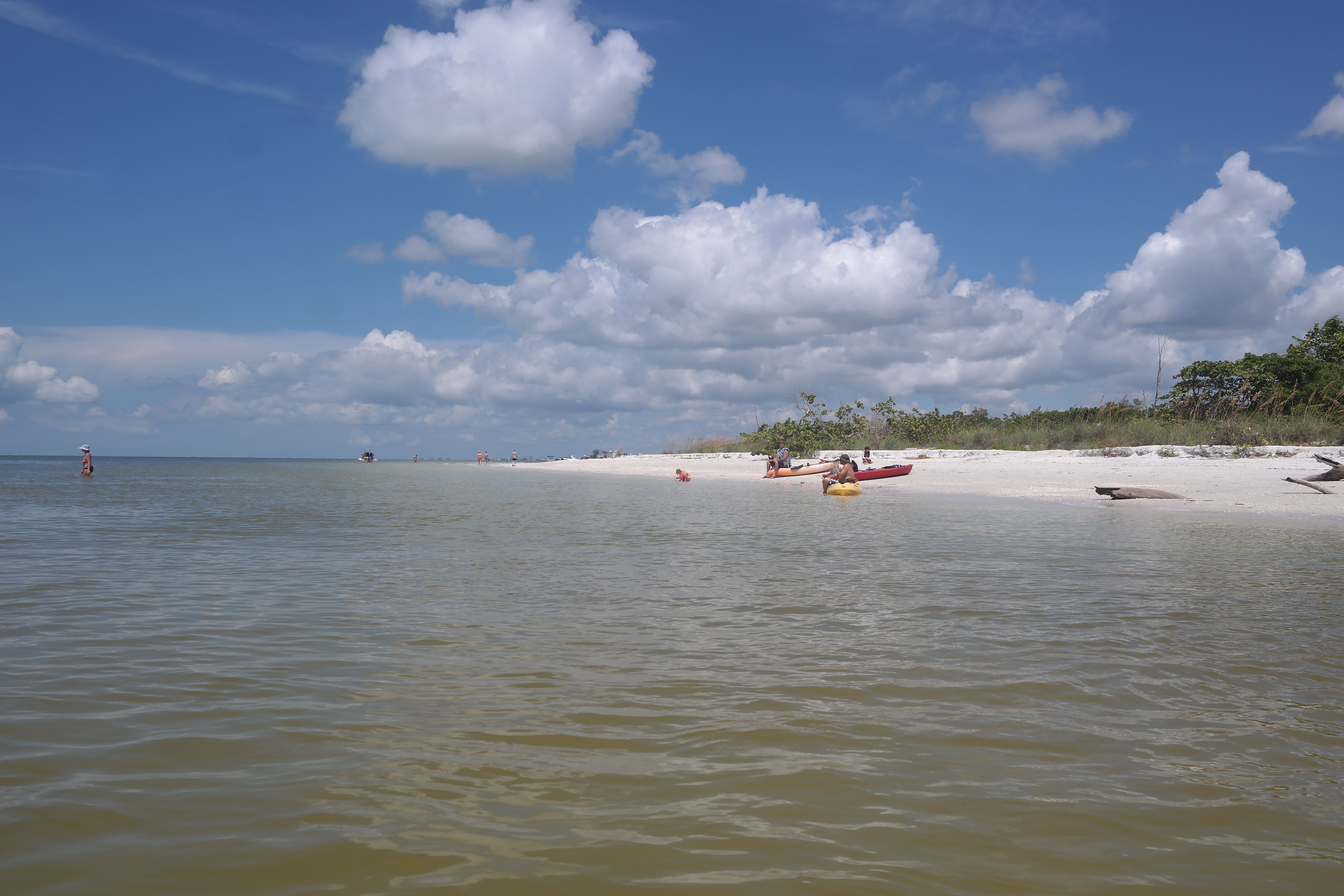 Lovers Key State Park's Stunning Beach

Where To Launch Your Kayak 
If you are planning on renting kayaks, you may do so at Lover's Key State Park.  Boating and Kayak launch is on the boat ramp at Black Island. If you are not renting kayaks at the Park, you are able to launch pretty much anywhere you can find parking and access to a beach.
We did check out the boat ramp within the park, but it was very crowded on this (Labor Day) holiday, and in some thick mangroves, which always has me in a mild panic, because especially in the summertime, I am unfortunate enough to get eaten alive by swarms of mosquitoes, even when nobody else gets bitten. Therefore, waiting around at a busy boat-ramp for others to launch, standing around in a mangrove area is way too much 'sitting duck' for my personal comfort! I prefer more open areas where the breeze keeps the little blighters away.
After having had a good look around, we decided to stay out of the way of the boating traffic, mangroves and masses and launched at a small parking lot/beach site opposite the dog beach (on the south side of New Pass Bridge) on Big Hickory Island, actually outside of the State Park. The beach is, however, a launch spot for the Calusa Paddling Blueway, a 190 mile marked canoe and kayak paddle trail in Lee County.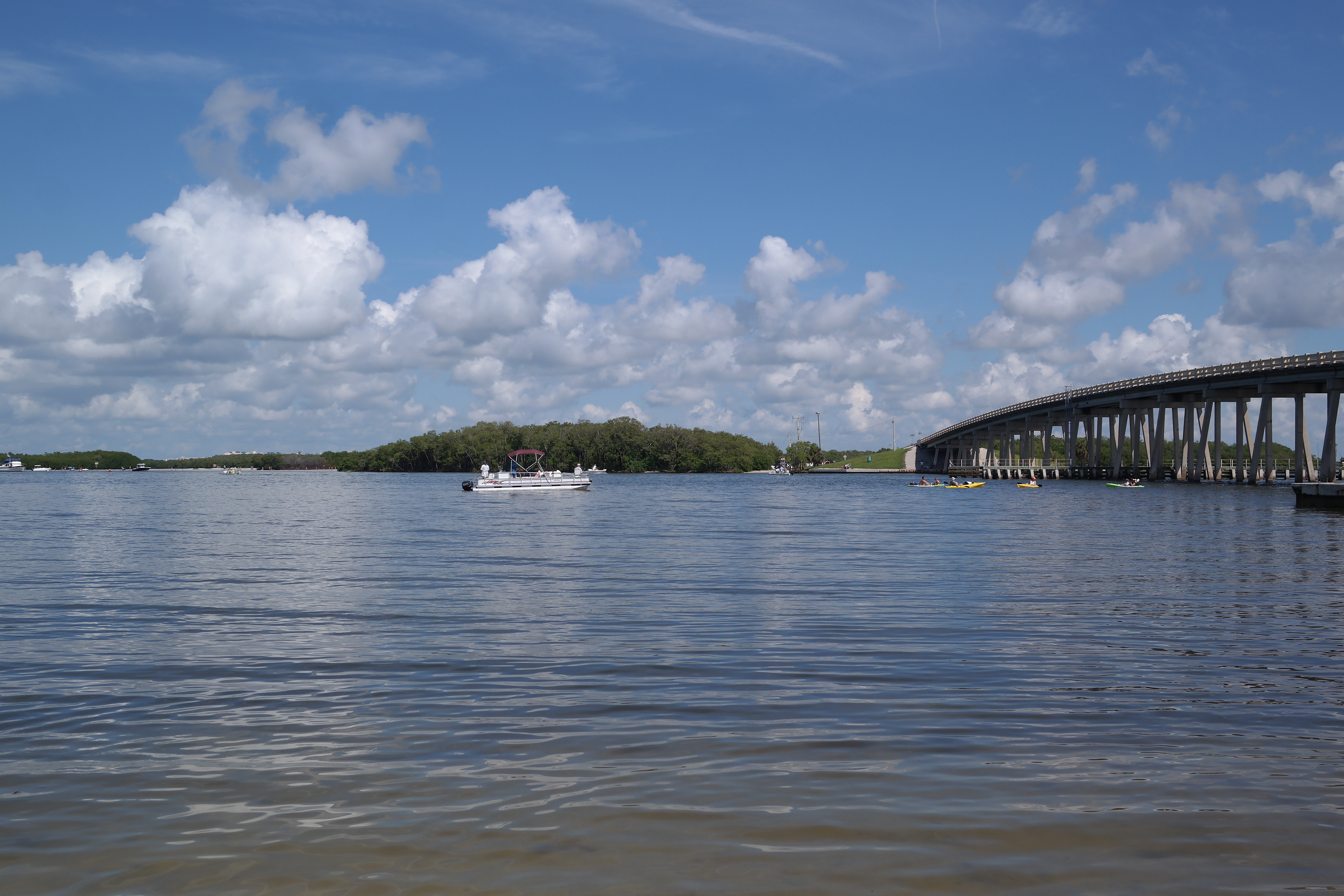 Launching The Kayaks – New Pass Bridge To Right
I still got attacked by mosquitoes and no-see-ums, but I would probably have gotten carried away by them, had I launched in the mangroves…
Where To Paddle  Or Not To Paddle – That Is The Question!
With it being the height of the summer, and therefore the height of humidity, heat and with possible thunderstorms forecast on this 2015 Labor Day weekend, the grand plan of paddling to Mound Key Archaeological State Park, quite some distance north east of our launch, was swiftly abandoned. We agreed to re-schedule this one to a later date with a better weather forecast and less heat and humidity. I am definitely going to go and see this major archaeological site, described on the Florida Parks website as
"believed to have been the ceremonial center of the Calusa Indians when the Spaniards first attempted to colonize Southwest Florida. In 1566, the Spanish governor of Florida established a settlement on the island with a fort and the first Jesuit mission in the Spanish New World. The settlement was abandoned three years later after violent clashes with the Indians. The only access to the island is by boat".
There are other places to paddle closer by in Lovers Key State Park, for example the mangrove lined channels of Black Island, or around Inner Key.
However, we decided that it was way too hot not to be out in the open waters, and swim on the beach and enjoy the benefit of the breeze. We headed straight out from where we launched at New Pass bridge, past Pelican Landing on our left and the bridge on our right hand side, and out of the cut towards the west and on to the beach to the south of the cut!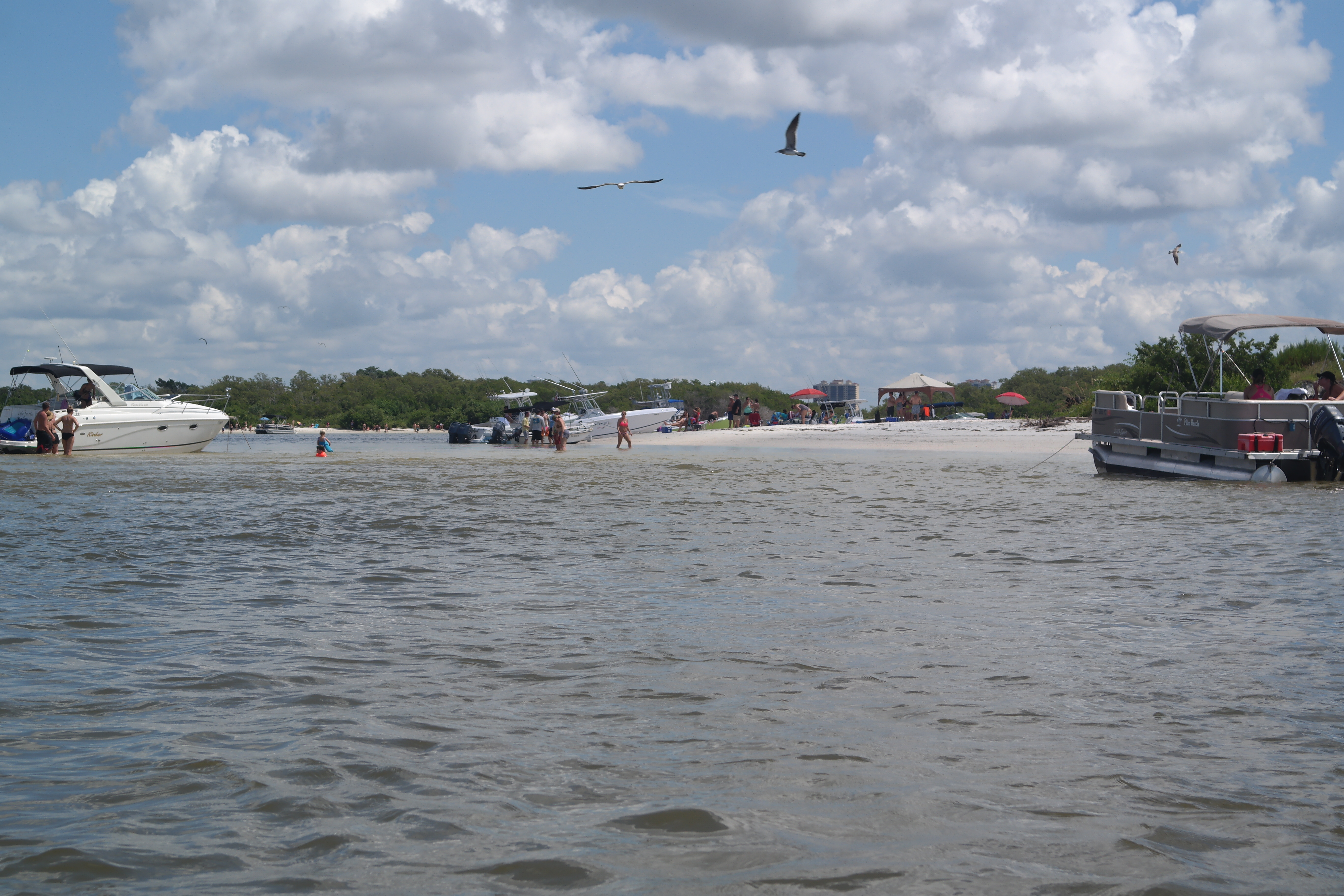 Paddling out of the cut, we saw a great many boats pushed up onto the sand and people just hanging out in the water, besides their boats, which gives this area a real sandbar raft-up atmosphere! It was a Labor Day holiday weekend so this probably explains all the boats we saw. We decided to kayak to the south first, and explore that beach area as well as trying a little kayak fishing in the ocean.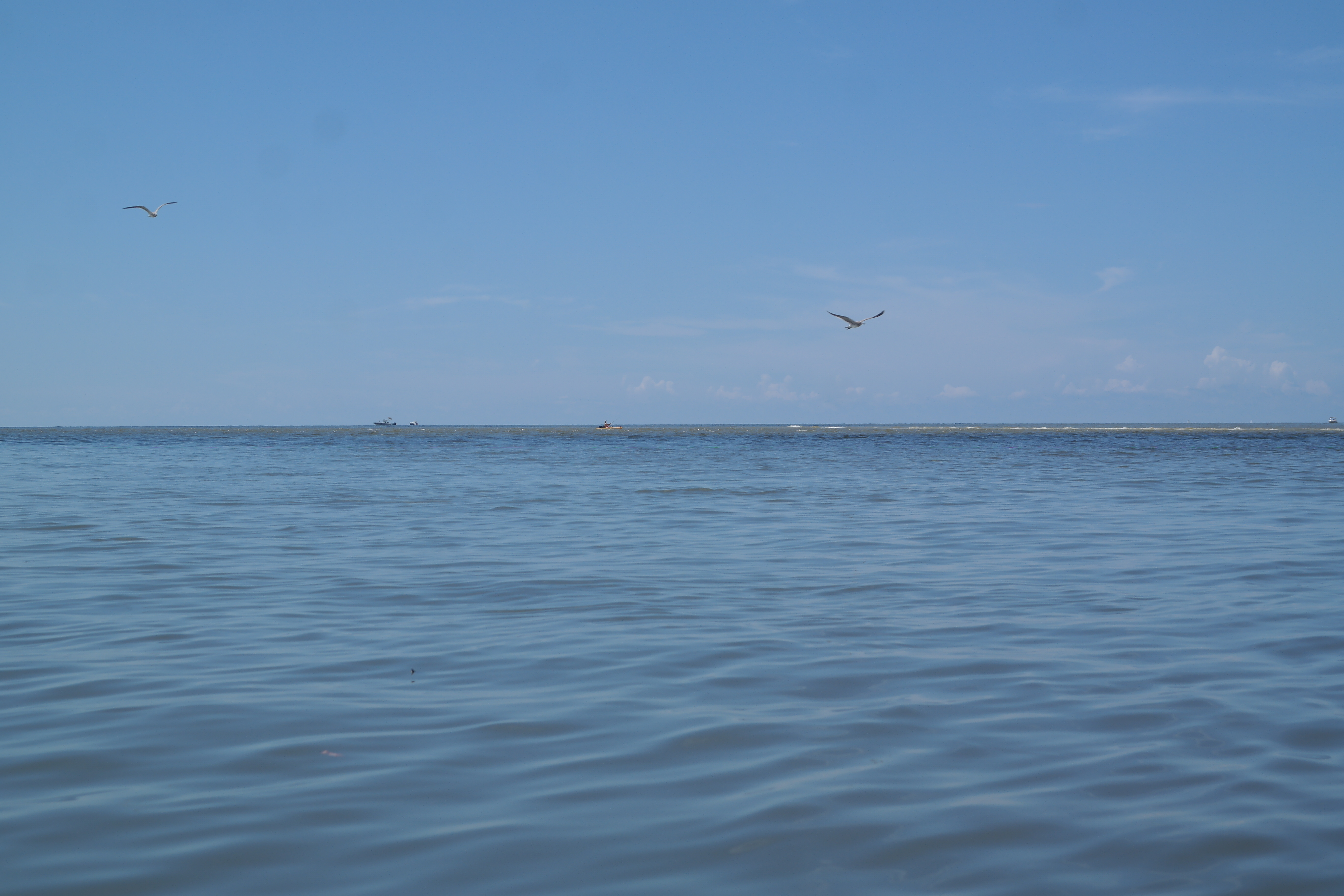 Out There Somewhere Is A Small Yellow Kayak
Lover's Key State Park Beach
After a little fishing, it was decided to head to Lover's Key 2 mile long beach just across the boating channel. It is one of the most amazing and unspoilt beaches I have ever seen, with white sand and big bleached tree roots.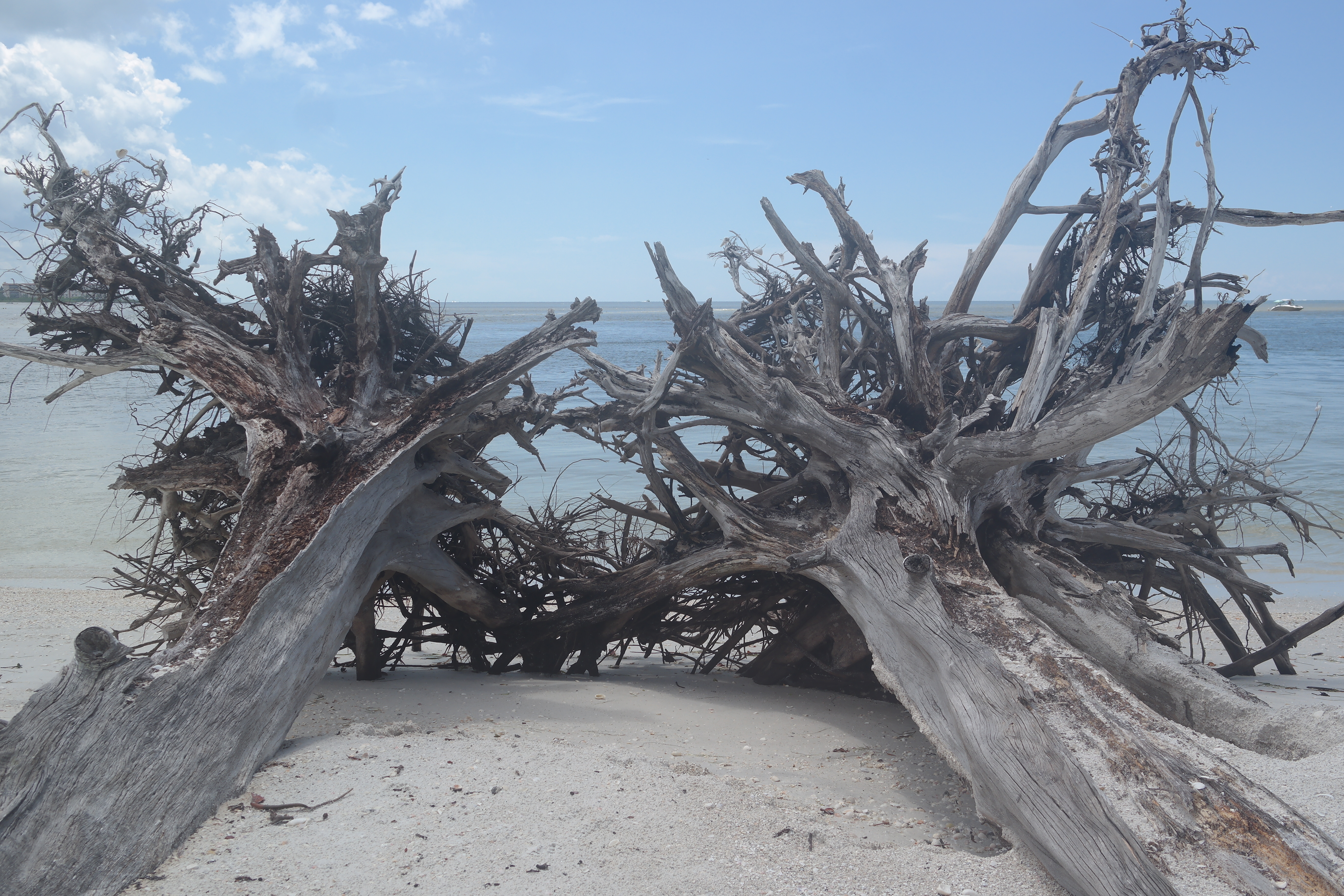 It's a wonderful place for spending a few hours just appreciating the beauty of the beach. There are also plenty of shells here – some of which are still occupied!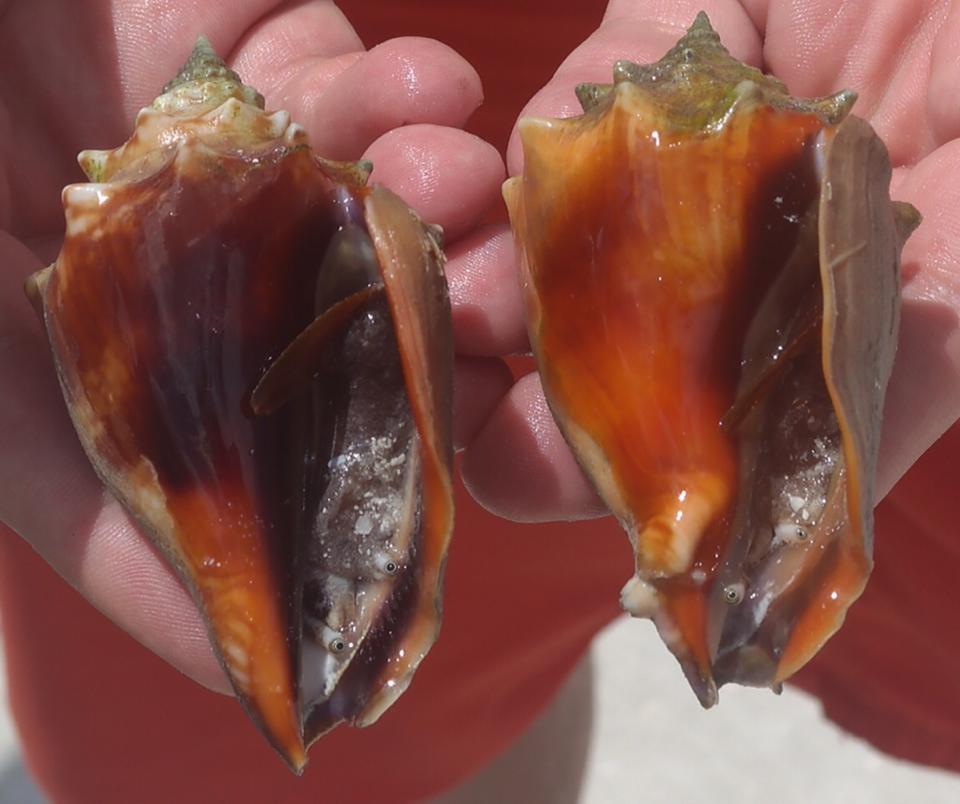 The Eyes Have It? Florida Fighting Conch!
Of course, we strictly live by the policy of taking nothing and leaving nothing but footprints in the sand. Those two beauties were returned to the sea, just like all the other creatures we found that were alive!
Starfish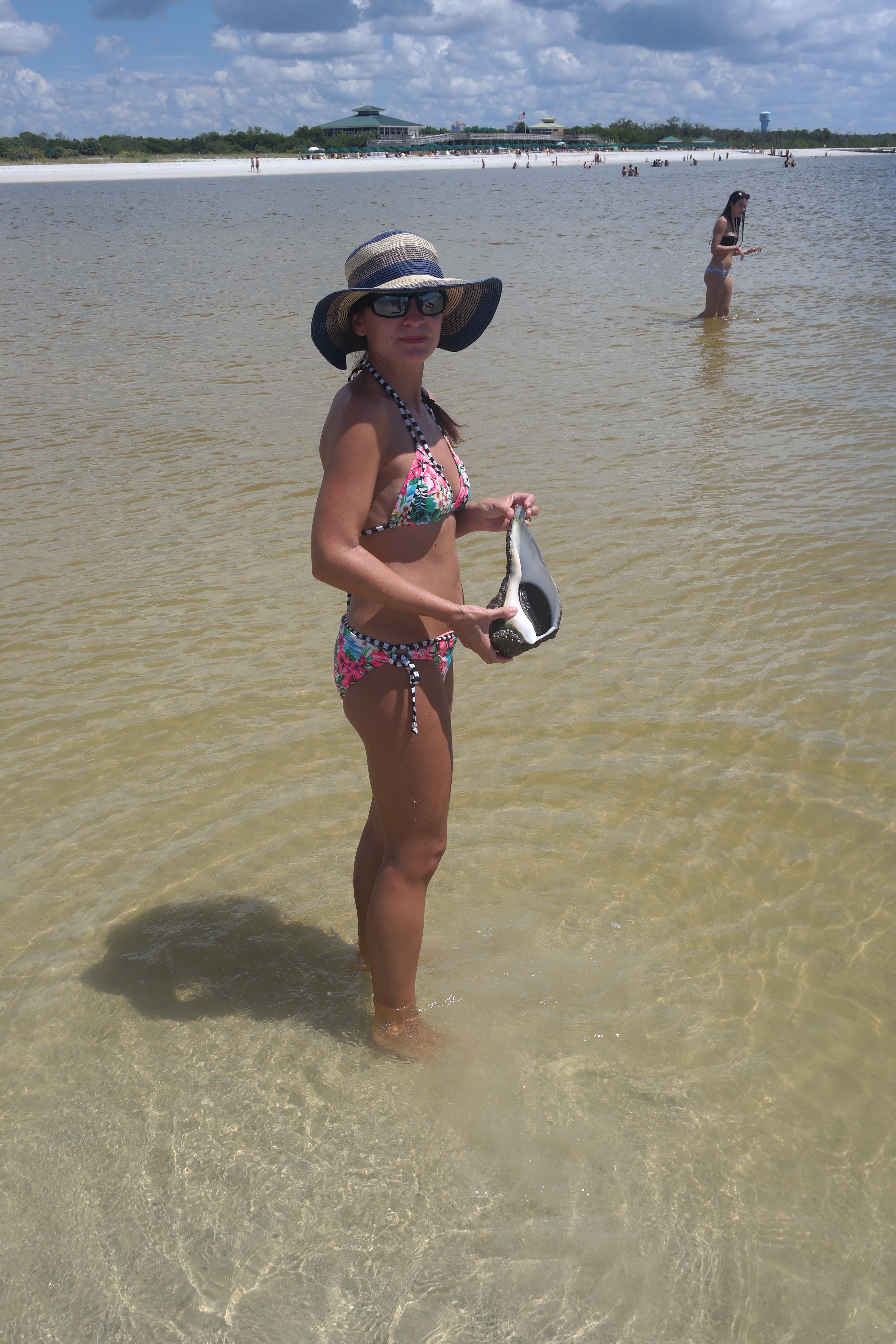 Horse Conch Found On The Sandbank
The waters around the beach are shallow, and there is also a sandbank a little further out in the ocean which is visible with little waves at high tide, and exposed at low tide (this is where the majority of photographs with the sea life were taken). I do recommend you head out there, it is no distance with the kayak and really a great spot for seeing ocean life in the inter-tidal zone.
As we headed through the boating channel to get to this sandbar, two manatees swam underneath my kayak and breached on one side of me. I was not really in a position to enjoy this moment to its fullest potential as I was too busy watching for boat traffic, and racing through the choppy channel, however, I will never forget the sight.  I did not expect to see manatees here in the summertime, and especially not out in the ocean!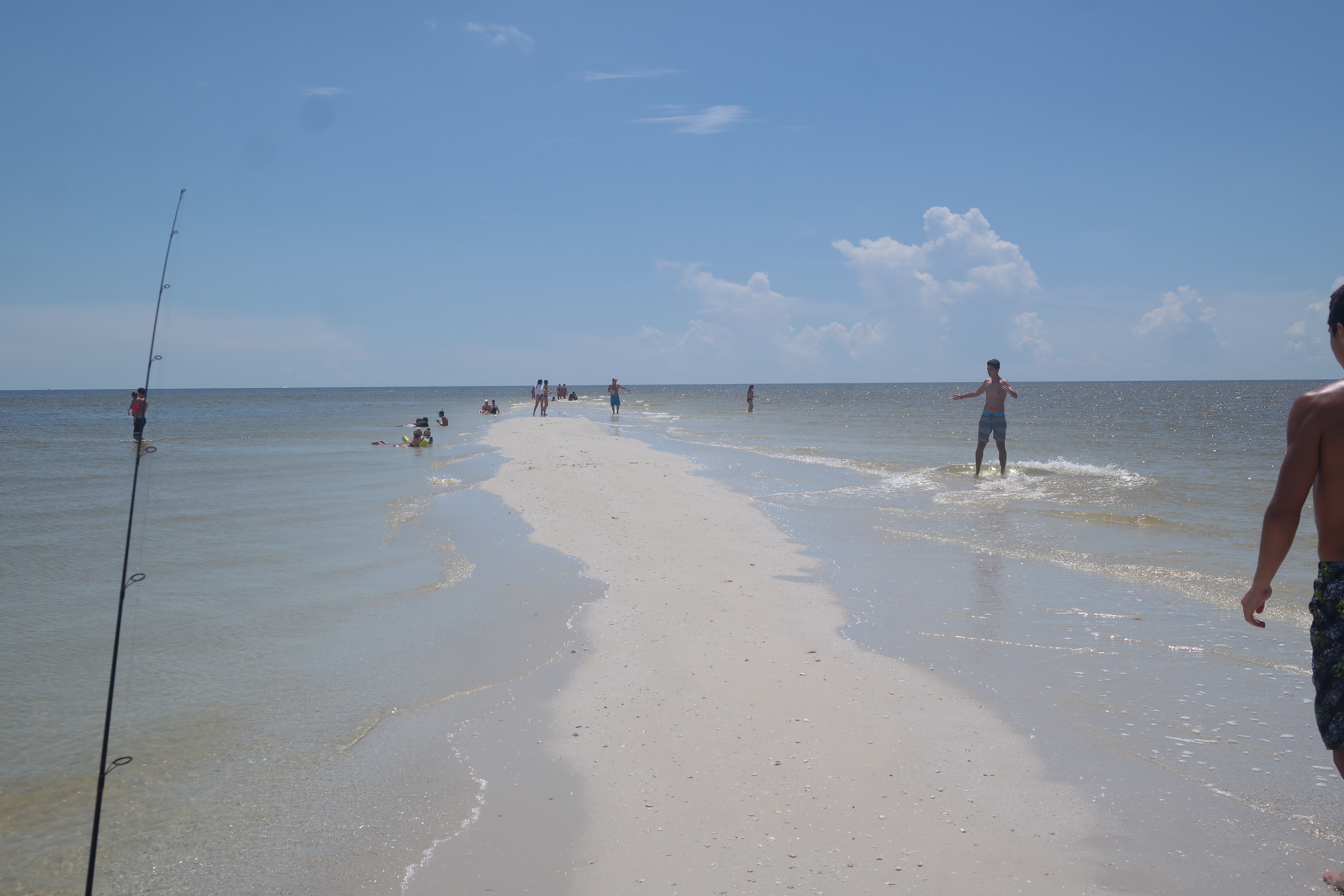 The Sandbar Exposed At Low Tide
After spending a good couple of hours on the sandbar, snorkeling and fraternizing with some boaters, we were burnt and frazzled enough to start considering returning to the shore. I could have stayed out there forever, but the early September sun is still lethal, despite sunscreen, hat and lots of water (do take plenty!). After a few hours, shade is the only thing on one's mind.
As I returned to the launch spot, with the bridge to the left hand side of me in this little lagoon, I was treated to a mother and calf Dolphin swimming and presumably looking for dinner in the waters there. It truly was a wonderful sight, and rounded off this amazing day. I firmly believe a day is well spent when you see Dolphins or Manatees, let alone both!
The Verdict
There really is something  for everyone  at any time of the year here at Lovers Key State Park. Walking, boating, shelling or just soaking up the sun and watching wildlife – all makes for a great day out. This place is truly wonderful and I look forward to my next kayaking adventure there, hopefully kayaking out to Mound Key Archaeological State Park.
Thank you so much for stopping by!
Just wondering:
Maybe you have kayaked at Lovers Key State Park and have any tips, suggestions or stories for me?
I would love to connect, via email: tamara.sunandsea@gmail.com,
or contact form below: