First A Little On Henry Flagler
Henry Morrison Flagler was born in 1830 into humble circumstances, his father a Presbyterian minister. He would describe his childhood often as having been  'hungry and cold'.
Henry Flagler left home at the tender age of 14, and managed to
eventually rise to arguably one of the most impressive self-made industrial Millionaires of the United States in the later 19th Century.
Far removed from his humble beginnings, he would be  business partner of, and mingle  with many of the great names of the time, such as the Vanderbilts, Rockefellers, Carnegie, Edison and others.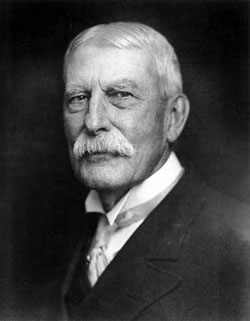 Henry Morrison Flagler
(Image credit: www.flaglerlive.com)
Flagler only turned his full  attention to Florida later in his life, mostly during his fifties, sixties and right up until his death in 1913. His most ambitious project perhaps being  the overseas railroad he built, terminating in Key West. This was to be one of his last accomplishments, with the railroad being inaugurated in 1912, at which time he was already a frail elderly man. He did attend the inauguration, traveling all the way down to Key West in his famous luxurious railcar number 91.
The Henry Morrison Flagler museum was built as a residence called Whitehall by Henry Flagler himself in 1902 as a present for his (third) wife Mary Lily Kenan Flagler. He married Mary at the ripe old age of 71, she was 34 years old at the time.
The Breakers Hotel, first named 'The Palm Beach Inn' was also built by Flagler in 1896, in order to accommodate passengers on his Florida East Coast Railway routes.
10 Reasons To Visit The Henry Morrison Flagler
Museum Whitehall And The Breakers Hotel
You Will Step Into An Amazing Piece Of History:
Whitehall Was Built During America's Gilded Age Which Lasted From The End Of The Civil War To The 1929 Stock Market Crash

Welcome to ostentatious luxury and grandeur in an era when so many luxuries and commodities we now take for granted, began to appear: automobiles, telephones, electric lights. Perhaps less glamorous but something we now cannot imagine living without, therefore very important: indoor plumbing! As you enter the museum, you will enter just like the many guests that Flagler received, through the large bronze doors into The Grand Hall.



The Grand Hall is a magnificent 5000 sq foot room, the largest reception hall of any Gilded Age private home. Painted ceilings, the finest marble and magnificent art objects take you back to another age.


Both Are Perfect Locations To Get Away From Those Pesky Afternoon Storms In The Summertime

In fact, the main reason we ended up there on one Sunday, as I am usually to be found outdoors kayaking or walking,  was a  forecast of very bad weather.The Flagler museum is almost entirely indoors, with only the outside of the building and a very lovely courtyard to explore without a roof over your head.


The Outside and Approach To Flagler Museum

It is easy to stay dry even on a windy and rainy day!The Breakers hotel does have a lot of lovely – modern – pool landscaping areas to look at, but again, most of the historically interesting features such as the entrance hall and ballrooms are indoors. Oh, and don't forget to visit the Seafood Bar where the bar is an actual aquarium – I was fascinated!


A Little Dark But You Can Make Out The Aquarium Bar


A Grand Entrance At The Breakers Hotel


You Have A Chance To Step Inside Flagler's Famous Private Railcar 91



Built in 1886, Henry Flagler's railcar is even older than Whitehall and in its time was the envy of many of his contemporaries. It had a bathroom, which was nothing short of a sensation!

Henry Flagler Traveled In Style

Flagler used his luxurious railcar for business travel and to survey the progress of his railroad. It is also the very carriage that carried Henry Flagler to Key West on completion of his Overseas Railroad in 1912.  Covering 156 miles of mostly open ocean, it was one of the most ambitious engineering feats of the time.


Flagler Keenan Pavillion

Railcar Number 91 was acquired by Flagler Museum in 1959 and is now housed in its very own building – The Flagler Keenan Pavillion – adjacent to Whitehall in the museum grounds.Here is a wonderful video about the railcar, described as a 'Palace On Wheels'.


They Are Right Next To Each Other

You might have already wondered why I am squeezing two such magnificent attractions into one article. Well, they are right next to each other, and in fact only separated by the Breaker's Hotel Golf course, which was incidentally also built by Henry Flagler!
Therefore, it does make sense to do both in one day, making for a great  – Flagler inspired – and history filled day out. Even better: The Flagler museum offers tours of The Breakers, contact the museum to find out more!


 The Breakers Hotel Is One Of The Few Magnificent Remaining Hotels Constructed By Flagler That Is Not Only Still Operating But Also An Amazing Modern Day Resort

The Breakers Hotel, initially named 'The Palm Beach Inn' survived not only the great Depression but also notably two fires, one in 1903, in which the hotel burns to the ground, and another in 1925, reportedly started by something as frivolous as a curling iron! Flagler's heirs rebuilt the hotel which still stands as the current Breakers Hotel now, in 1926, completing the construction in a record breaking 11 1/2 months in time for Christmas and the winter season 1926.


One Of The Magnificent Pools Overlooking The Atlantic Ocean

Now, it stands as an imposing hotel with its own private beach, golf courses, several restaurants and several pools – plenty of Old-World style yet not lacking any modern comforts.


The Breakers Hotel Affords You The Opportunity To Shop As Well As To Wine And Dine In Style

As a reward after a day of sightseeing, you can treat yourself to a magical time at The Breakers! Perhaps you feel like you even want to splurge on a night's stay, I'd say  go for it!


Ballroom At The Breakers – Simply Stunning

The Breakers does have special offers during the summer-time (most notable up until September 30th), and for Florida residents too! Ok, it doesn't make it exactly 'cheap', but it does certainly make for an amazing time. There are wonderful boutiques and an array of pools (with truly wonderful landscaping and little cozy beach bars and bungalows for rent). There is also a spa, a gym and plenty of restaurants and bars, more than you could possibly sample on a weekend.


Dining Room Bar At The Breakers

I am in LOVE and you will be too, especially if you are into history and old-fashioned grandeur and style, which here meets 'modern' in the most charming way possible!


The Flagler Museum And Former Residence Lets You Step Back In Time And See Exactly How The Wealthiest Industrialists Of The Time Lived And Entertained

The beauty of Whitehall is that although it served as a hotel for some time, the Trust and Non-Profit Organization established by Flagler's grand-daughter Jean Flagler Matthews, to preserve Whitehall, has since done an amazing job to restore the property to its former glamorous days.

Mary Flagler's Writing and Music Room

To restore a property of 75 rooms to its former glory, including the different bedrooms, is no mean feat .There, you can see the restored bedrooms, all in different themes and colors, and see exactly how the upper classes lived in the early 20th century, complete with the new sensation of indoor plumbing bathrooms!


This Bathroom Even Had A Shower

You also have the chance to see how the inhabitants and guests of Whitehall wined and dined as there is a dining room table with all the crockery and cutlery just how it would have looked back then.

.The Table Is Set! 

One can almost imagine the formal proceedings that would have surrounded the dinner and also the after-dinner entertainment in the Billiard room for the gentlemen, and in Mary-Lily's drawing room for the Ladies.  There is also. of course, the Grand Ballroom, where reportedly guests and host could be found dancing until 2:30am in the morning!


The Beautiful Grand Ballroom


You Could Golf The State's Oldest 18 hole Golf Course

The Ocean Golf Course at The Breakers was built in 1896, as a 9 hole golf course. Flagler was at first  reportedly skeptical about this new pastime of golfing. If only he could have known how popular it would become!The Ocean Golf course is actually the oldest 18 hole golf course in the entire State of Florida. The course now also houses a steak-house and sports shop.

Just one catch: it is exclusive to hotel guests and club members, so you need to be a hotel guest to play the oldest golf course in Florida.Of course, if I had the chance to be a hotel guest for a weekend, you wouldn't find me golfing, but rather wandering through the magnificent hotel and lounging at one of the beautiful pools. Sorry, not a golfer, me!


The Flagler Museum And The Breakers Hotel Are Literally Minutes Away From Yet More Luxury, Beauty And Shopping!

Just a few minutes south you will find Worth Avenue, and although I am anything but a shopping lover, even I cannot deny the beauty of Worth Avenue.


(Image credit: www.lotsafunmaps.com)

Just so you know that I am not lying about the aesthetically pleasing nature of Worth Avenue, it was actually voted  one of the top three "Most Iconic" streets in America in 2013 (www.wikipedia.com).


(Image credit: www.culturedevine.com)

Worth  Avenue is a historic relic too, with the area having been recognized for its high quality offerings since the 1920's! The avenue's oldest store has been in business since 1923 (Kassatly's). Historic walking tours of Worth Avenue are being offered, details here.


You Still Have A Chance To See The Living Landmark Of Palm Beach! A Descendant Of Juan Ponce de Leon No Less!

It wouldn't be me if I didn't serve you up something unusual, right? Apparently, The Breakers has a resident historian who still gives weekly tours of the property, 97 year-old Mr. James Ponce. He is said to know the hotel inside and out, as well as being able to recount many of the celebrity guests that have stayed at The Breakers.Perhaps more astonishingly, Mr Ponce can also trace back his own ancestry to the oldest documented family in the United States.

He is, apparently, a descendant of the family of Juan

Ponce de Leon

, the well known 16th Century Spanish explorer who led the first European Expedition to Florida.  Ponce de Leon reportedly sought the Fountain of Youth near St. Augustine. James Ponce's own forebears came to nation's oldest city two centuries after that and the family stayed put, read the article from Florida Weekly here.
So, what are you waiting for? Go and see The Breakers and The Henry Morrison Flagler Museum!
A big thank you to the lovely Docent who offered the tour on the Sunday we visited from which I extrapolated a lot of the information above and which really makes the place come alive. They hold these
tours of the ground floor – included with the ticket – twice a day and I very much recommend them!
PS: Did you visit The Breakers and The Flagler Museum? Let me know how you liked it. Have you ever had a tour by Mr Ponce? I would love to hear from you, please connect! Thank you for stopping by!