A Word Of Warning
Let me say this first and foremost: if you are easily offended by potty humor, perhaps this is not the place for you.  Personally, I  think it is worth flushing this attitude down the  'you know what' already, and just relax and expect a fun day out in the beautiful Florida Keys, as well as a good giggle. Yes, you will see toilet seats, but not just any old toilet seats!
I even go as far as calling some of  these adorned and painted toilet seats works of art, for some are exactly that.  Seriously (well, almost), how can you not laugh, marvel at the creativity, and have a huge grin on your face when you see this: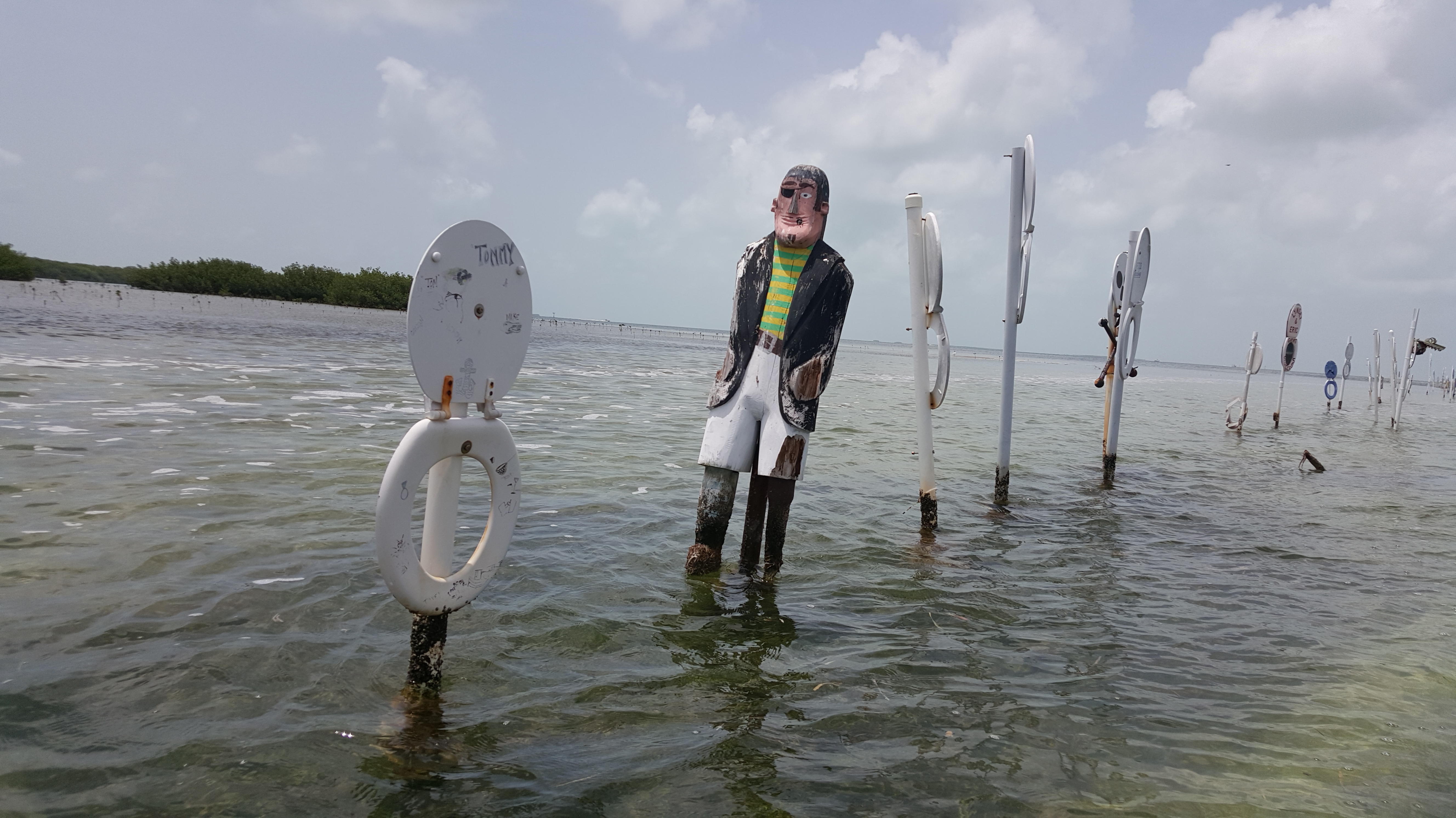 Shiver Me Timbers!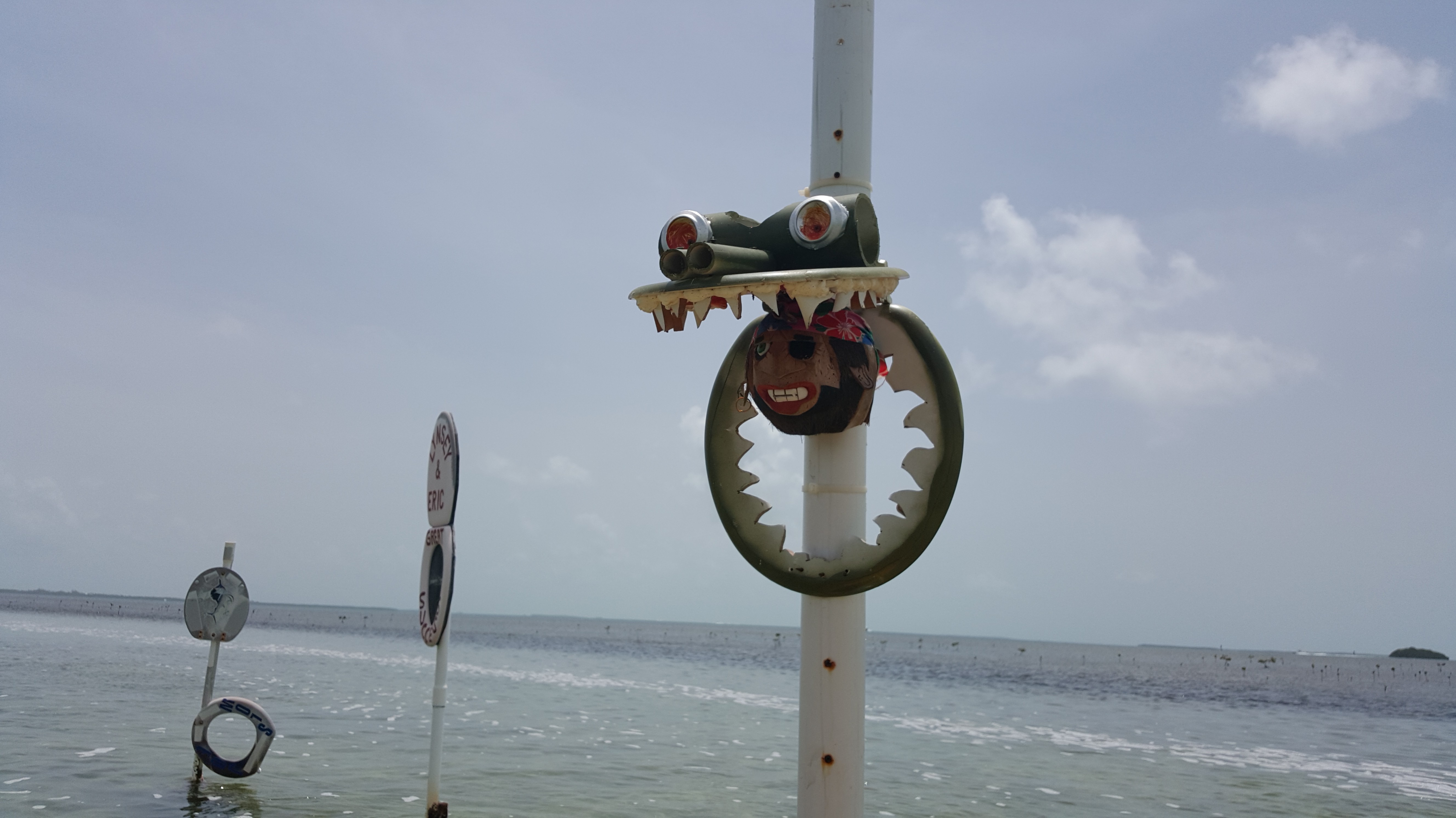 Gator or Shark?
Another good argument for heading to Toilet Seat Cut right now, is that all the pieces of bathroom-themed art there are only temporary and subject to destruction through relentless winds, tides and currents in this area. On the plus side, new ones are also added constantly!
Official word has it that the toilet seats, as well as the PVC marker poles, are actually illegally used as channel markers. The NOAA document diplomatically states: 'unpermitted'. They had indeed given thought to removing the poles and toilet seats, however, feared ' it would most likely outrage the local boaters to remove their decorated markers ' (p 47, Channel Marking Master Plan For The Florida Keys, January 1998, by Richard Jones, Channel Marking Planner).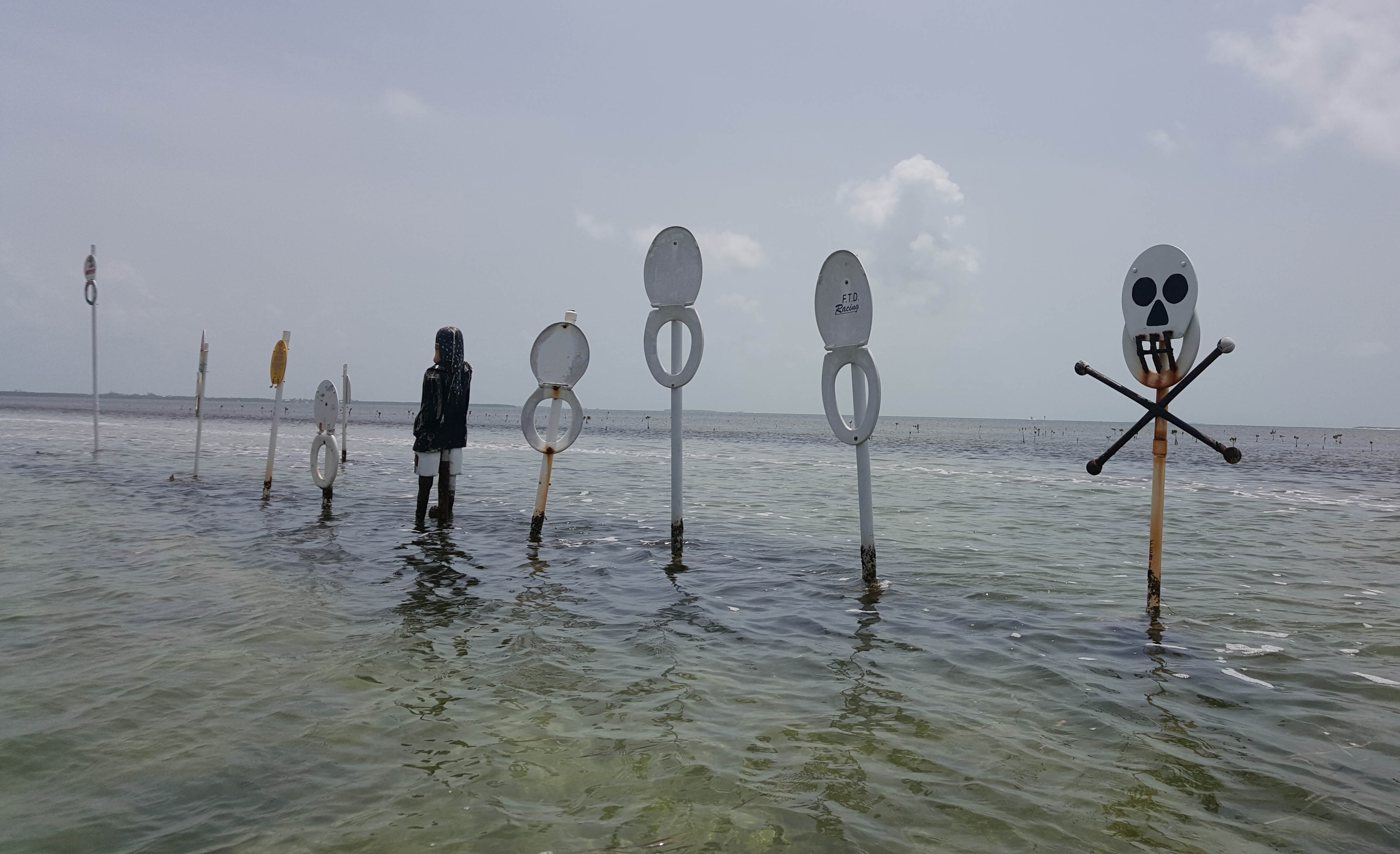 Where and How?
Toilet Seat Cut is situated bay side, west of Plantation Key.  It is fairly easily reachable by kayak through Tavernier Creek. There is a dedicated canoe and kayak launch on a floating dock just next to Tavernier Creek Marina which may be used.  Watch out for boat traffic through Tavernier Creek. Head south when you exit the creek. Toilet Seat Cut is a parallel channel to Cowpens Cut, which is the larger boating channel further out in the Gulf.
Alternatively, if one wants to avoid dodging most of the motorboat traffic, launching from south of Toilet Seat Cut at Founders Park and heading north along the shoreline, is a more leisurely and slightly shorter paddle. We estimated it at around 2.5 miles one way. Toilet Seat Cut can be seen in the center of the Satellite image below: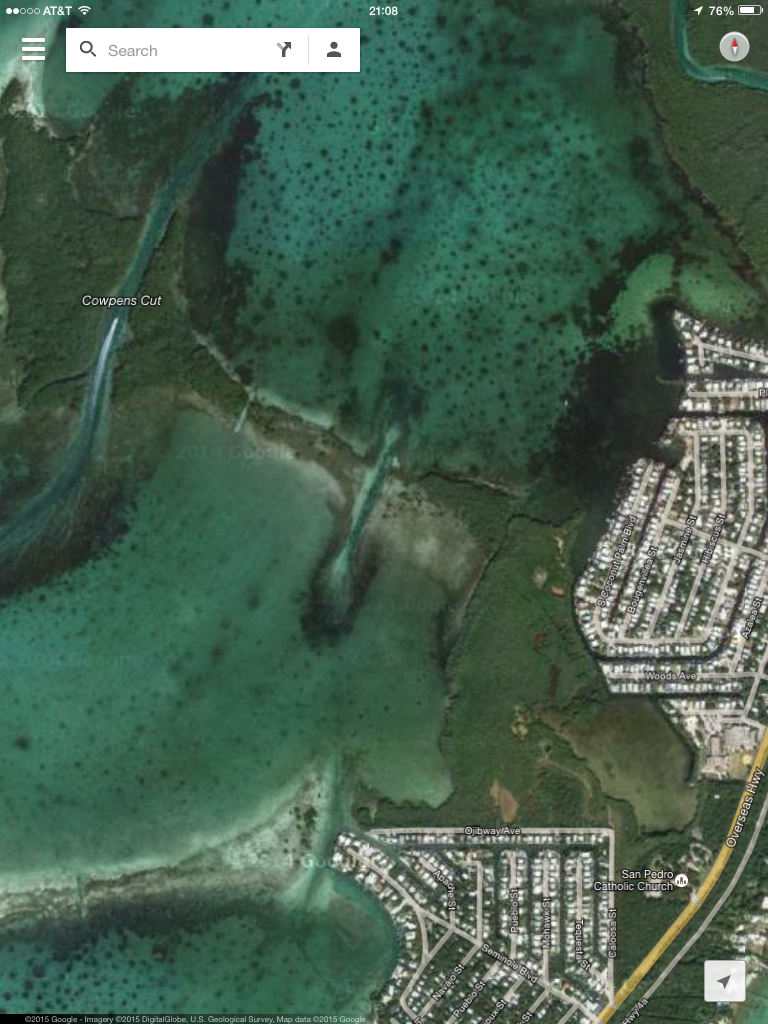 (image courtesy of google maps, for full map and exact location click here)
The Cheater's Paddle To Toilet Seat Cut
Coming from Fort Lauderdale on a day-trip , we did not want to waste too much time and had the brilliant idea of asking the staff at Mile Marker 88, an imaginatively named restaurant with private beach,  whether we could launch our kayaks right there.  There, you find a private beach and restaurant with kayak rentals. Starting from Mile Marker 88, you will be much closer to Toilet Seat Cut than starting from either Tavernier Creek Marina or Founders Park.
Depends on what you want and also the weather conditions.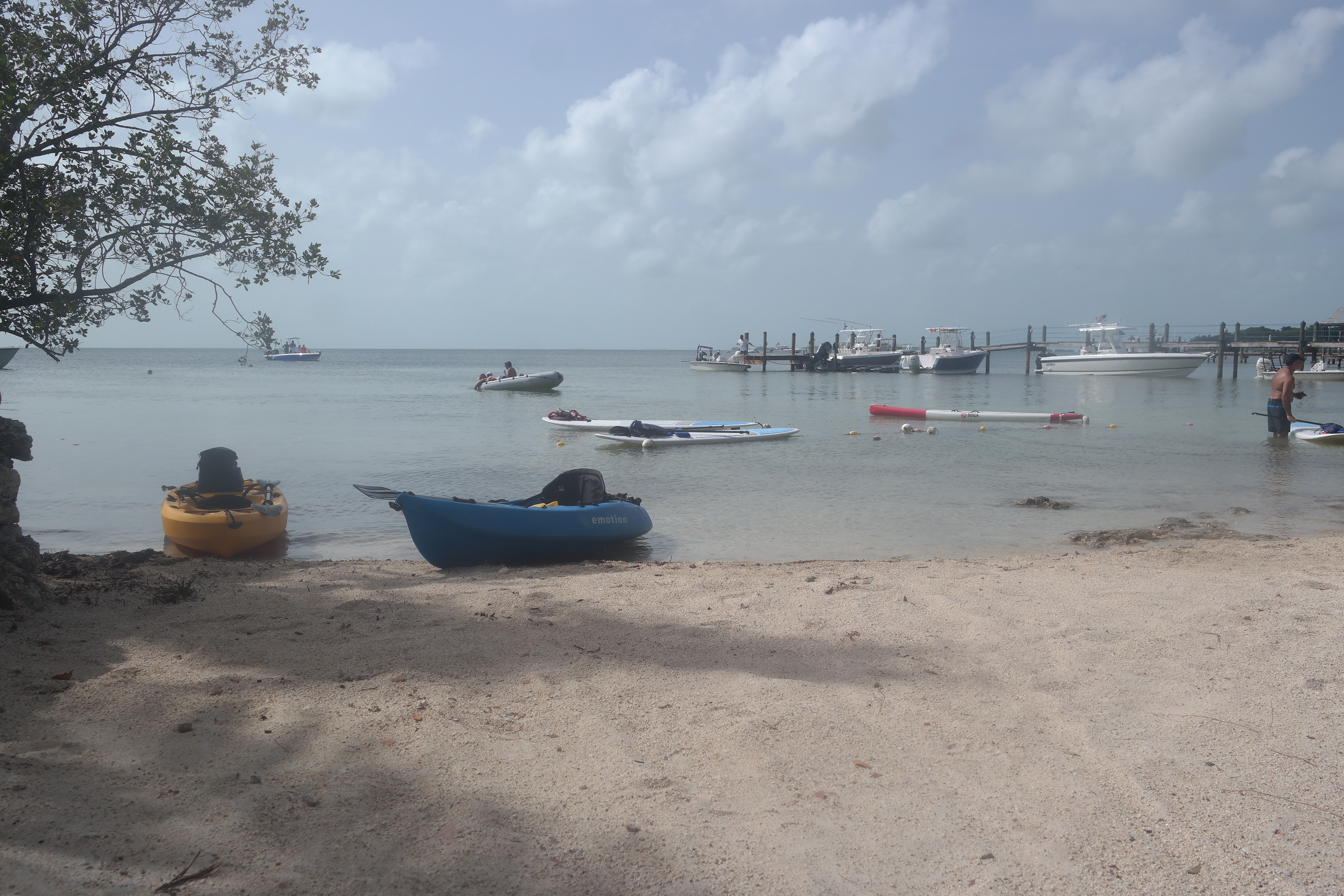 Beach at MM88
For a fee of $5 per kayak, which is also the fee for using the beach, we had the most leisurely launch off the sandy beach with no crowds and no rush. It also saved us a little less than 1/3rd of the paddle.  The friendly staff at Mile Marker 88 told us they send plenty of paddlers to Toilet Seat Cut, gave us an estimated paddle time of about 35 minutes, and the good advice to hug the coastline.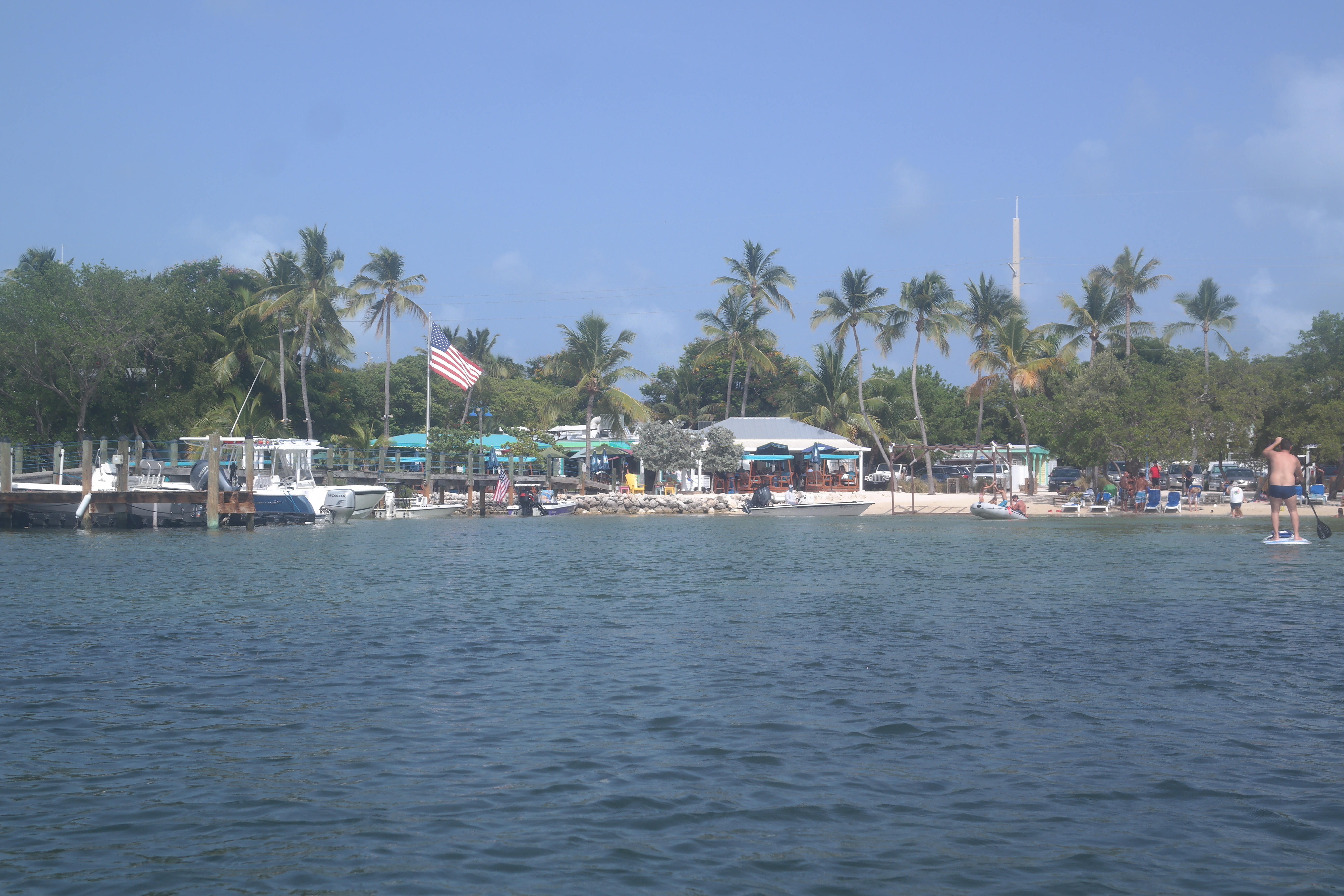 MM88 from Kayak
So we paddled north, dutifully hugging the coast and gazing at many amazing properties as well as  all the wildlife on and in the crystal clear waters. Waters were smooth and we cruised over mostly shallow areas with very little contact with motor boat traffic.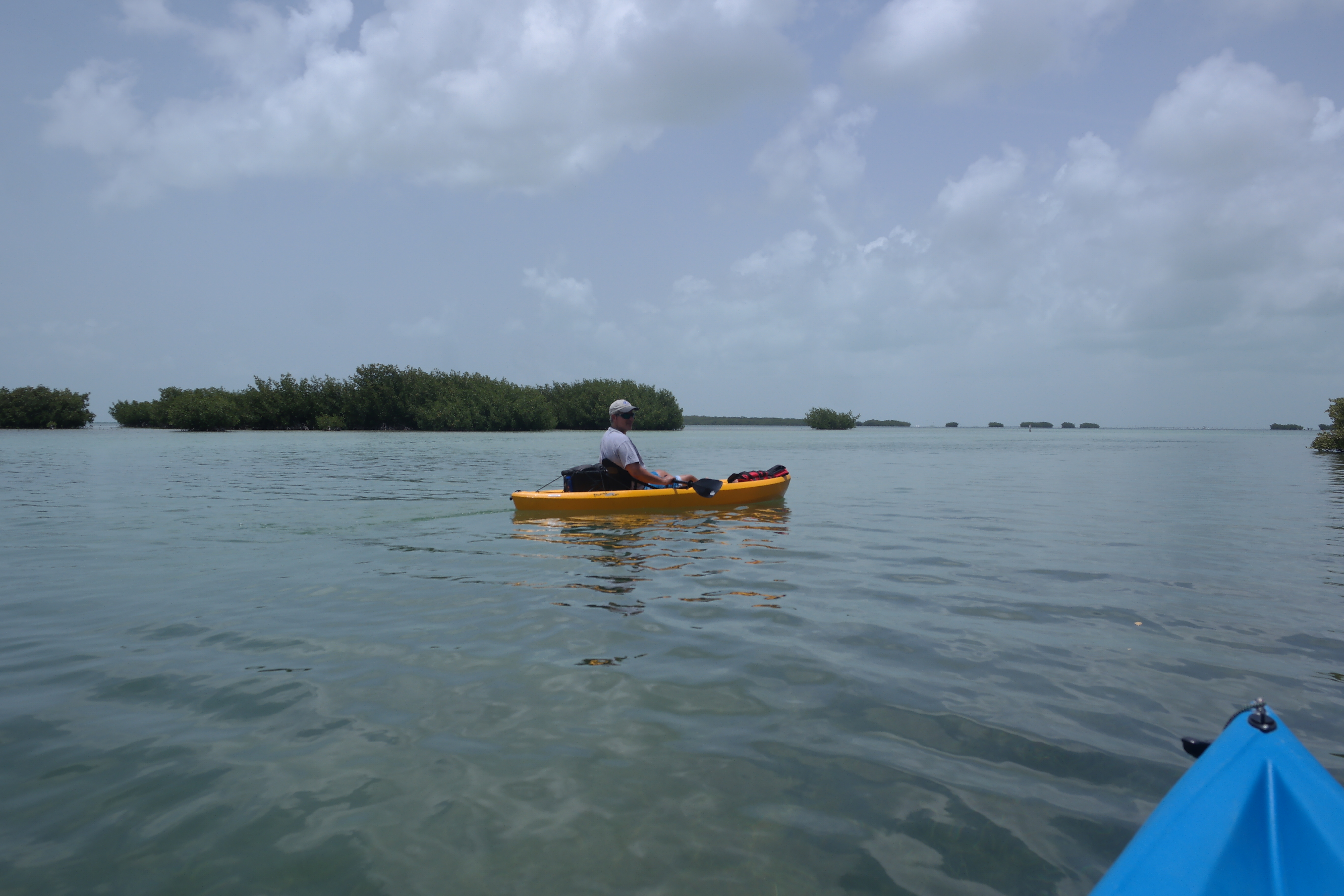 Getting Close
Remarkably, the toilet seats were already visible at quite the distance, and I got very excited! We still had to pass a pretty open and windblown lake-like area fringed by mangroves, but the water was fairly shallow and again, there was no boat traffic.
Finally, we made it!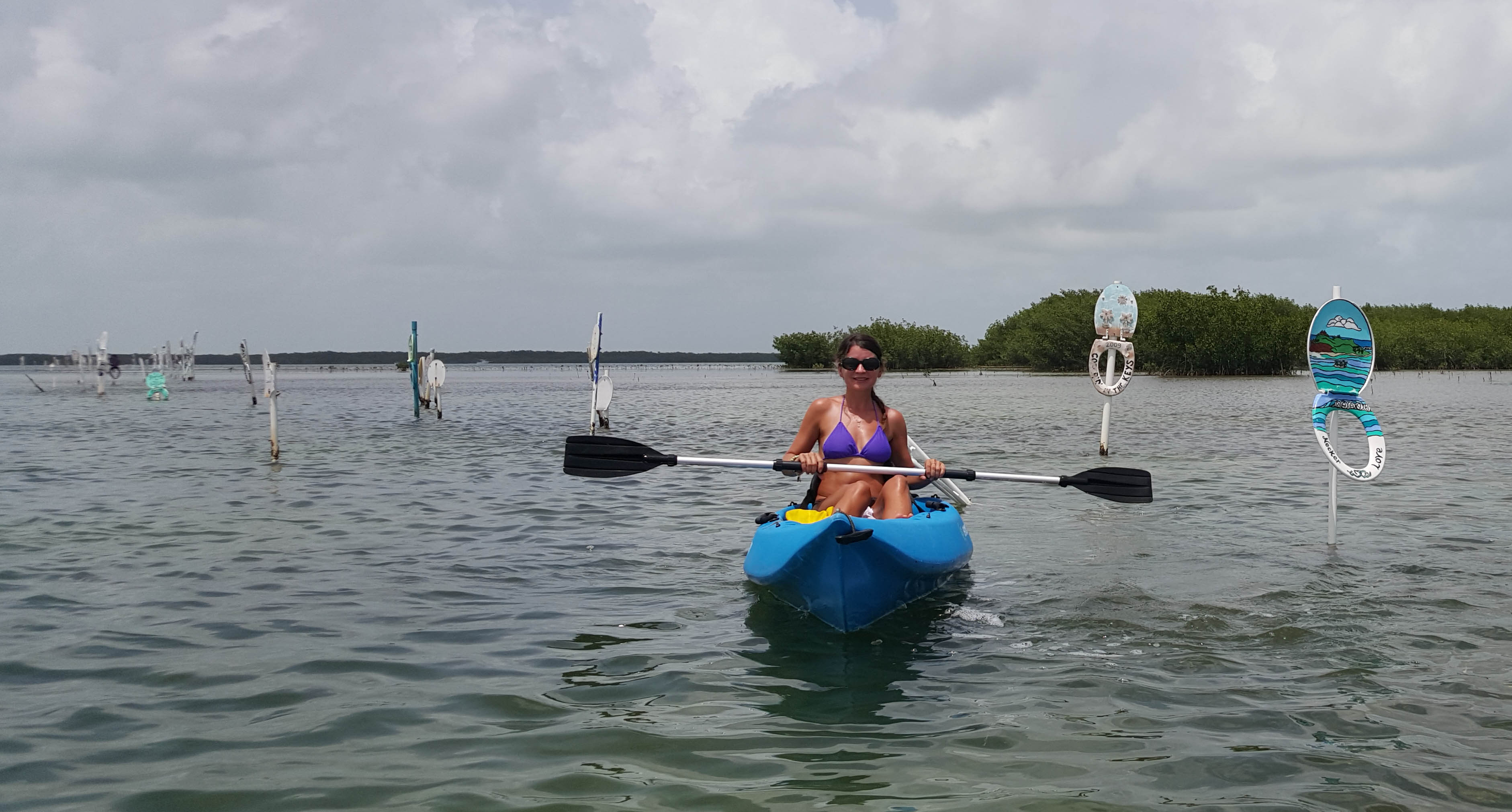 Toilet Seat Bonanza
It's really quite something, a plethora of toilet seats on both sides of this fairly narrow channel – which incidentally is not recommended for boats of a draft of more than 4 feet as it is not all that deep, plus the surrounding waters are extremely shallow. In some places the water is less than knee-deep, which left us wondering how much paddling can be done in this shallow and sea-grass lined area all around Toilet Seat Cut at a very low tide?
I could have spent hours there admiring these works of art, and particularly the wit with which many of them were adorned!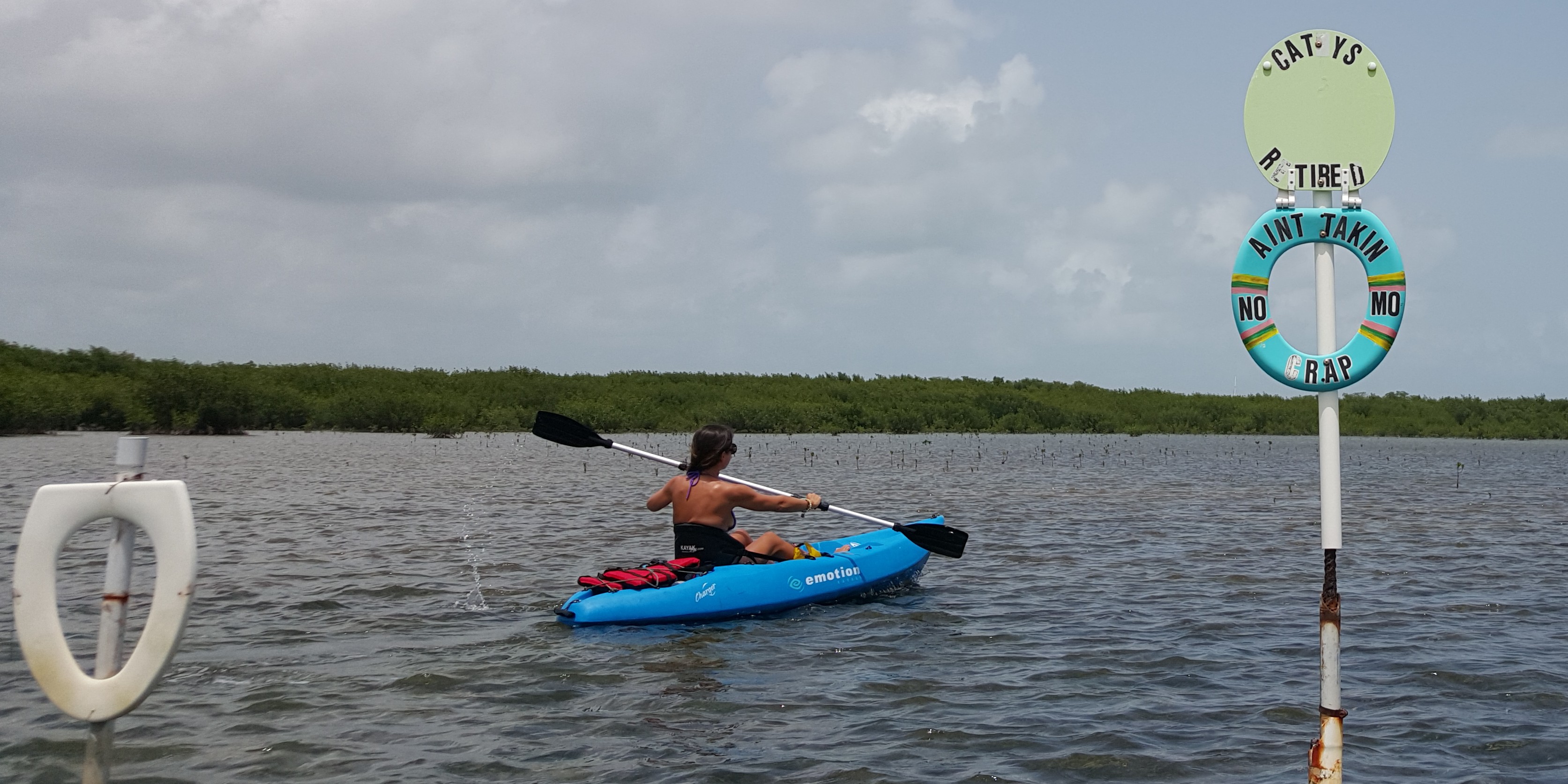 I particularly liked the above 'Caty's retired ain't takin no mo crap'!
There are so many funny and clever toilet seats, it is tough to pick out favorites. I never laughed so much on a kayak trip.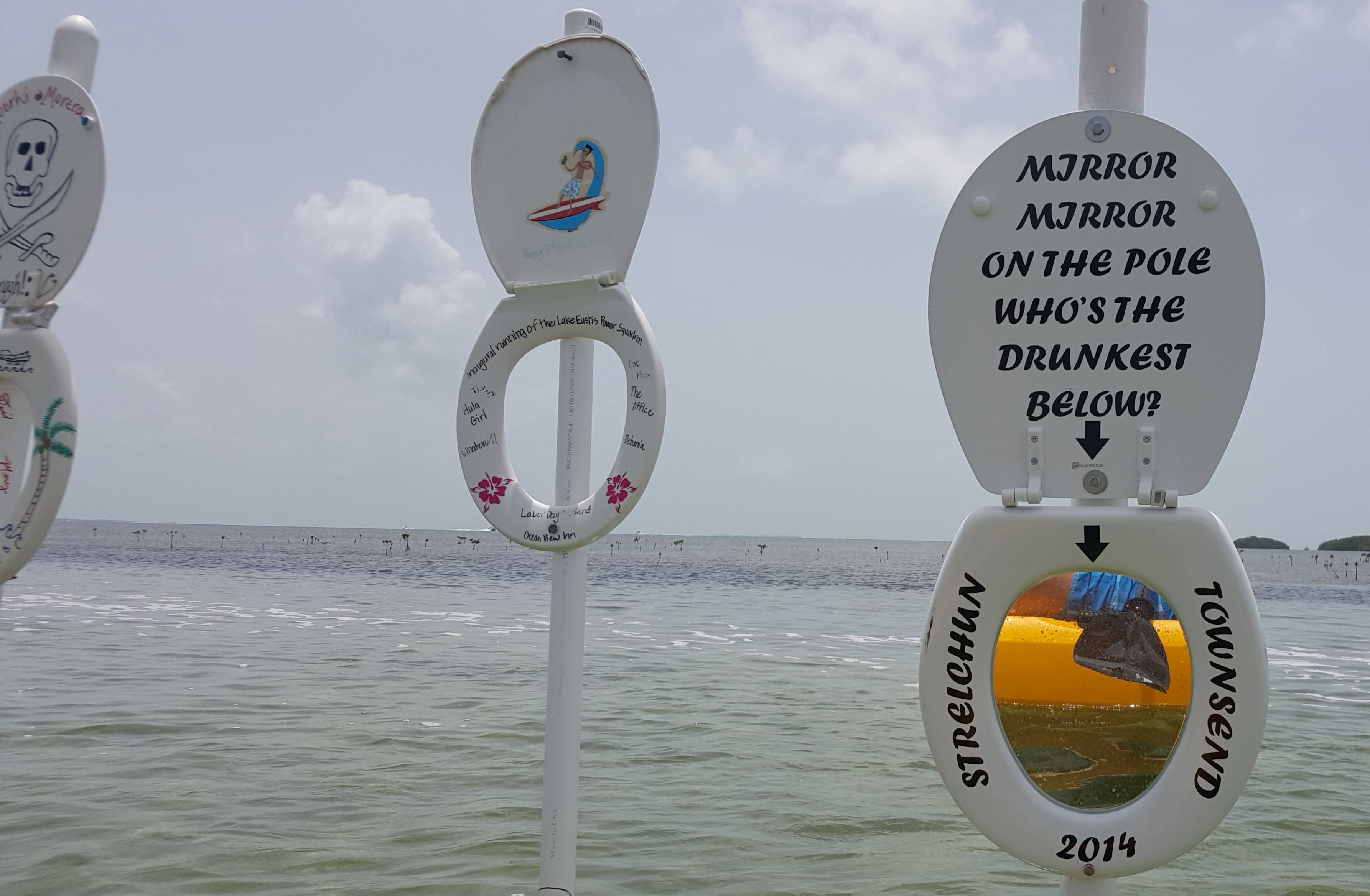 A lot of the time, when in the Toilet Seat Cut, one has to dodge the boat traffic. Some boats are really speeding through the channel, which meant we had to retreat to the shallows a few times. However, the wakes are fast absorbed by the flats and the sea-grass, so it's pretty safe and comfortable, provided one stays out of the boats' direct paths. There is a little current, which when trying to take a picture, results in drifting away from the object by the time the camera is out of the waterproof bag!
Nevertheless, plenty of pictures were taken: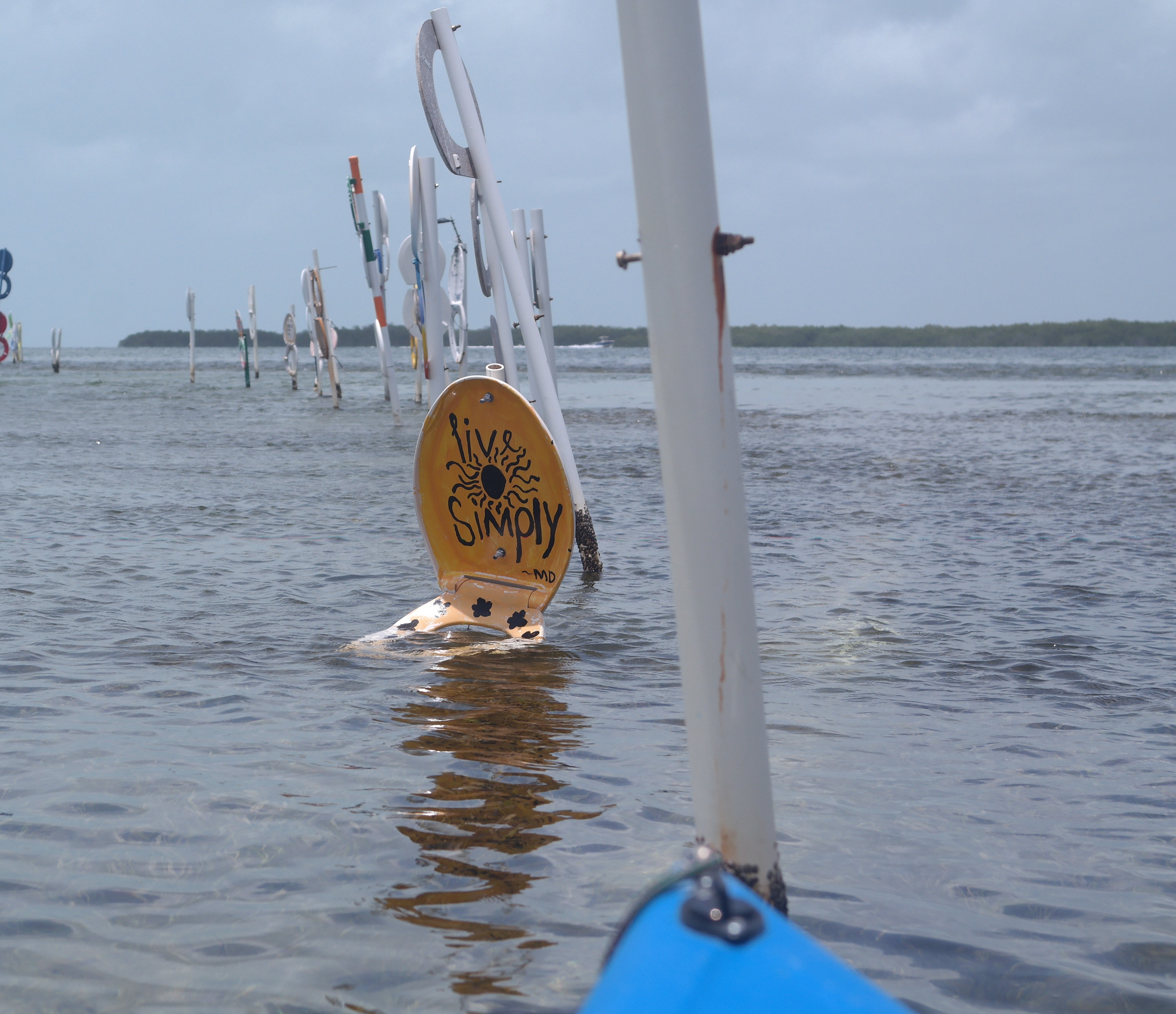 Live Simply!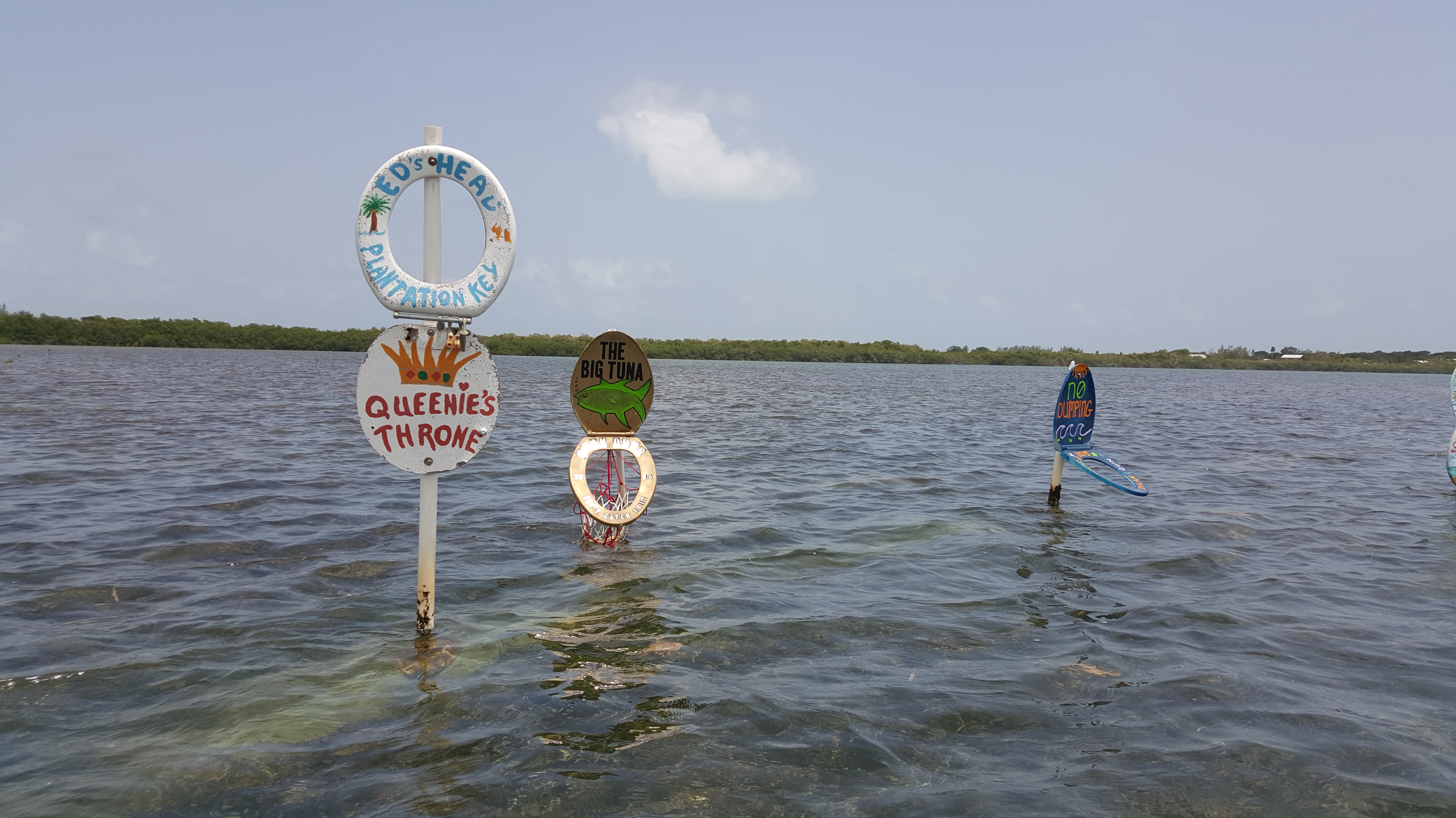 Is It Worth It?
If you really have to ask that question, after seeing these pictures, it is now clear that we are not on the same page. Only joking!
You will not regret taking a trip to Toilet Seat Cut in fine weather, with plenty of sunscreen, a hat and a cooler with lots of water and perhaps an adult beverage or two. If you have a boat, take the boat, but on a kayak you can really appreciate the flora and fauna. The kayak allows you to get into areas in the mangroves that can not be accessed by most, if not all, boats.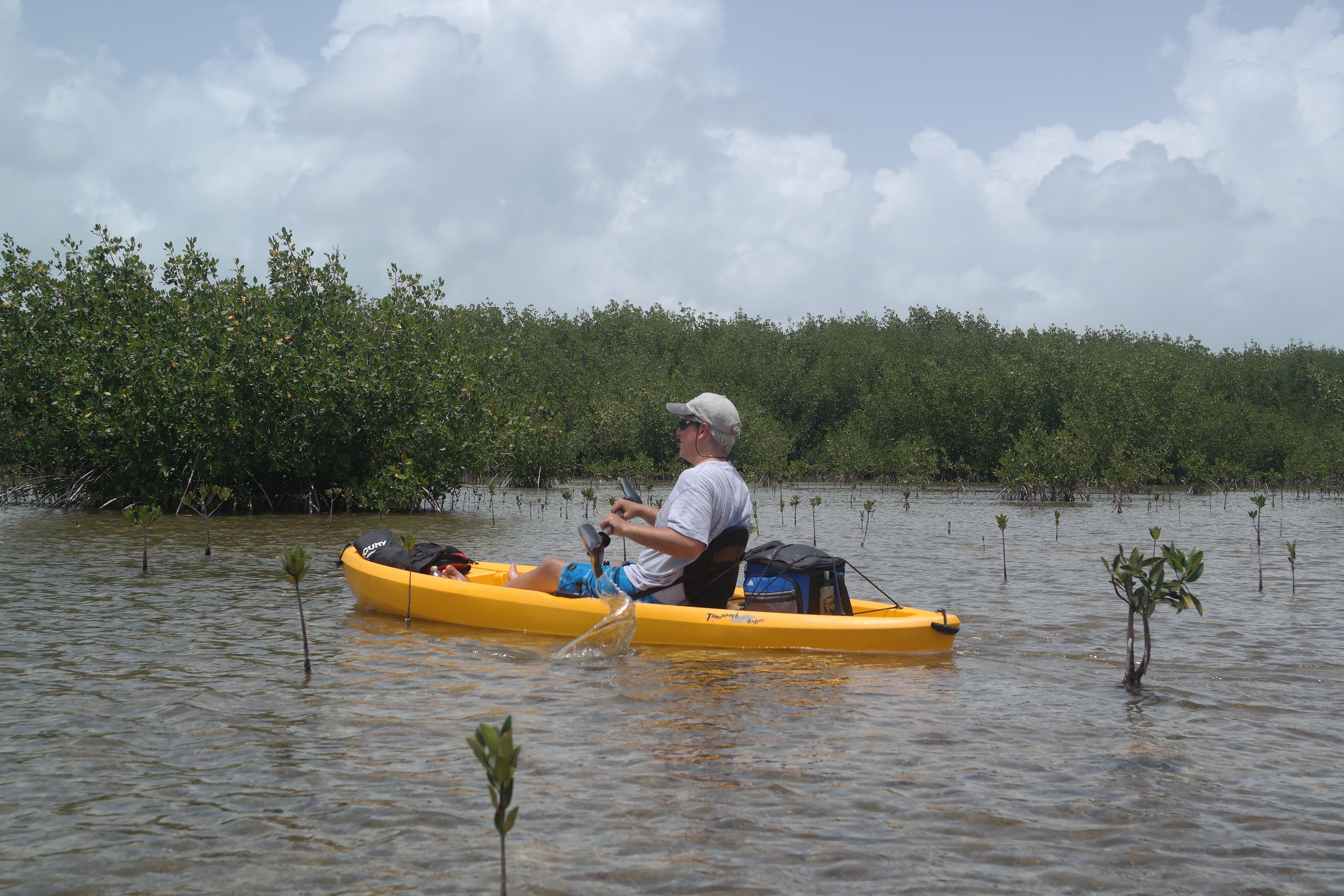 Mangrove Nursery
It's not just an interesting trip in order to see the quirky Toilet Seat Cut, but also for the best the Florida Keys has to offer: pristine waters, plenty of wildlife in and around the water, lovely houses, friendly people – I could go on and on! Some of the wildlife you may spot includes:  nurse sharks, rays,  puffer fish and different species of aquatic birds amongst many other creatures. So the answer is: of course it's worth it! Go and do it already!
PS: Looking for a truly quirky and local place to eat that doesn't break the bank and is off the beaten path? Try Shipwrecks Bar and Grill on the way out in Key Largo (Garden Cove Dr), right on the water…shhhh, it's a secret.
Do you have anything to add or any great suggestions, please get in contact, I would love to hear from you: