'Stiltsville' in Biscayne Bay
Stiltsville: so unassuming now with just a few structures left, but did you know it was THE place to go 5 decades ago if you were a member of the high society and liked to party?!
A $1 yearly membership got you free drinks and nude sunbathing in the early 1960's, in Stiltsville's illustrious past which started with one crab shack. See it now, before a storm will destroy the few remaining structures forever.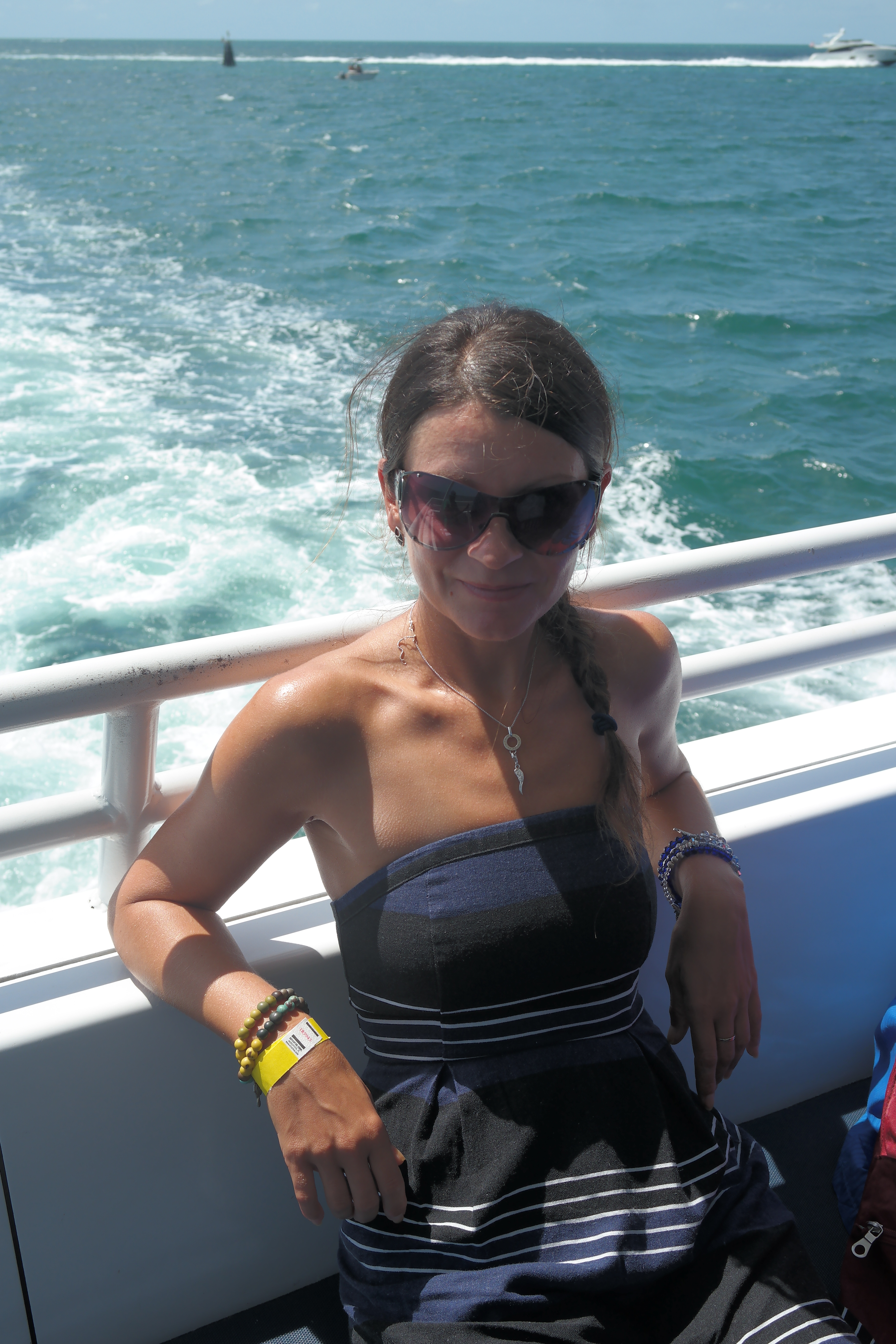 On the boat

How To Get There
Trips to Stiltsville, unless you have your own boat, are not easy to come by. They are occasionally offered by Island Queen Cruises www.islandqueencruises.com, in downtown Miami (Bayside Marketplace), in conjunction with 'History Miami' www.historymiami.org . At this time it seems an only once or twice yearly event.
By far the best way to see Stiltsville is by small private boat, which if you are a local and know the way to maneuver the flats (especially hairy at low tide), is fine. If you are thinking of renting a boat, make sure you have a good captain/navigator on board who knows these waters. There is a deep boating channel that passes right through Stiltsville, but as I know from experience, having been a passenger on a yacht that nearly scraped the bottom there once, one needs to pay close attention to the depth at all times. The water around the houses is from 1 to 3 feet deep at low tide. You will see stony outcrops. Be warned!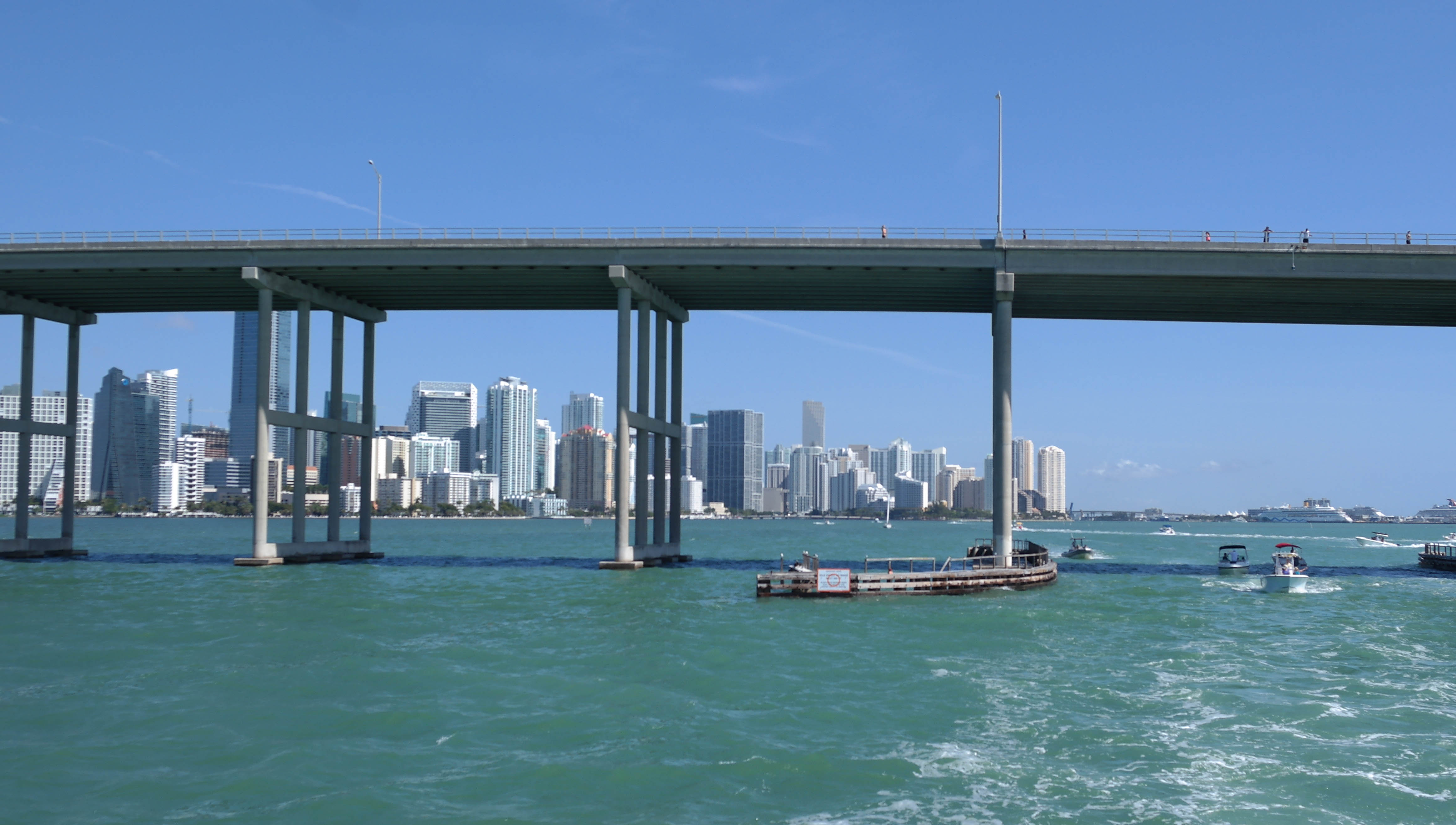 On the way

What And Where Is Stiltsville?
 At present, Stiltsville consists of 7 houses, most of them along the 'Biscayne Channel' just south of Key Biscayne. None of them, except for the A-Frame house, which I believe was built in the 1950's, are 'original' and were around in the heyday of Stiltsville in the 1950's/60's.
This part of Biscayne Bay is a very exposed area, and every time a storm or hurricane passes through there, the structures either get completely destroyed or at least greatly damaged.
These days, they are part of Biscayne Bay National Park, and there has been a long-standing dispute as to whether they should even be allowed to be maintained. As far as I know, this has not yet been resolved with complete certainty, but there is an agreement to which I am referring at the end of this article.

The Beginnings of Stiltsville
The story of Stiltsville begins with 'Crawfish' Eddie Walker in the early 1930's, who reportedly sold bait and beer to passing fishermen as early as 1922 from a simple shack erected on the flats.
In 1937 friends of Eddie (Thomas Grady and Leo Edward) built their own shacks. The area began to be named 'the shacks' or 'shack colony' by locals.
By 1940, there were 12 houses on the flats in Biscayne Bay, one of which, the the Quarterdeck Club, turned into one of the most popular spots in Miami.
Although I was unable to find any pictorial evidence of Eddie Walker's shack, or those of his friends, I did dig up a picture of the Quarterdeck Club: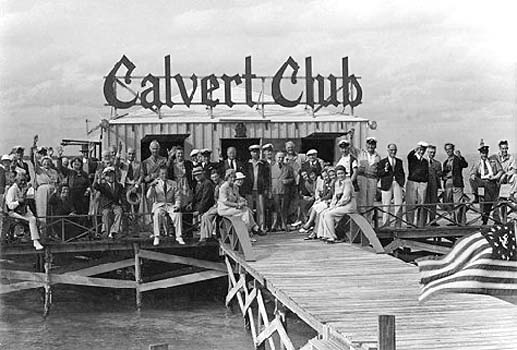 (Image credit to My Old Florida and Florida Archives)
When I look at this wonderful old picture, what strikes me is the attire, everybody is in their best Sunday dress and suits – I am thinking that if this was at the height of the summer, they must have been expiring!

An Ever-Changing Landscape 
Hurricanes came and went, for example one in 1950, and Hurricane Donna in 1960. The storms left behind and ebb and flow of destruction, as well as rebuilding.
Regardless of the difficulty and impermanence of any structures on the 'flats', as well as being accessible only by water, the area quickly became the place to be for the high society of Miami and visitors who stayed at winter resorts in Miami.

A Favorite Party Spot for the Gambling, Boozing and Naughty High Society of Miami

Illegal alcohol and gambling in Stiltsville led to several police raids on the Bikini Club and Quarterdeck Club (www.stiltsvilletrust.org). The bikini club opened by Harry Churchville aka 'Pierre' in 1962, as a 150 foot grounded yacht (named Jeff), offering a nude sunbathing deck and free drinks to women in bikinis, all for a $1 membership!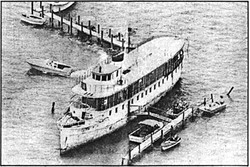 Jeff the Yacht
(Image credit: www.stiltsville.org)
To expand his business, Pierre purchased a military surplus WWII patrol boat and ran it a ground next to the yacht Jeff. The club was receiving plenty of publicity, including the banner headline that read "Bikini Babies bound in Stiltsville" in The Miami Herald. Reportedly, Pierre loved the attention. He claimed to have 1300 members (www.stiltsville.org).
The bikini club was raided in 1965 and closed by the State Beverage Department. There was no licence and adding to this, undersized out-of-season crawfish were found on the premises.

A Declining Legacy
At Stiltsville's heyday in 1960, there were 27 structures on the flats. After Hurricane Betsy in 1965, those numbers were reduced to 17, and the State decided that only those with less than 50% damage were allowed to remain in the bay. Those structures that remained, were having to comply with building codes and were hoisted onto pilings. In addition to the 17 remaining, 8 new homes were constructed, thus totaling 25 structures altogether.
 In the years that followed, Stiltsville had pretty much lost its raunchy reputation and began to be more of a family excursion spot. By 1980, there were 14 houses and a radio tower.
Also, opposition to the structures, which had always been there, now began to grow further. Nearby residents referred to them as an eyesore, and Florida's Secretary of State, Bruce Smathers, characterized the community as a " blight on Biscayne Bay," and called for it's end to existence by 1986 (www.stiltsville.org).
Hurricane Andrew then destroyed most of the houses in 1992 and this seemed to spell the end of Stiltsville. Since then, there have been only 7 remaining structures.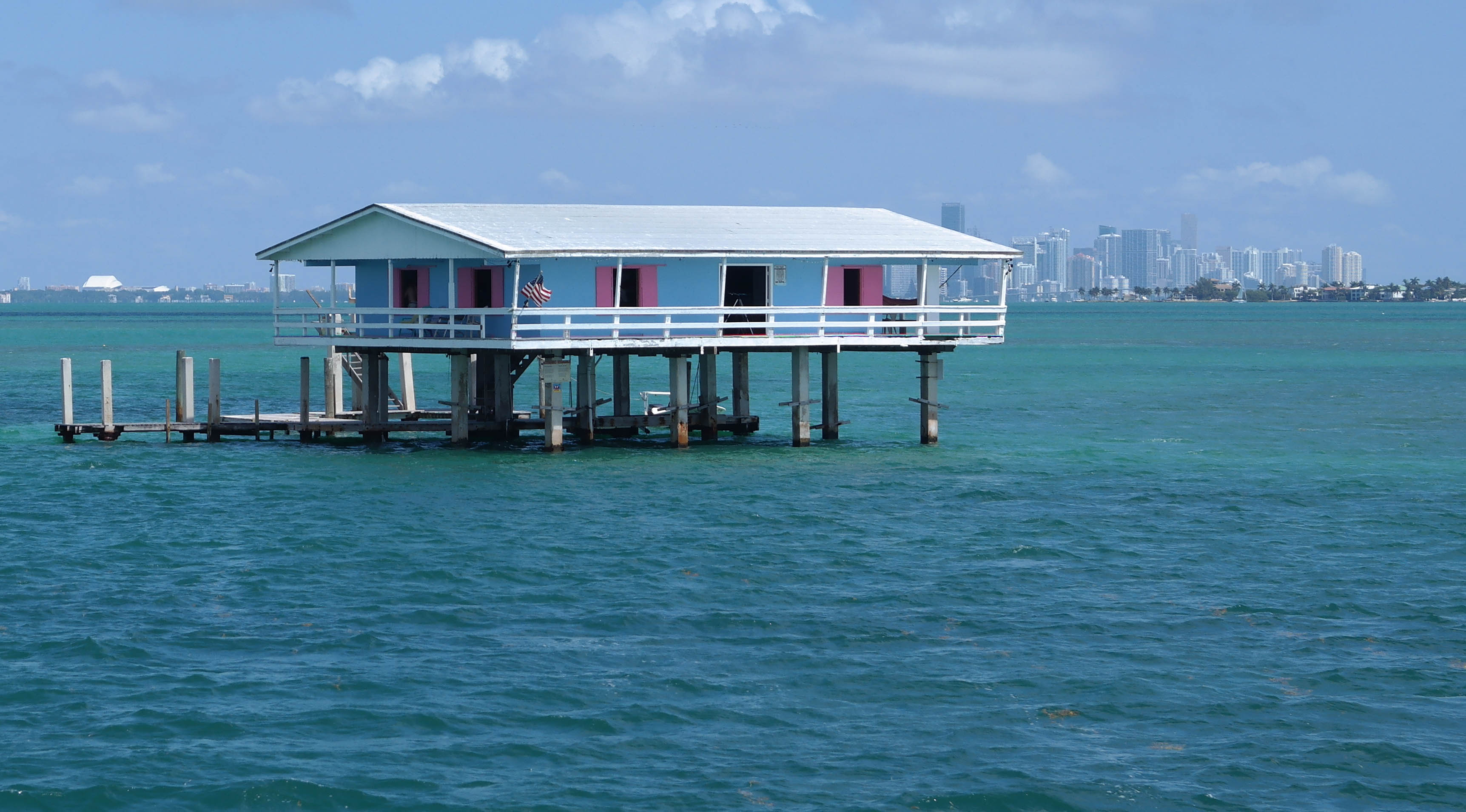 Still Standing!
Happily. Andrew was not to be the 'end of Stiltsville'. Not only are the remaining 7 structures still standing, no, I was particularly pleased to see that they looked maintained and USED by the general public.
After a little research I found out that you can actually rent the structures for private use. Details are here! This is a major success after the structures were actually due to be removed in 1999.
This from the Stiltsville Trust website, a Trust that was established after years of debate what should happen with the houses:
"On August 1,2003 Superintendent Canzanelli formed a group with the responsibility to maintain the structures and make them available to the public on a permitted basis. The owners of most of the houses had taken scout, school and church groups to the houses so they could enjoy the splendor of the bay. The group is now the Stiltsville Trust, a 50 1(c)(3) tax exempt corporation. There are fifteen Trustees, of which seven represent the houses and the other eight represent the public.
It took about two years for the Stiltsville Trust and Biscayne National Park to reach an agreement on how the joint custody arrangement would work. There were many details to be ironed out, including the speculation what would happen in the event of another hurricane.The rules now stipulate that houses damaged more than 50 percent would be removed.
Anyone interested in using Stiltsville for camera shoots, artists-in-residence, small conferences or whatever should contact the Biscayne National Park Office, (305) 230-1144."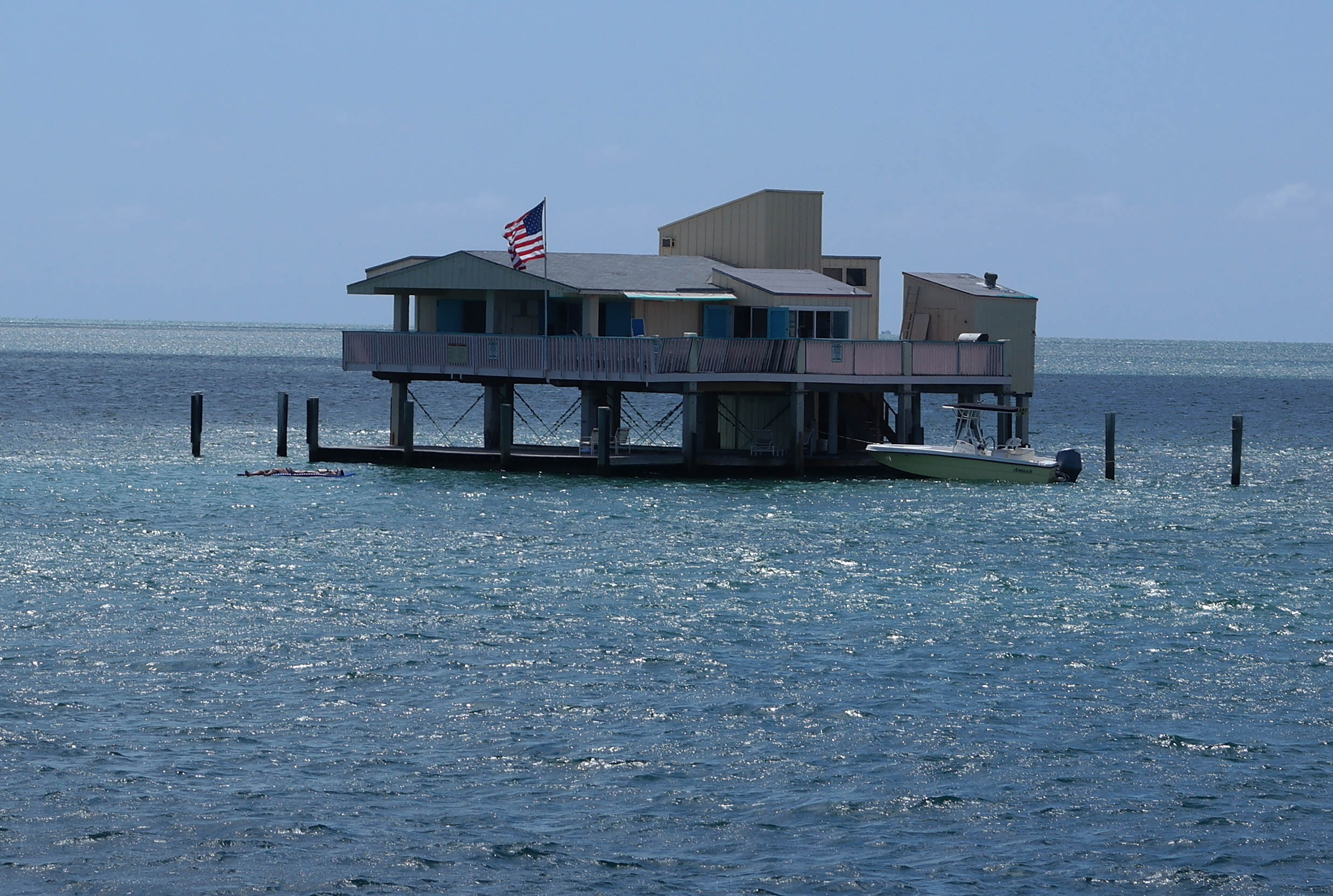 The Last Word
Personally, I believe it was a great idea to preserve the structures and make them accessible to the public, even if the price is pretty high (minimum rental $1000 even just for one day). I would have been sad to see them demolished. What do you think?