Don't get me wrong, I love Key West. I love the old historic buildings, the vibe and the many attractions and great bars it has to offer. Everybody should see the Mallory Square Sunset Celebration at least once in their lives. Truly, you haven't lived until you have seen cats trained to jump through fiery hoops…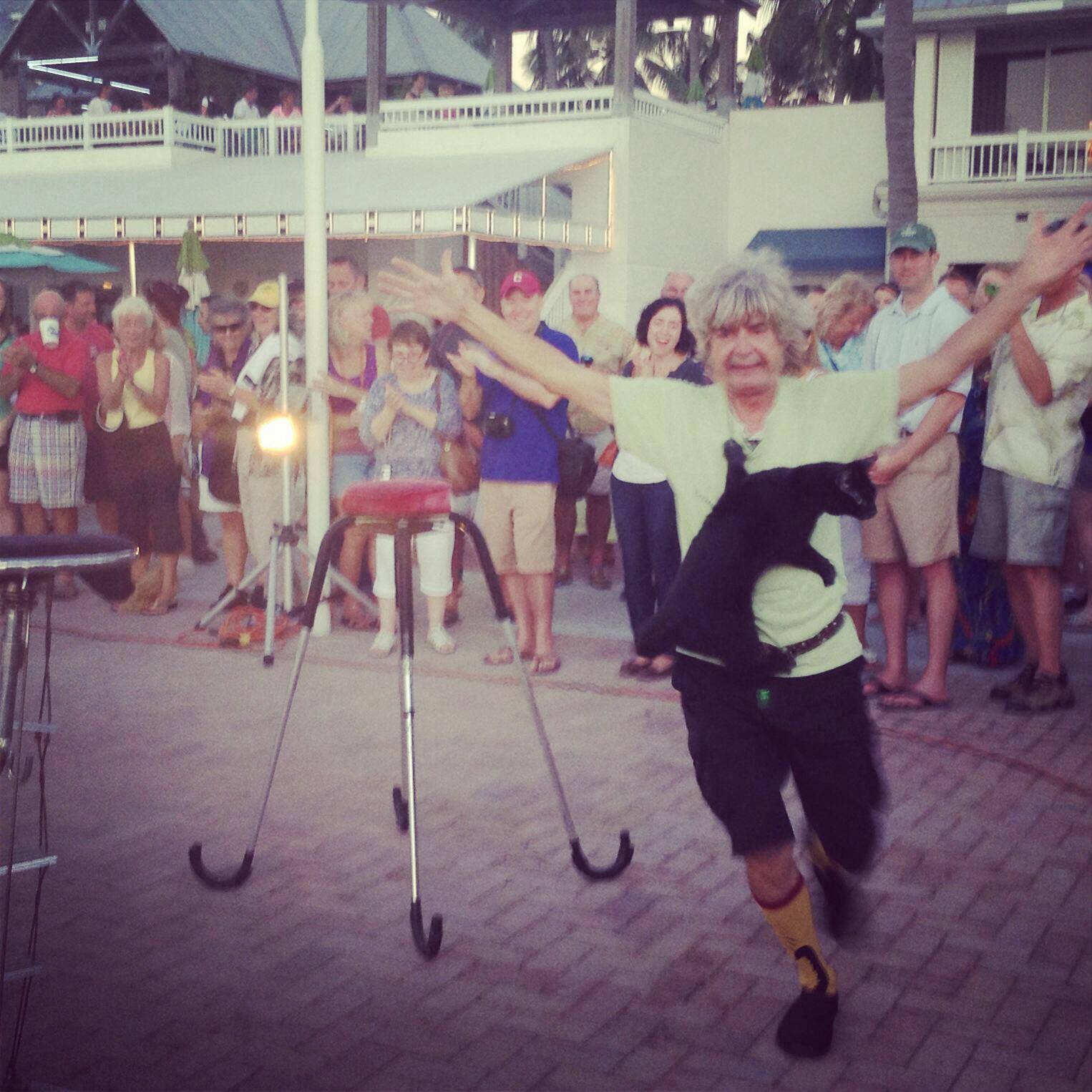 Cat man
Having said that, if you live in the South Florida area, you have probably been to Key West plenty of times and contended with the traffic, parking and exorbitant hotel prices. We are close enough geographically, to drive down just for a daytrip to the upper Keys, for example to Key Largo or Islamorada. Generally speaking, as a bonus, you get a lot more bang for your buck in the upper Keys. In fact, if you are more of an outdoors person and into fishing, specifically Islamorada is going to suit you a lot better. If you just want to party, then head to Key West!
Here I am going to give you a random collection of things to do in the upper Keys, specifically Islamorada with a little excursion further south. Enjoy!

Breakfast in Key Largo – Starting Off The Trip On The Right Foot
We headed down from Fort Lauderdale with an empty stomach, looking for a breakfast spot, and immediately stumbled across the best Key Lime Mimosa there is, at the Key Largo Conch House (Mile Marker 100.2). I never had a Key Lime Mimosa before, but I am convinced there isn't a better one in all the world! It contained real fruit pulp, and the delicate fragrance of the drink was enough to send my senses straight to cloud 9.
The location, just hidden from US1 by a few trees and a cute garden, is lovely. Moreover,  just a few miles away from south Miami, you already feel as though you have entered another country. Not to forget you are now on 'island time', meaning nobody is in a rush, and neither should you be. Incidentally, the breakfast at the Conch House was amazing to boot!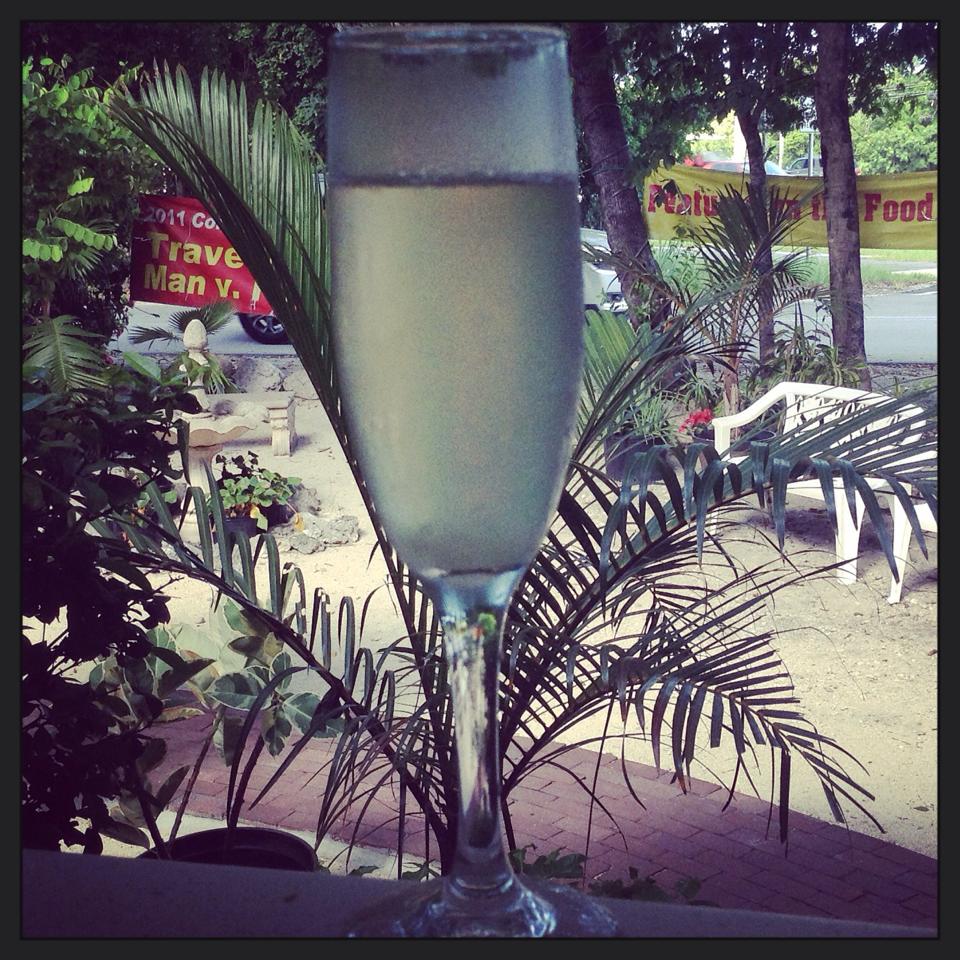 Mmh…Key Lime Mimosa!

Islamorada – Plenty To See and Do
Islamorada is a pretty big Key, and a great place to stay for a wee while. If you are into fishing, you will have just entered your very own paradise. You can choose from quite a few marinas with fishing charters, one of the better known ones being 'Bud'n Mary's Marina', which you can find on Mile Marker 79.8.
If you need to see for yourself just how plentiful the sea-life here is, and want a bit of action on top, head to Robbie's Marina and feed the tarpon. Trust me on this one, never did a bucket of smelly fish buy you that much fun.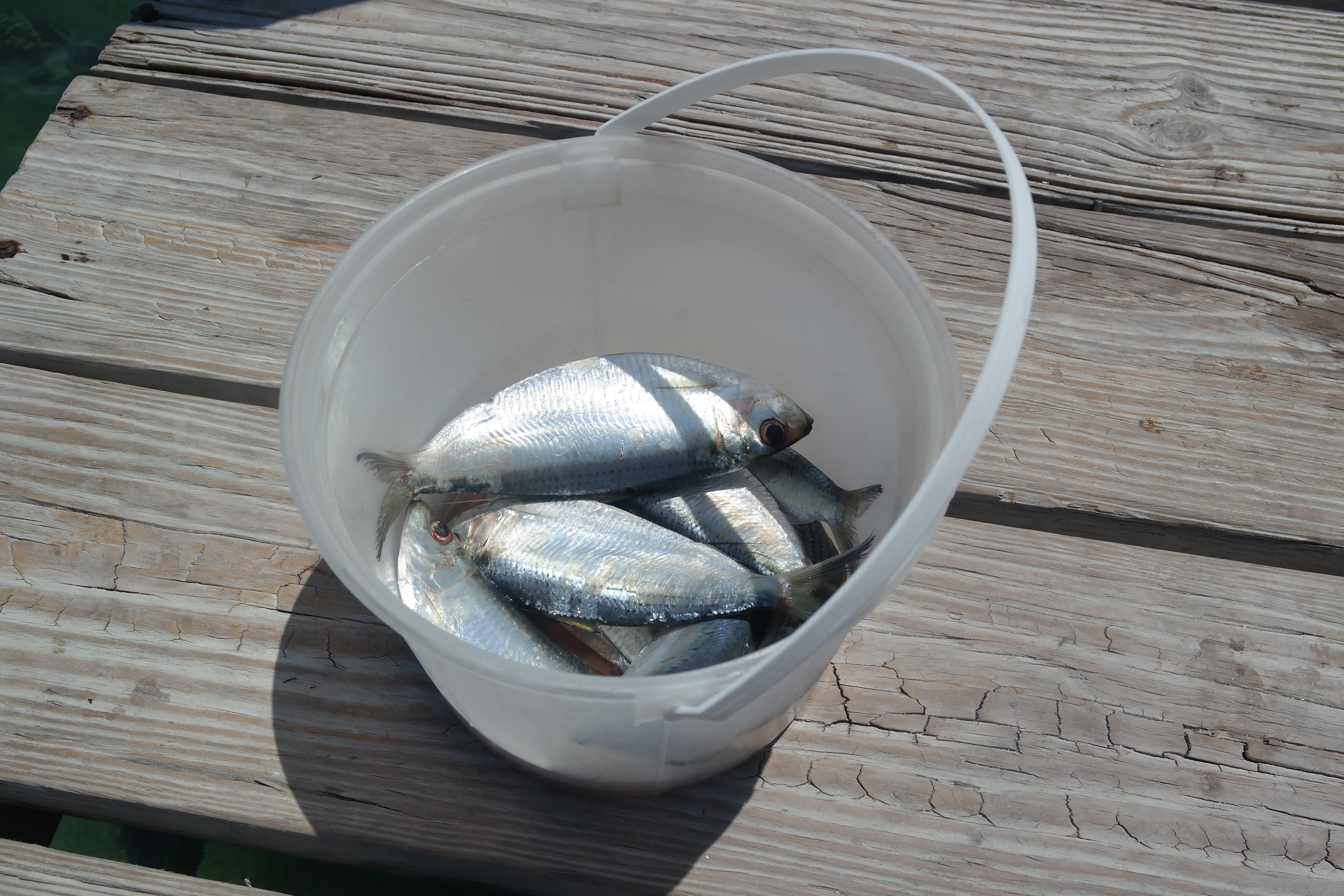 Bucket Of Fish Fun
Well, I did end up getting 'hand-kissed' by a tarpon, who was slightly indiscriminate between the fish and my arm. However, it did nothing to dull my enjoyment.  On the contrary, much to my amusement, I was now sporting a little battle-scar.
Tarpon have big expanding mouths, and they are very fast. This one had the fish and my whole hand in him for a second before he let go.
Tarpon don't have teeth, but it still won't be a pleasant experience (think rough sandpaper on skin), so just watch out for kids, as the tarpon shoot into the air unexpectedly, and there are some BIG boys at Robbie's!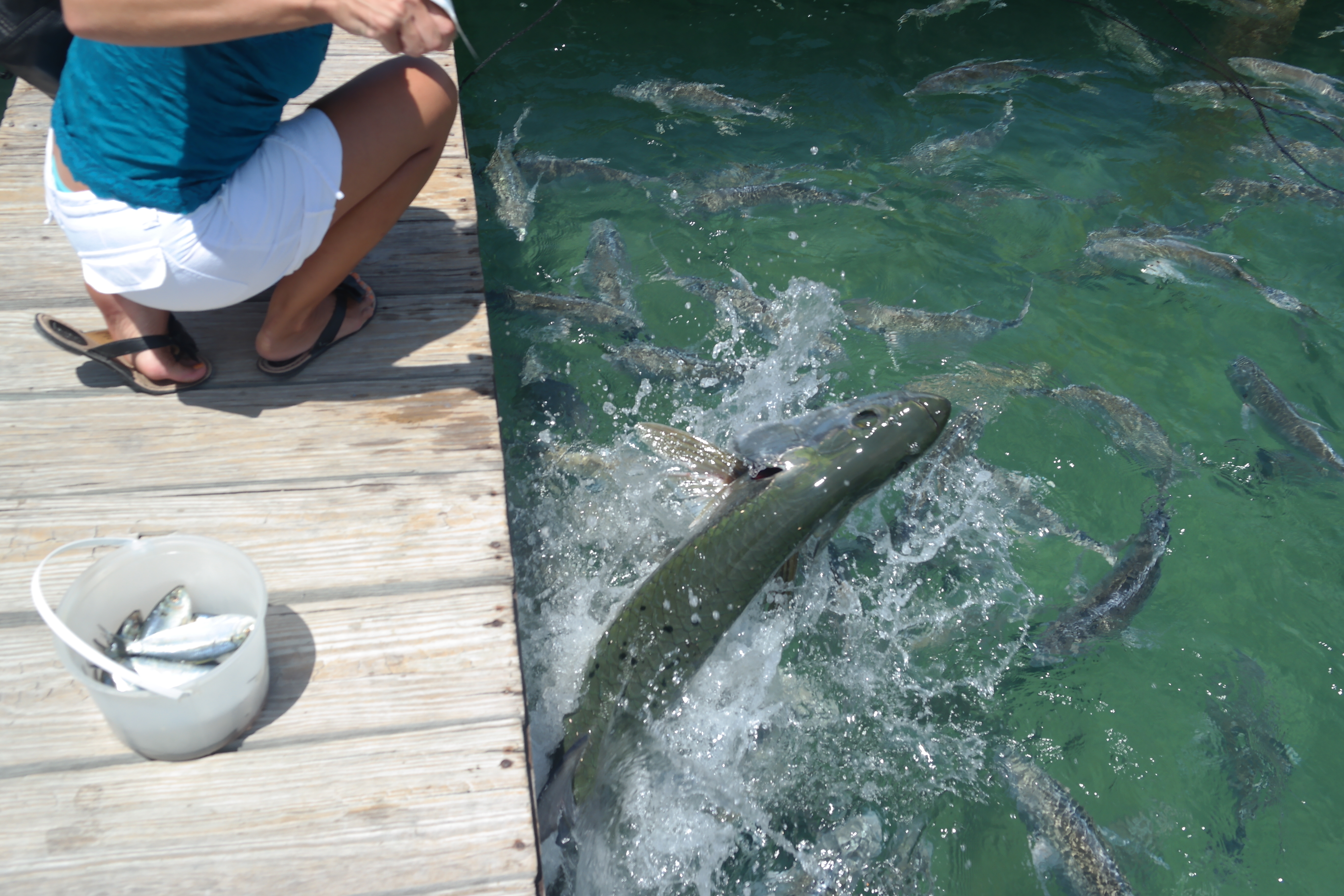 Let Me Kiss Your Hand, Madame!
You just have to love those big eyes and faces that look at you
expectantly.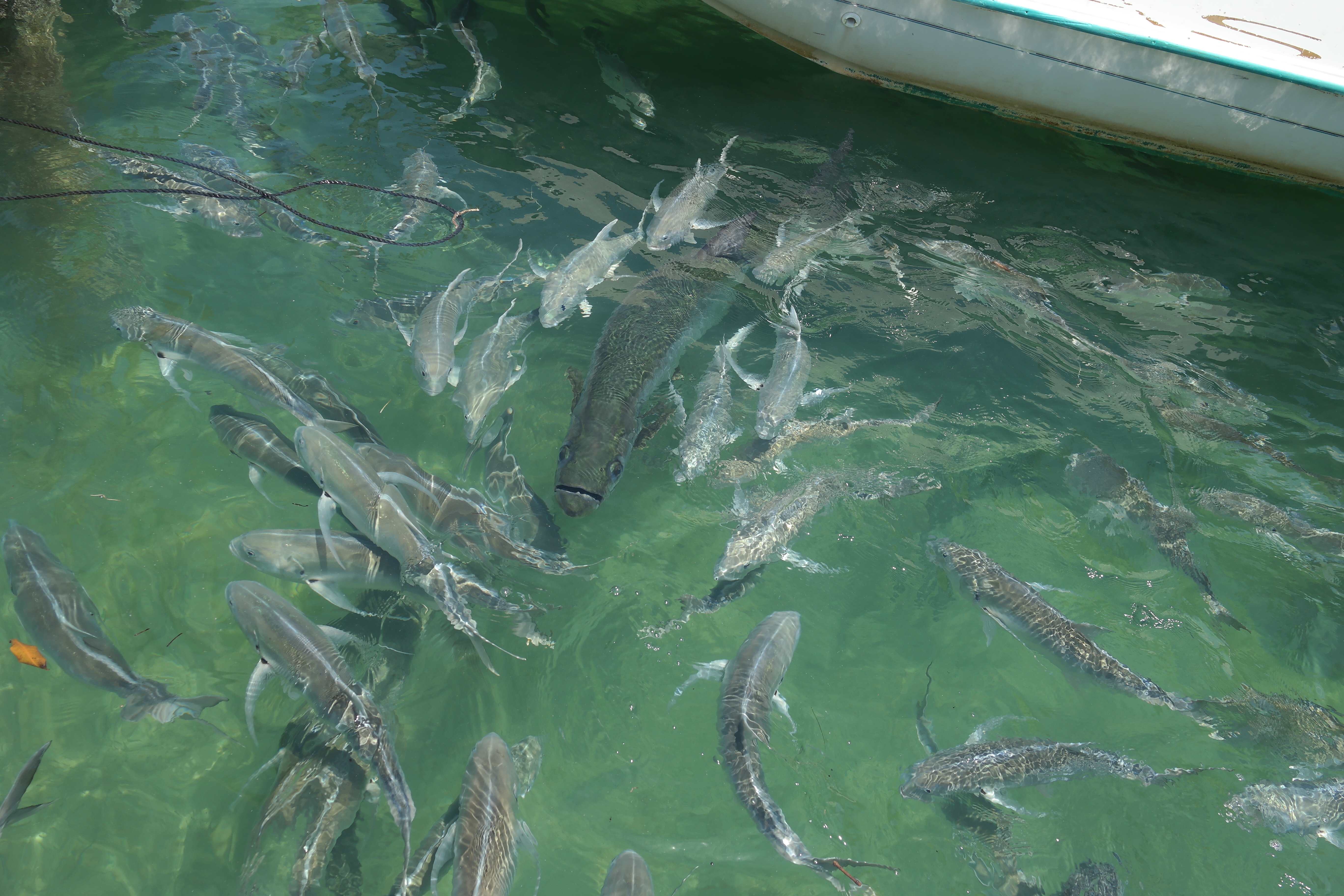 Another Hand-Kiss?
Incidentally, should you feel adventurous and sporty, you can
rent kayaks at Robbie's and paddle to the nearby Indian Key, a historic site, something reportedly well-worth doing. Unfortunately we had a storm coming our way I did cover the kayak trip to Indian Key in a separate blog post here.

Hurricane Monument Islamorada
While you are in Islamorada, check out the Hurricane monument at Mile Marker 81.5. The 1935 Labor Day Hurricane is still to this day the strongest Hurricane ever to make landfall in the United States.
The Keys, being low-lying and especially vulnerable, had practically no defense and hardly any warning. The people remaining in the Islamorada and Matecumbe area had nowhere to shelter from this approaching disaster.
A storm surge of up to 20 feet pretty much swept everything away: people, animals and houses. We still do not know the precise number of people that were killed, but it is estimated around 400 souls perished. I have heard/read that until recently it was not uncommon to find human remains on some remote mangrove islands around the Keys, and although I can't verify this, I doubt it is too far fetched. There is also an interesting account of the aftermath by Ernest Hemingway, who rode out the Hurricane in his house in Key West:
'The biggest bunch of the dead were in the tangled, always green but now brown, mangroves behind the tanks cars and the water towers. They hung on there, in shelter, until the wind and the rising water carried them away'. (from http://hnn.us/article/16158).
He referred mainly to veterans, workers building on the road that is now US1, who were lodging in roadside tent camps and had no shelter and no hope of escape.

Betsy The Giant Lobster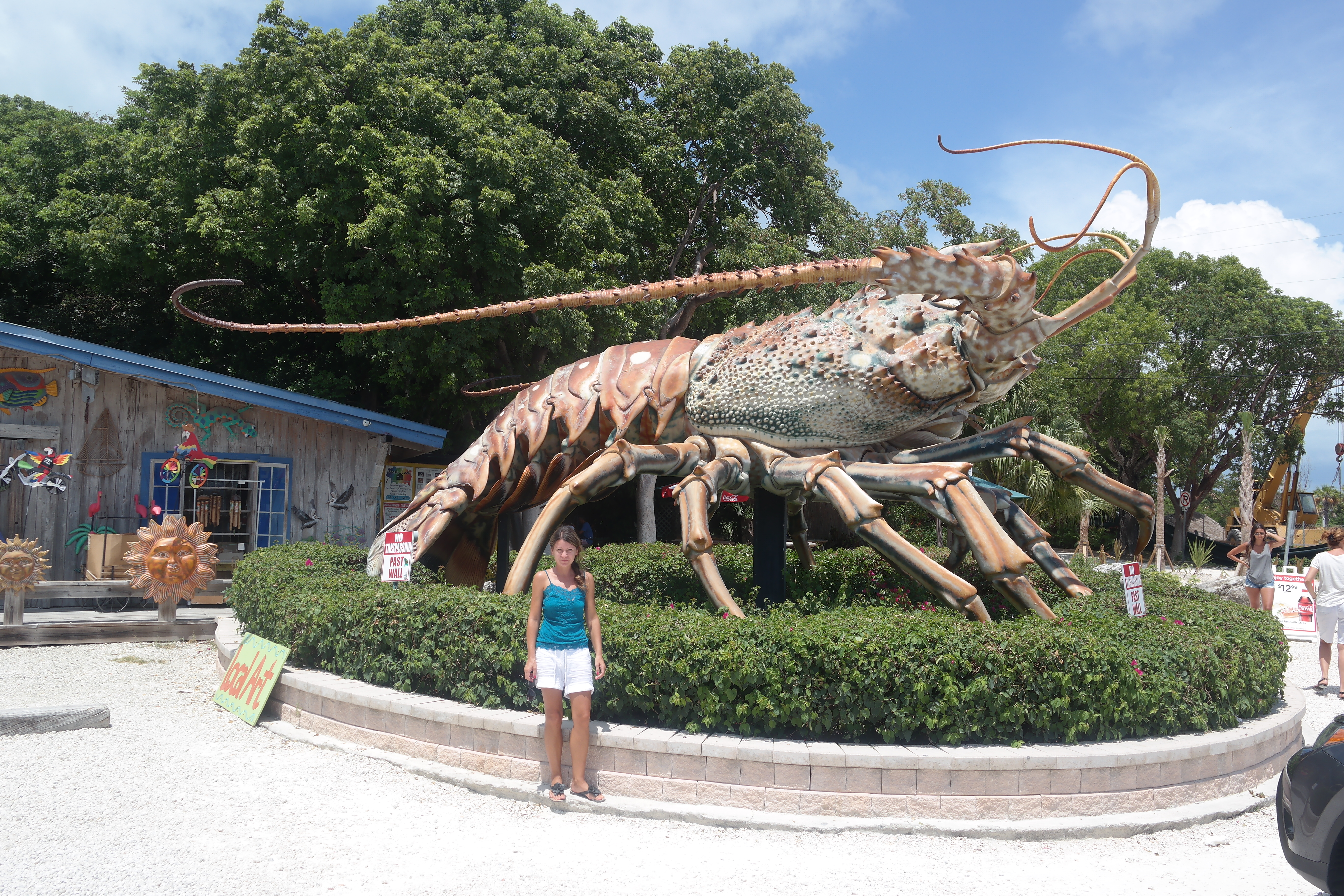 Hello Betsy!
Oh yes, you need to see this. We are still in Islamorada, and you can't really miss Betsy, the giant roadside lobster, she proudly stands right next to the road you will be driving on. Betsy is a huge Florida Keys lobster, which was crafted in the 1980's by artist Richard Blaze. After moving around a little, she is now permanently located at Mile Marker 87, at the artists village.

Anne's Beach
We have not made it out of Islamorada yet. If you have been to the Keys, you know that it is not the best place for beaches, perhaps with the exception of Key West and Bahia Honda State Park.
However, if you are looking for a little stopping off point to dip your toes into turquoise clear waters and watch a few fish swim by, there is Anne's Beach at Islamorada Mile Marker 73. It also has a nice little boardwalk through the mangroves. Enjoy!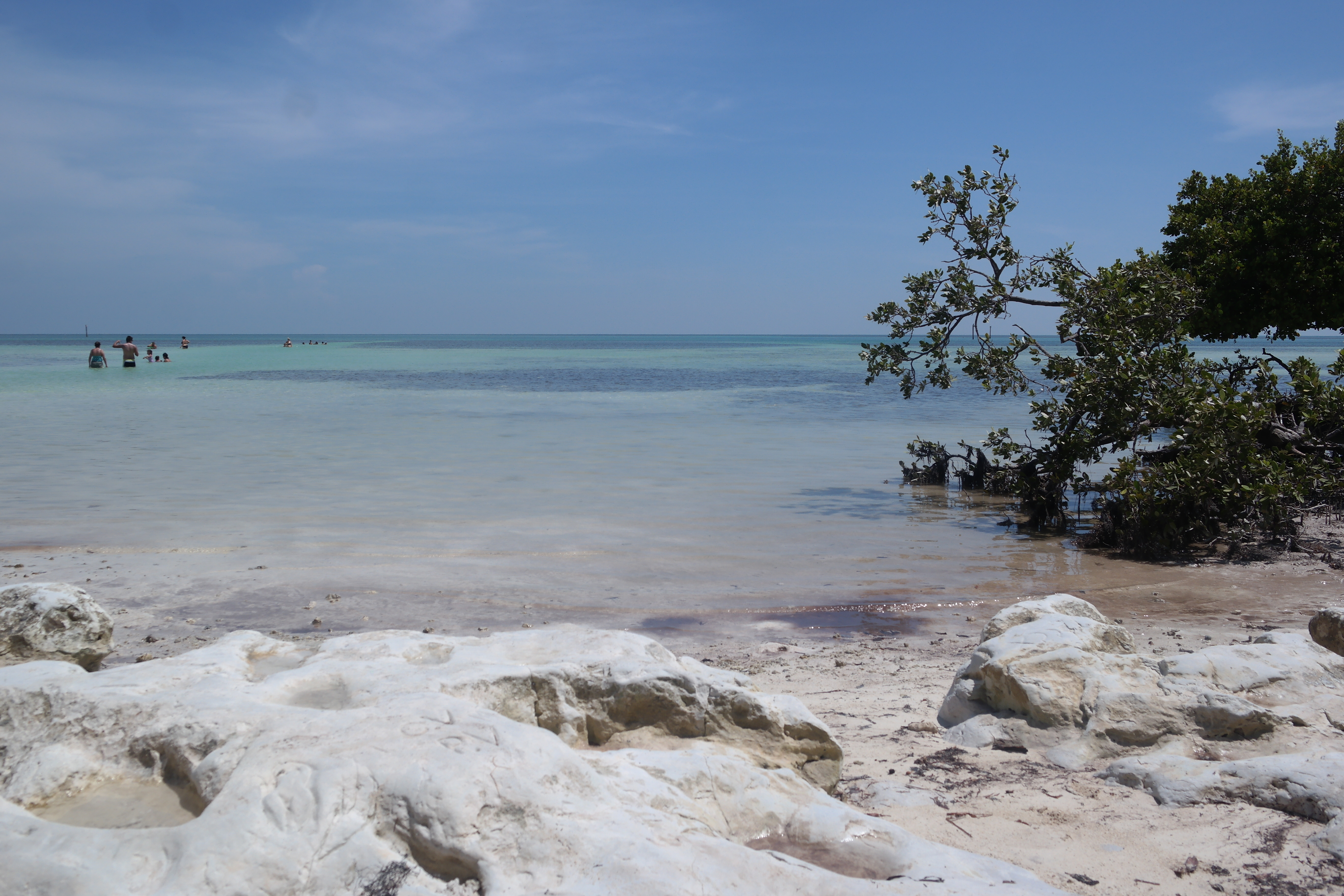 Anne's Beach

A Place To Stay: Awaken Your Senses At Edgewater Lodge
Some of you might know that I walked the entire length of the Florida Keys last year. One of my overnight stopping-off places was Edgewater Lodge on Long Key. I had a fantastic time there and they were incredibly generous by offering me one of their rooms.
It seemed an obvious choice to go back there again and savor the place, this time without aching feet. And how much more 'savoring of the moment' can you possibly have, with this scenery as the last thing you see at night and the first thing in the morning?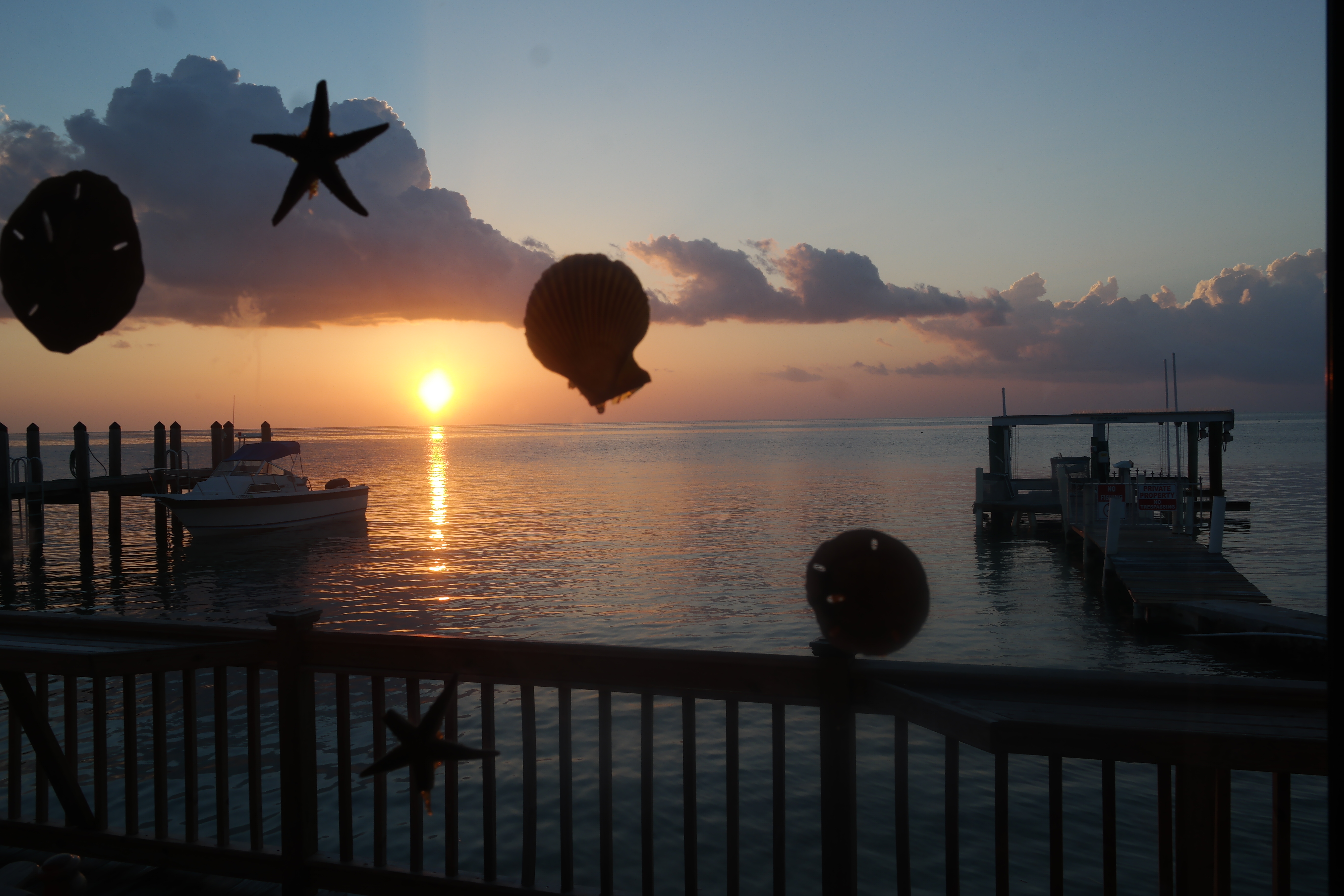 View From Room
Don't come here looking for a party atmosphere, as this place is miles away from bars and restaurants and nightlife. Which is the great attraction when you want to get away from it all, or you are into fishing and bringing your own boat. There are boat docks right outside your porch. They also have kayaks and paddle boards free of charge for guest use. Can it get any better than that? Not for me.
Alternatively, you can do what I did, namely just 'chilling' and watching the wildlife swim by. I saw plenty of fish, birds and a nice ray. Other guests have reportedly seen all kinds of creatures including manatees and turtles.
Nothing beats finishing off the evening with a quiet drink on the cute rocking chairs on your porch, listening to the water crashing onto the shore underneath your deck. We brought a well-stocked cooler, and I suggest you do the same. Happy Days! The draw back? You might have to find someone to prize you away from that porch. I definitely needed to be lured away by the promise of a trip to feed the tarpon, else I would still be there!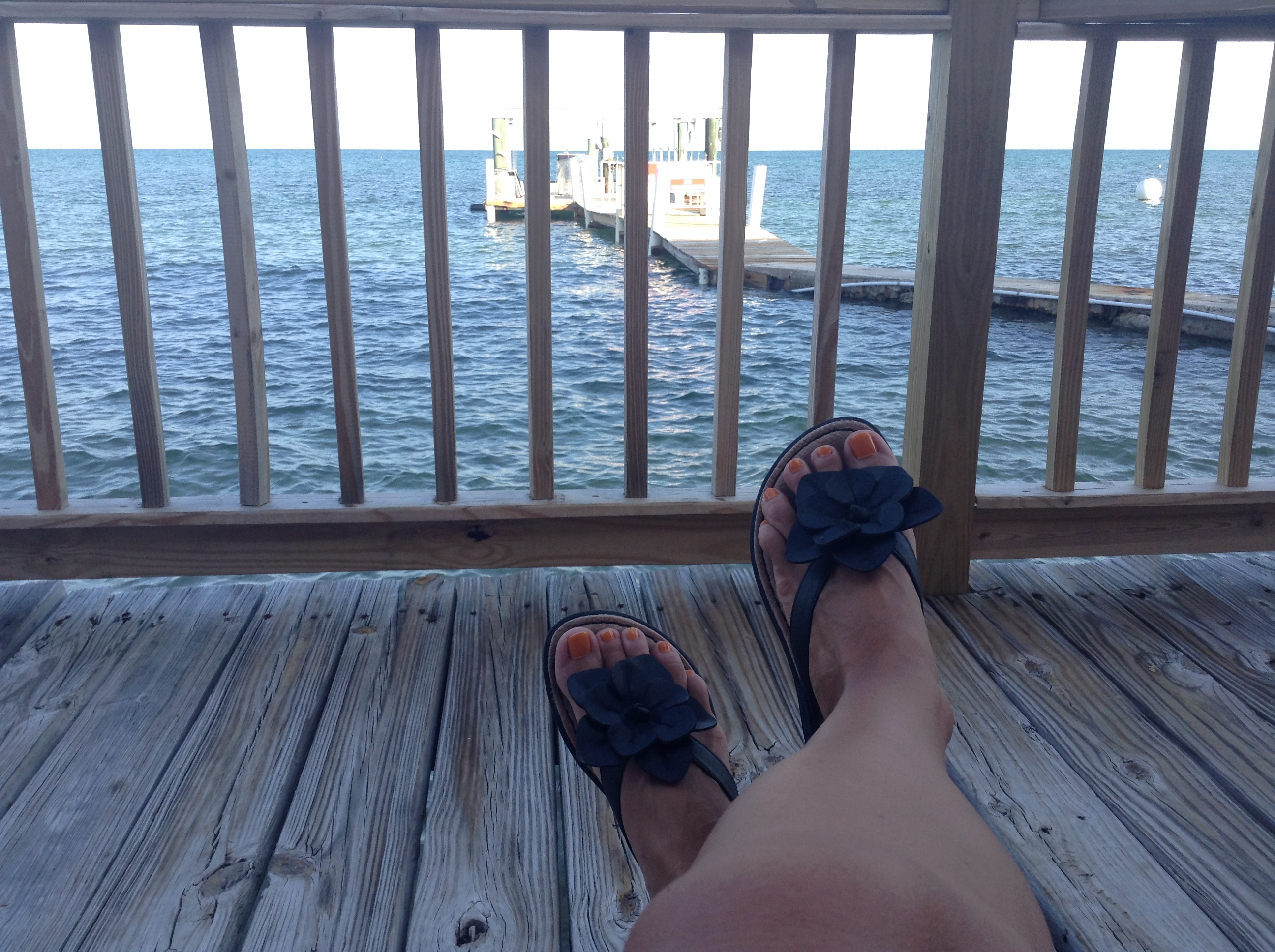 Aaaaah…

Beautiful Bahia Honda State Park
So what else is there to do ? Well, if you head about 28 miles further south, and believe me you will enjoy every minute of this drive including the famous 7-Mile Bridge, there is Bahia Honda State Park.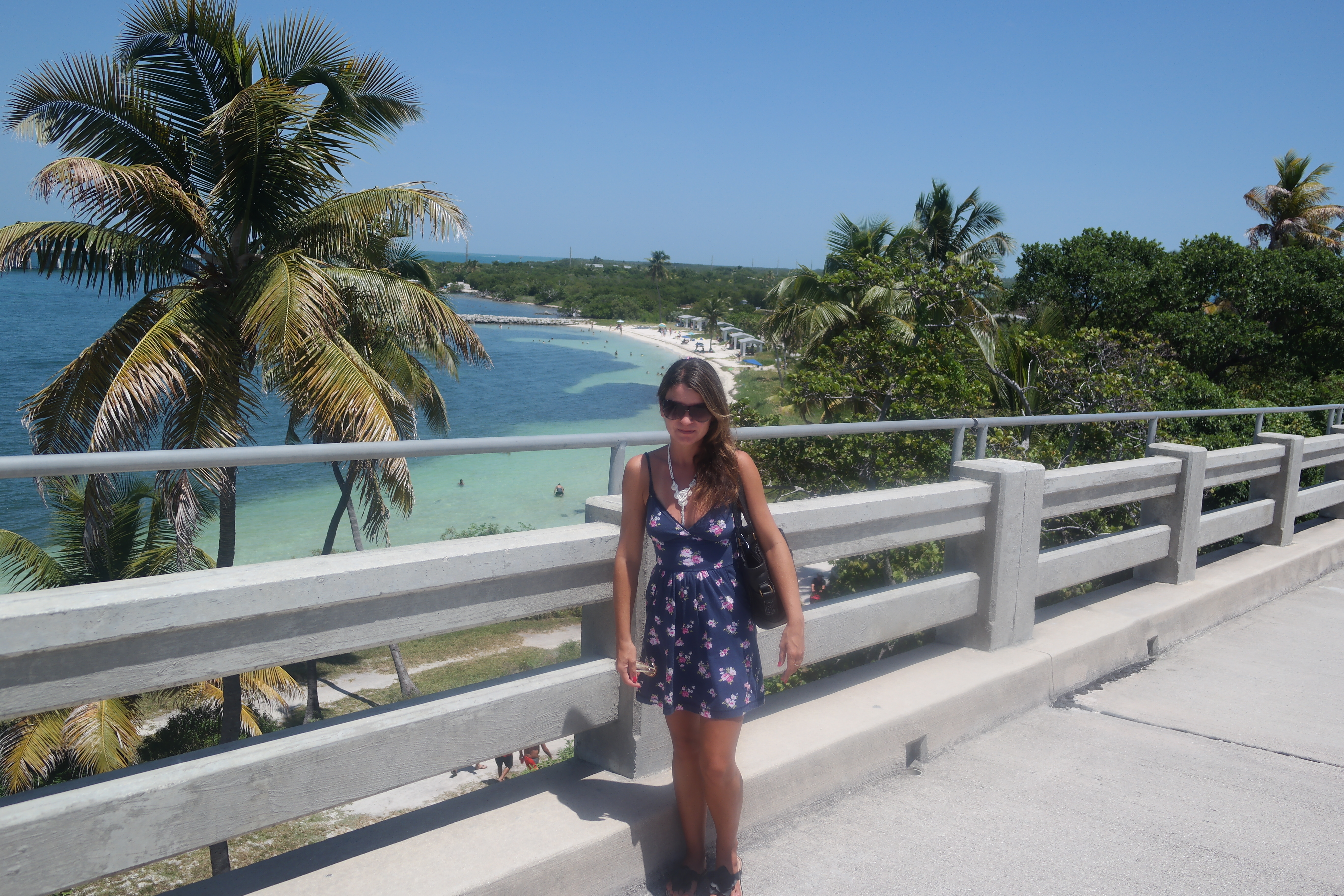 On The Old Bridge
It not only features an award winning and stunning beach, but you can also walk on part of one of the most impressive historic bridges you will ever see, part of Henry Flaglers overseas railway network and finished in 1912. Henry Flagler was mocked extensively ('Flagler's Folly'), for his visionary goal of linking all the Keys with a railway network, something that required an enormous amount of money and engineering 'miracles' at the time.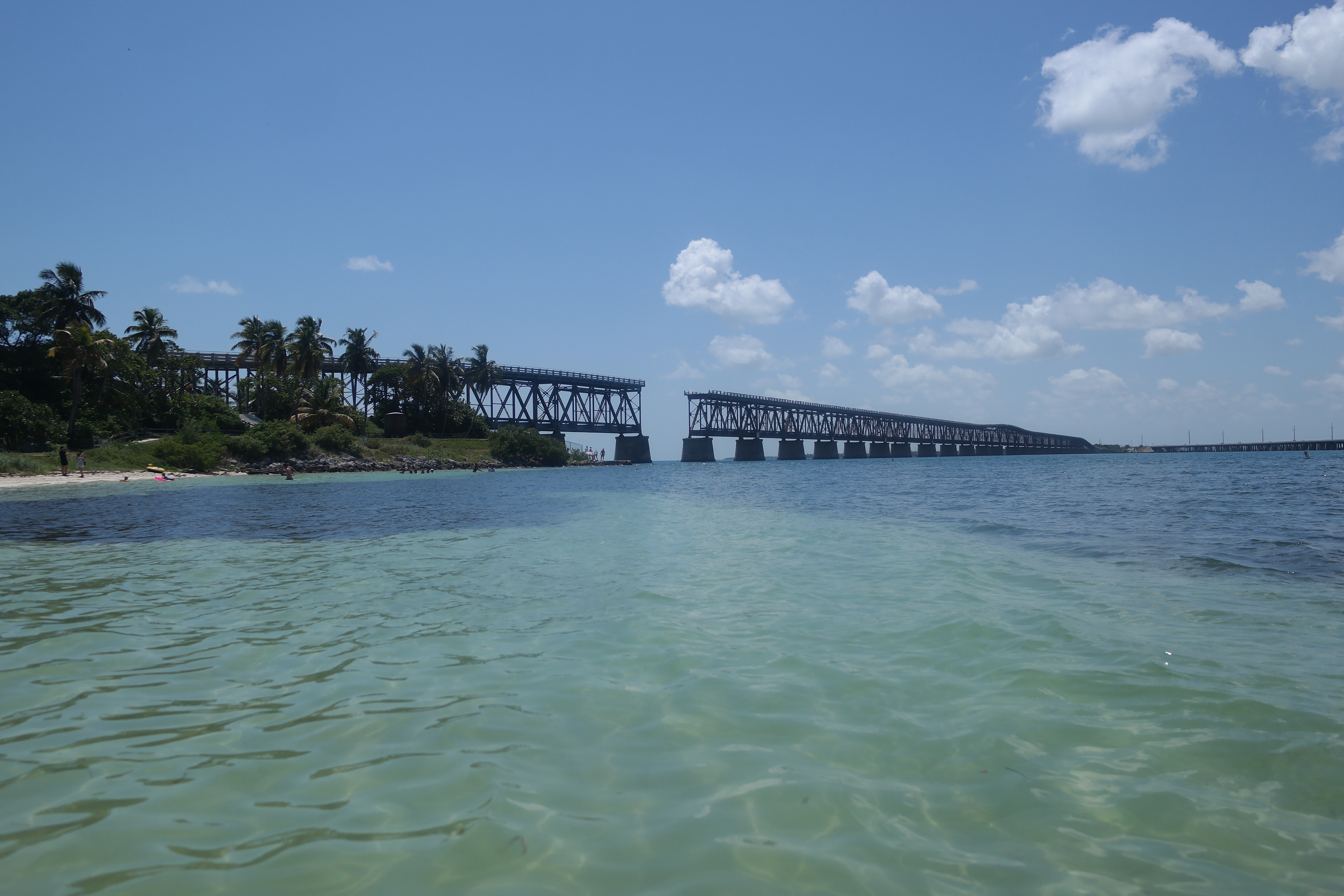 Old Bahia Honda Bridge
After checking out some of Mr. Flagler's handiwork, you can walk about and explore the Park with its many amenities and historic information. Also, you can sample one of the two glorious beaches either side of the bridge, do some snorkeling or just enjoy the vistas and the feel of the warm tropical breeze and ocean on your body. Whatever you do, I can guarantee that you won't regret coming here.
And here my collected memories from this whistle stop trip: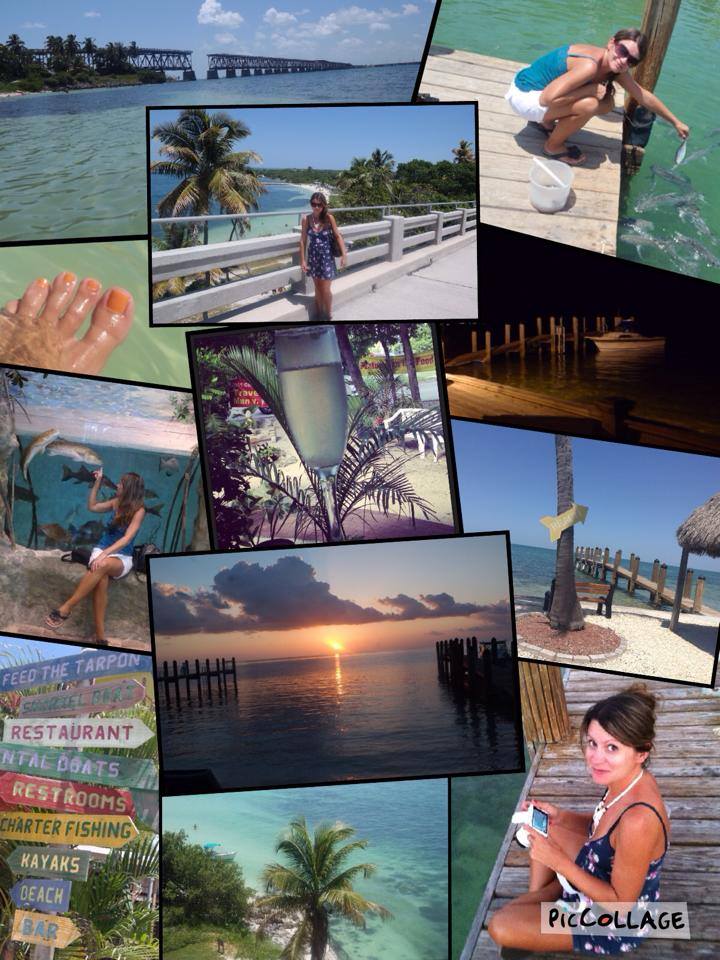 Did I whet your appetite with a 'few of my favorite things' from The Florida Keys?
Here some further reading:

Insiders' Guide to Florida Keys & Key West, 16th (Insiders' Guide Series)

Last Train to Paradise: Henry Flagler and the Spectacular Rise and Fall of the Railroad that Crossed an Ocean
Thank you for stopping by!