An Ode To The Blue
As far as I am concerned, boating in Florida is not an option. Let's face it, if you live in a hot and sub-tropical State that consists to a large degree of re-claimed swamp land, and boasts hundreds of miles of inland waterways, as well as being almost entirely surrounded by the ocean, you must be crazy not to be into boating. There, I said it: crazy.

 A Panoramic View Of The Coast Off Fort Lauderdale
Any day on the water is a good day; providing you are not stuck in a fast approaching summer storm and get hit by lightning. Which isn't as far fetched as it sounds, but let's not be negative!

Why Haulover Sandbar?
I am an ocean lover, but I am also a wimp who grew up in a landlocked place. So if you put those two things together, plus being a mosquito magnet, and enjoying a little party now and then, the perfect solution for a day out is: Haulover Sandbar! It provides all that and more: beach, ocean, bay, no swamp angels and fun, fun, fun!
I was lucky that a friend with a boat (you need one of those in South Florida), took me there on my very first time boating in Miami, three years ago. I haven't looked back since, the sandbar has always been something I look forward to, especially after a day boating through Biscayne Bay. It's so refreshing to jump into the water and you always meet great people there. If it was up to me I'd be there pretty much every other weekend…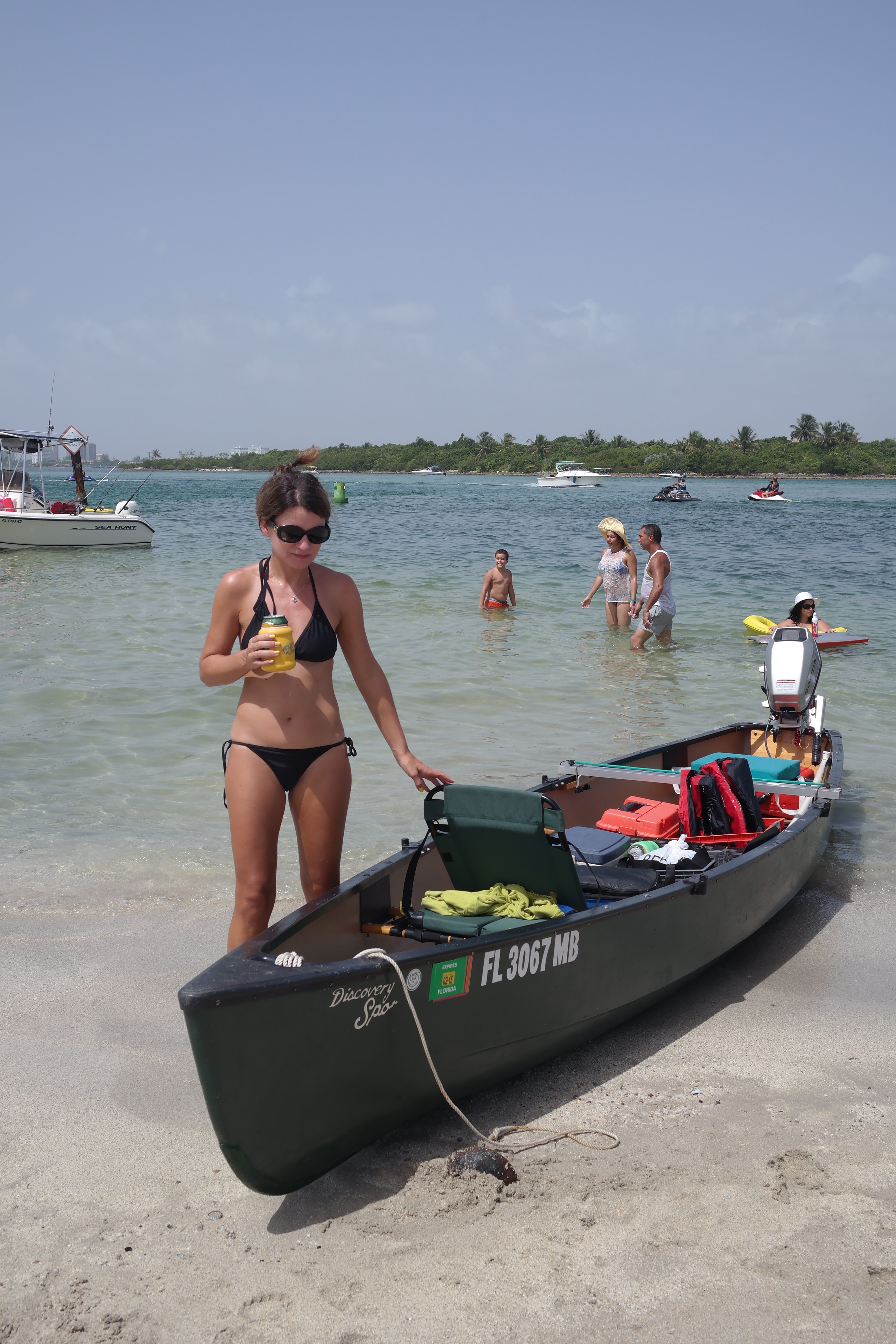 Plenty Of Exposed Sand At Low Tide
The waters around the sandbar are as calm as you typically find them in the intracoastal, but the water is clear like you would find it in the ocean. There is an abundance of sand, some of it exposed at low tide, which makes it feel like you are on a little beachy island in the middle of the bay. Yes, they do get currents here, so watch out for weak swimmers and children, it can be difficult to swim back to the boat. Usually, when everybody acts sensible and responsible, it is a very safe and nice place to boat to.

Haulover Sandbar And Area Throughout The Years
I did search maniacally for some history about the sandbar and the area, but other than the odd snippet here and there, it is very difficult to find anything tangible on the internet alone.
I did come across a couple of interesting factoids, this one from a Tripadvisor comment: during the prohibition era, boats from the Bahamas would deliver whiskey to the beach, when it would be 'hauled' over the sandbar to the bayside, where allegedly speed boats were waiting for the contraband, in order to take it north on the Inland Coastal Waterway.
It was further mentioned, that during World War II,  the Haulover sandbar was used as  target practice location for training Navy and Marine pilots. Apparently more than 140 airplanes were lost off South Florida beaches and wrecked planes are still found off Haulover beach.
There are also various theories as to how it got its official name 'Baker's Haulover Inlet', with the name ranging back as far as the early 1800's. This warrants some further research.
Here is an old picture of the inlet with the sand visibly accumulating, credit to Florida State Archives, specifically the Florida Memory website here.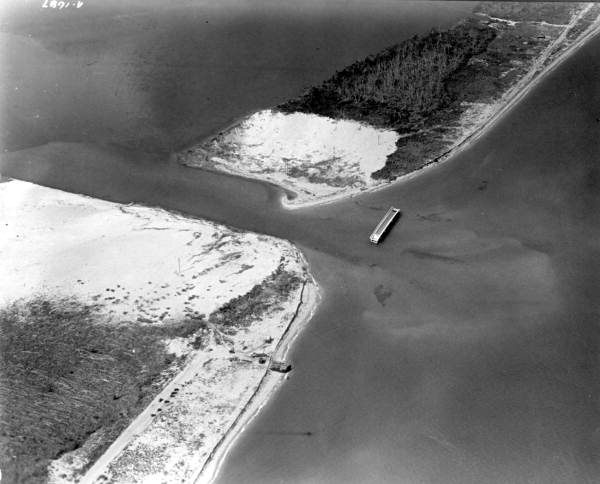 Haulover Inlet 1926

How Do You Get There?
The area you are heading for is North Miami Beach. Closest marina is Haulover Marine Center (click for info), if you intend on bringing a boat. Coming from the north, you can take I-95, take the exit at Ives Dairy Road and head to the A1A south, which will take you there. Similarly, coming from Miami, take I-95 and take the exit for 826, heading east.
If you're bringing just a car, you will need to come on a calm water day, park at Oleta River State Park (also reached via road 826, there are signs), where you can rent kayaks and canoes, and paddle out to the sandbar in the bay. It's certainly possible and many people do this, just watch out for the boat and jet-ski traffic. Find information on Oleta River State Park, including opening times and much more here.
This time, we came with a motorized canoe, which can be paddled too, allowing us to head in and out of Oleta. This is the best of both worlds, at least for lazy paddlers like me. First stop after heading out of Oleta and turning east cutting across the boat traffic, was Haulover Sandbar.
Despite the loud Latin music insulting our ears somewhat, once we got there, we couldn't escape the charm of it all, spending around 6 hours of pure bliss in turquoise waters. Time flies when you're having fun, although I do not recommend hanging out there that long, especially if you are pale skinned.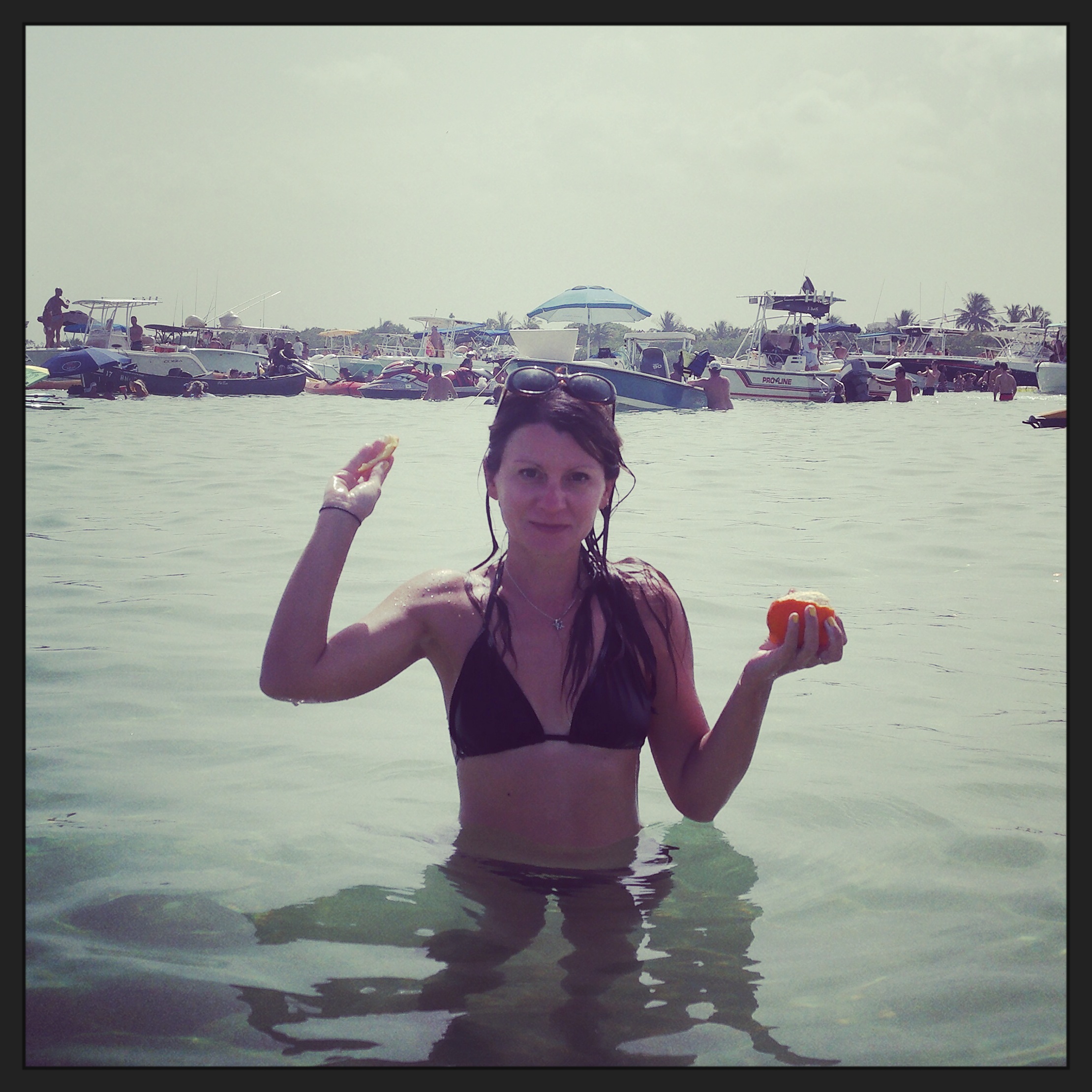 Orange?
Of course, you can stay all day if you want a body and specifically a backside looking like a tomato that has been branded by a white triangle, which is what tends to happen to yours truly! I use sunscreen but throughout a whole day, the Floridian summer sun pounds its way through anything – even factor 30-50. Of course, there is also always that little bit of skin you miss, which will make itself known later – so be warned.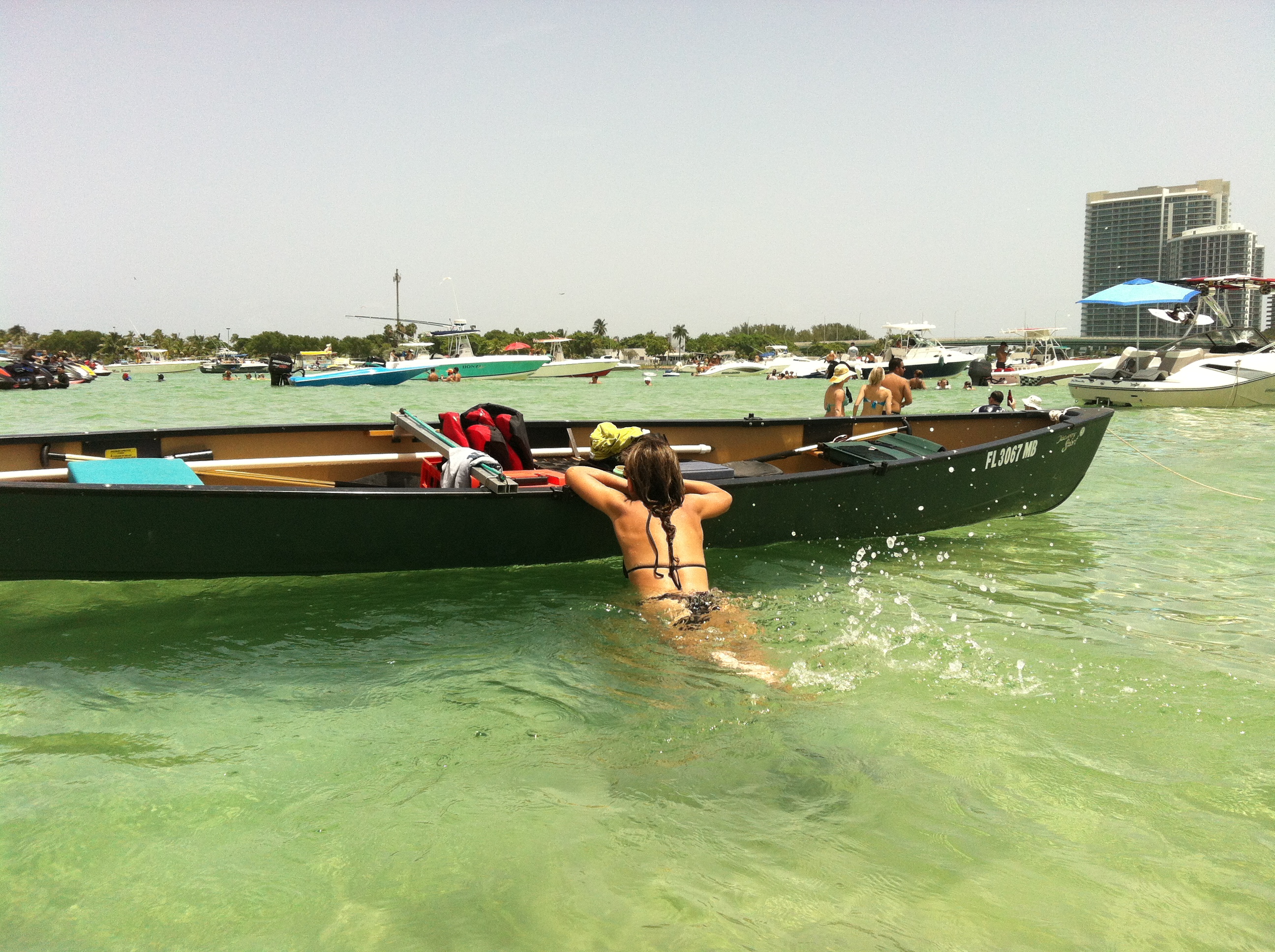 Getting My Tomato On
You will see everything at Haulover Sandbar. Families, solo boaters, dogs, kayakers and paddle boarders.  You will see 'la familia' bringing out their whole household, including gigantic speakers with which they will torture your ears all day long. My advice if it all gets too much – just have another beer and relax. You aren't going to stop them anyway, and will just get aggravated while they party on. You know the old saying: if you can't beat them, join them! Or just start up the motor and take a cruise.

Food and Entertainment Included – The Concessions Boat
You will also see – let me make a big drum-roll announcement here, tadaaa: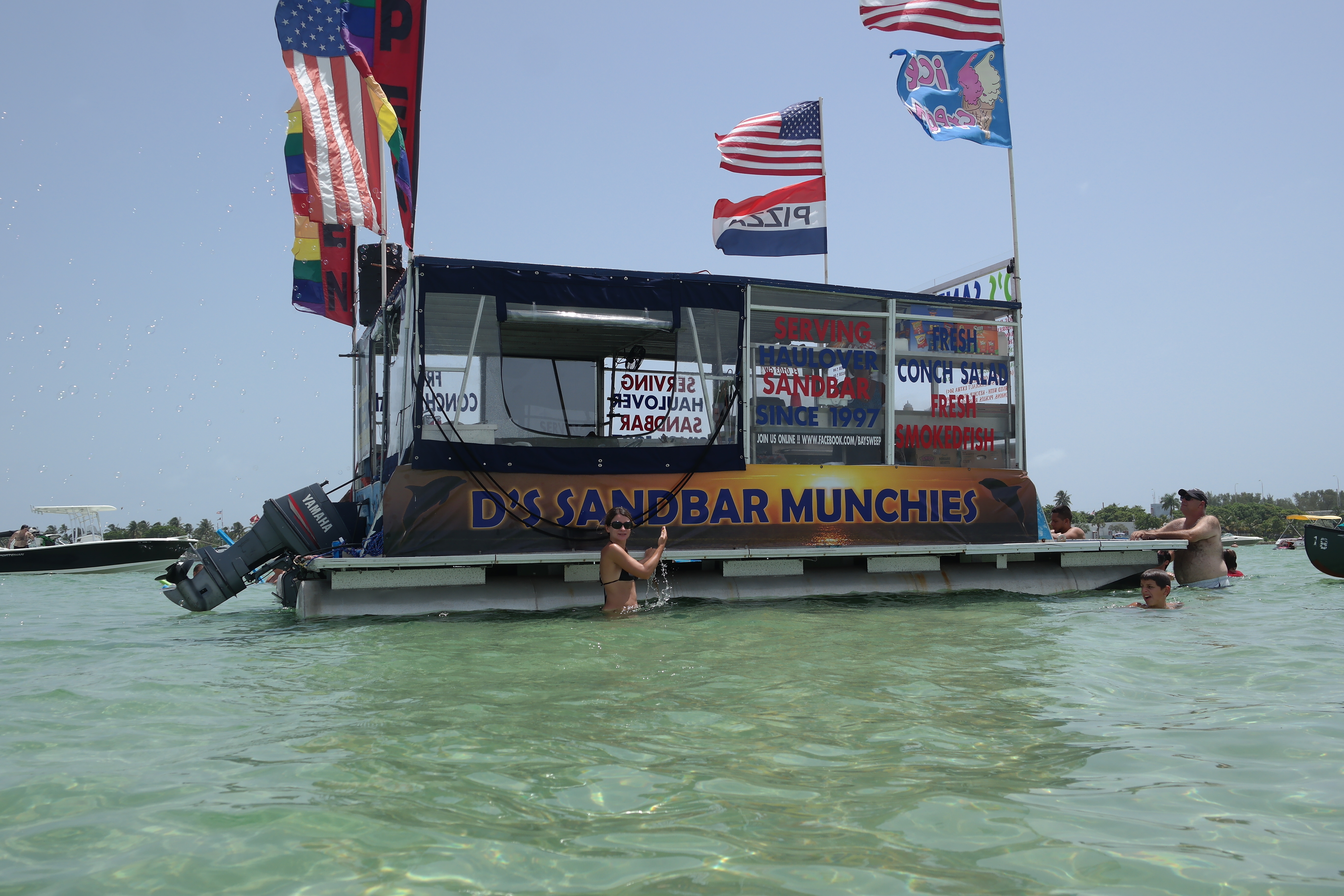 D's Sandbar Munchies!
A concessions boat. Oh yes, you heard right. A food-truck on the water, as it were. If you expect some kind of snotty and spotty kid flipping a couple of overpriced burgers of cardboard consistency here, you couldn't be further from the truth.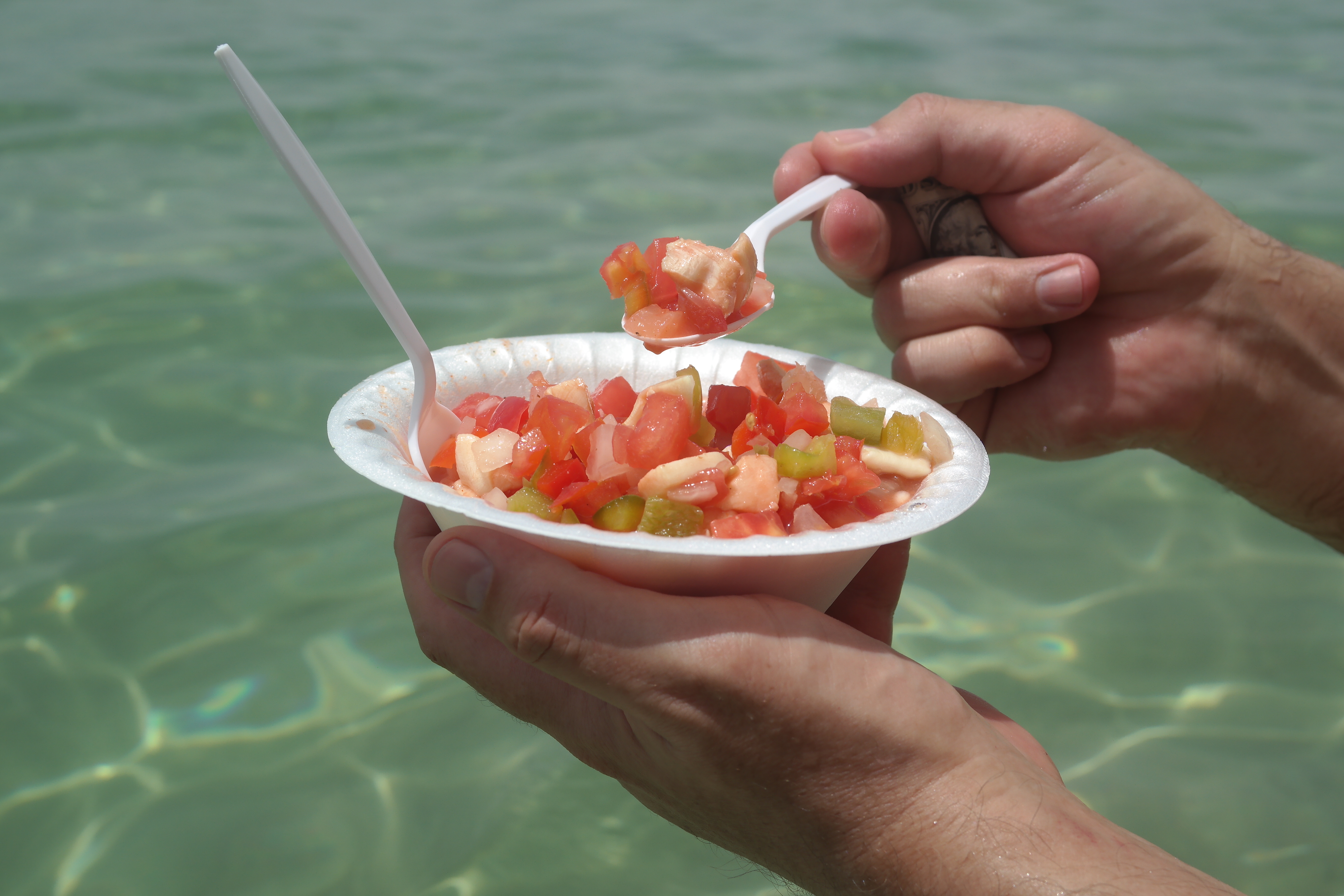 D's Sandbar Conch Salad!
Of course, there are your burgers and hot dogs and chips and whatever else your heart desires, but this boat is run by two ladies  who know what they are doing, and their prices are more than fair to boot. The Conch salad was an unexpected treasure. They have everything you could possibly want or need for a day out on the water:
Forgot your bag of ice? No problem, they've got you covered. Have a moaning kid? No problem, there are a gazillion popsicles and a bubble blowing machine at the end of the boat which should keep even the most annoying little critter occupied for a while. Well, I only saw happy kids here anyway. Water, sand and popsicles doing their magic!
Have a moaning man? Food and beer will sort that out. In fact, seems this boat is a man/boy magnet: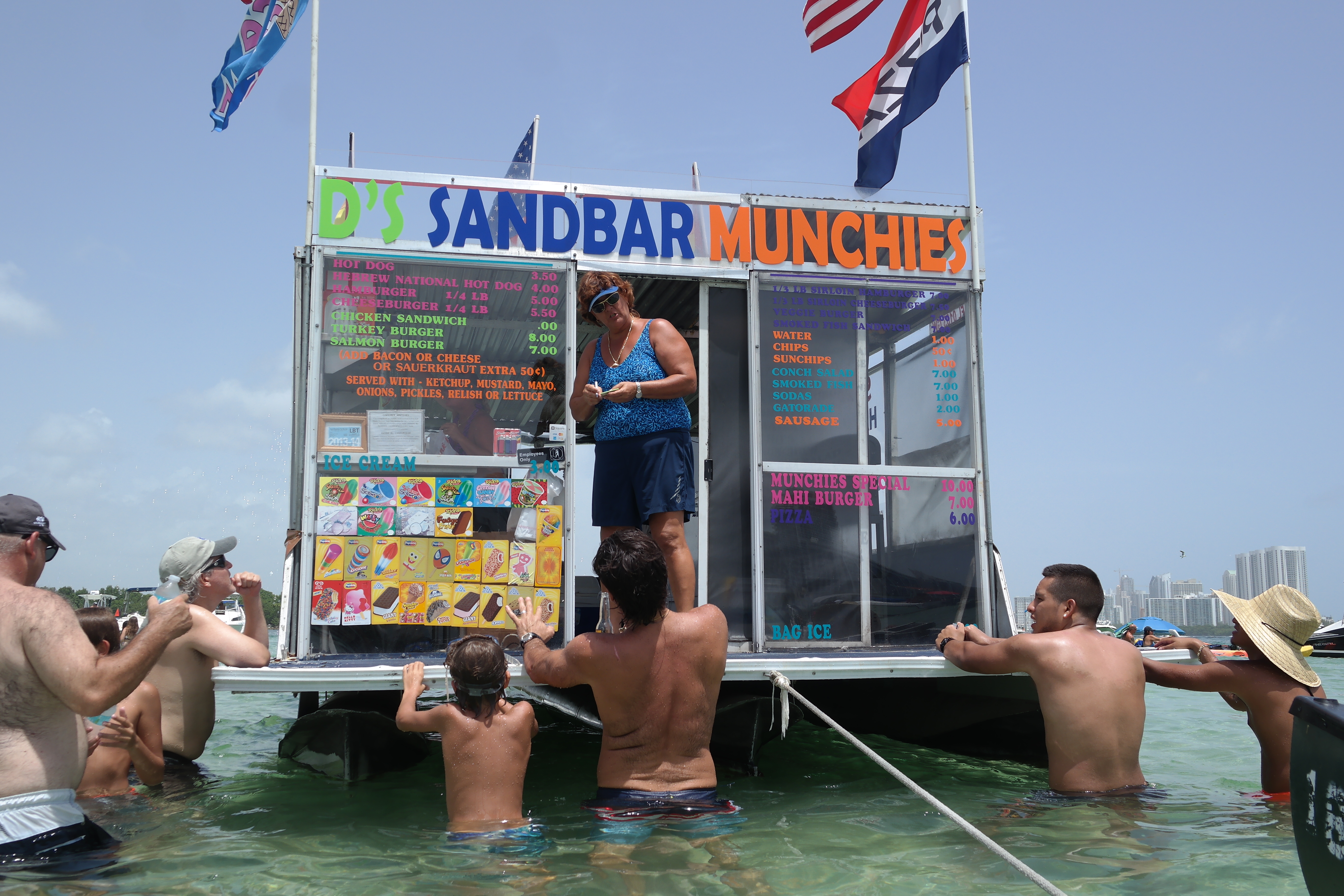 D Keeping The Big And Small Boys Happy!
Diann (the 'D' in D's Sandbar Munchies) and Kimberly are lovely people to boot, and after having been facebook friends for a while, finally meeting them was a real pleasure. Had it not been for them, I would not have known about the canoe launch in Oleta River State Park. They are the type of locals you will love meeting, in a place where the true locals are few and far between nowadays.
Do support them! Oh, by the way, they also do kayak deliveries straight to your boat, I saw one helper and even one of D's sons paddling his Mom's delicious fare all over the sandbar area. Seriously, can it get any better than that? Want to know more about them? I found a great article on Baysweep Concession (D's Munchies's previous name) from a couple of years ago, check it out here. Alternatively, just go and see them at the weekends!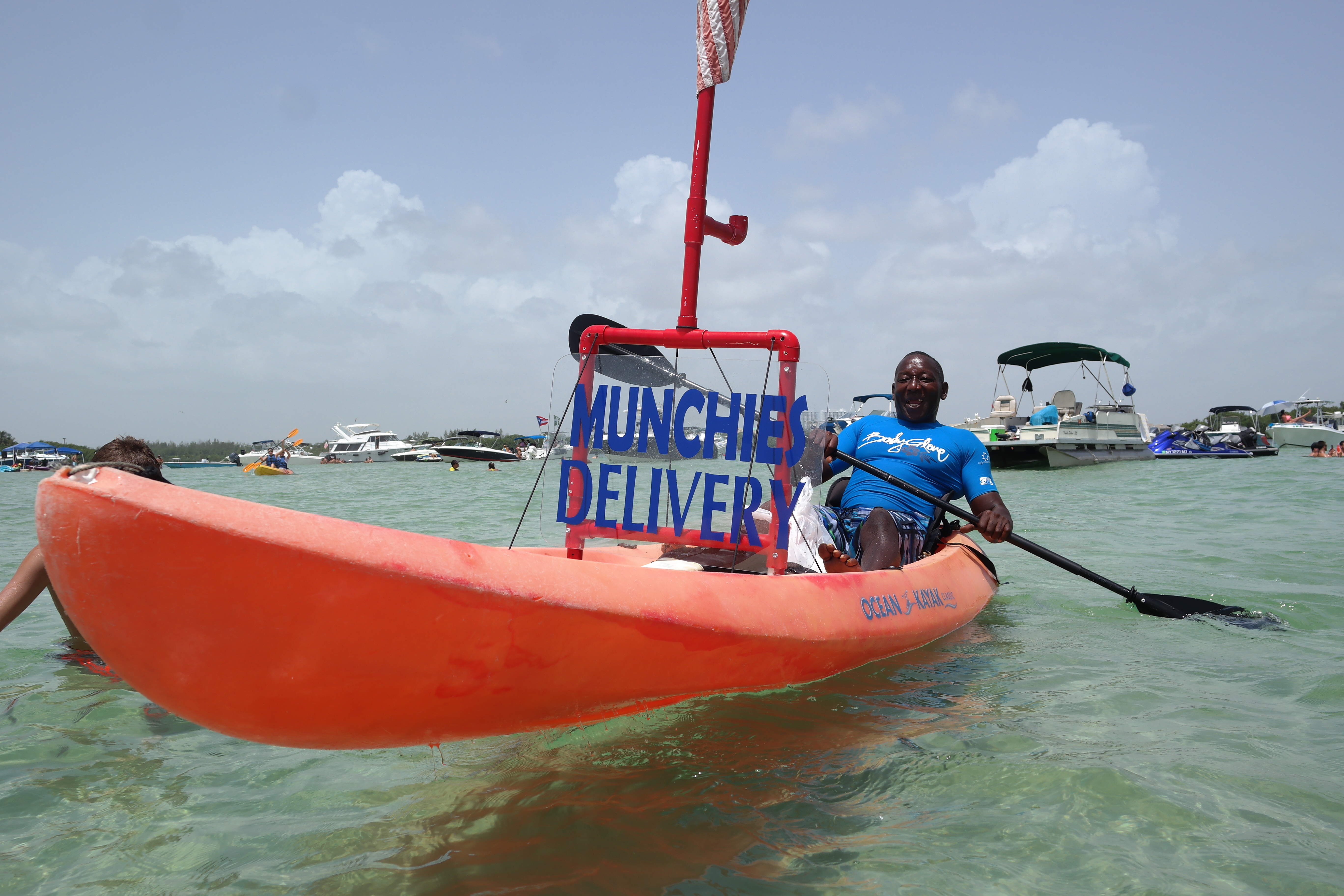 Kayaking Delivery!

A Detour To Beercan Island
So is it any surprise that our day of boating morphed into a day of 'hanging out at the sandbar'? Well, in the end, we decided to at least head over to nearby 'Sandspur Island', better ( and perhaps more appropriately) known as 'Beercan Island'. Yet another place where the boats anchor up, blast out some Latin music and the locals have a bit of a dance about in skimpy bikinis.
Here I was trying to re-create the atmosphere on a canoe, with help of music supplied courtesy of everybody else, and a couple of adult beverages bringing out the salsa queen in me. Wouldn't you say it's quite an achievement to 'dance' in a canoe?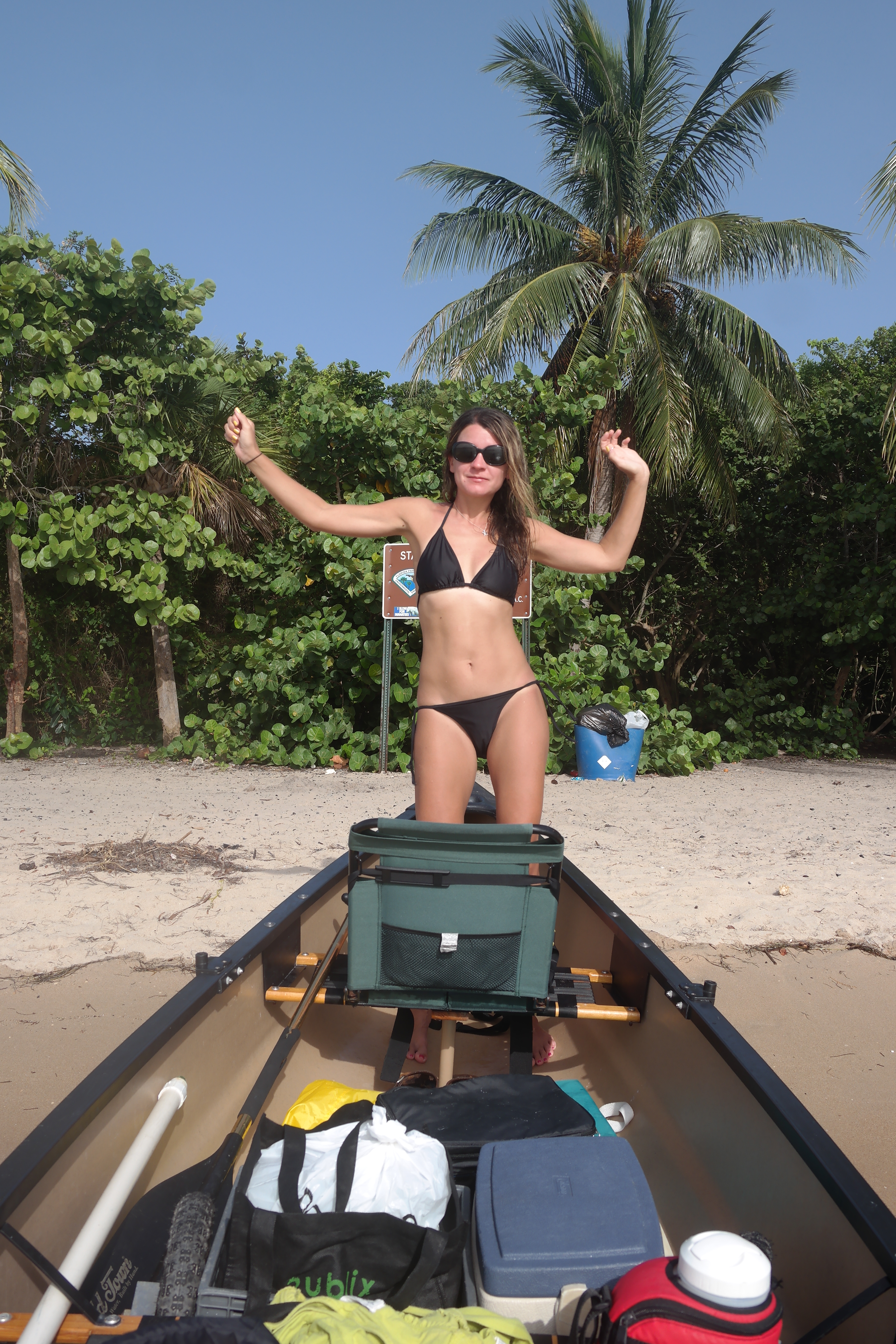 Getting My Salsa On
Unfortunately, even the most perfect day has to end at some point, and there comes the sad time to start up the motor and head back, after a wonderful day out on the water – until next time. Hopefully soon!
PS: Remember drinking too much and boating do not mix. Please be responsible and observe boating rules and etiquette, and most of all watch out for anyone who might be in trouble. Stay safe out there!