Tired of South Beach but love Miami? Ok, I might have just the ticket for you! Why not head down to Bayfront Park and Marketplace, where tourists and locals alike meet for a spot of shopping, salsa dancing and sightseeing, all at a fraction of the prices you would find on South Beach.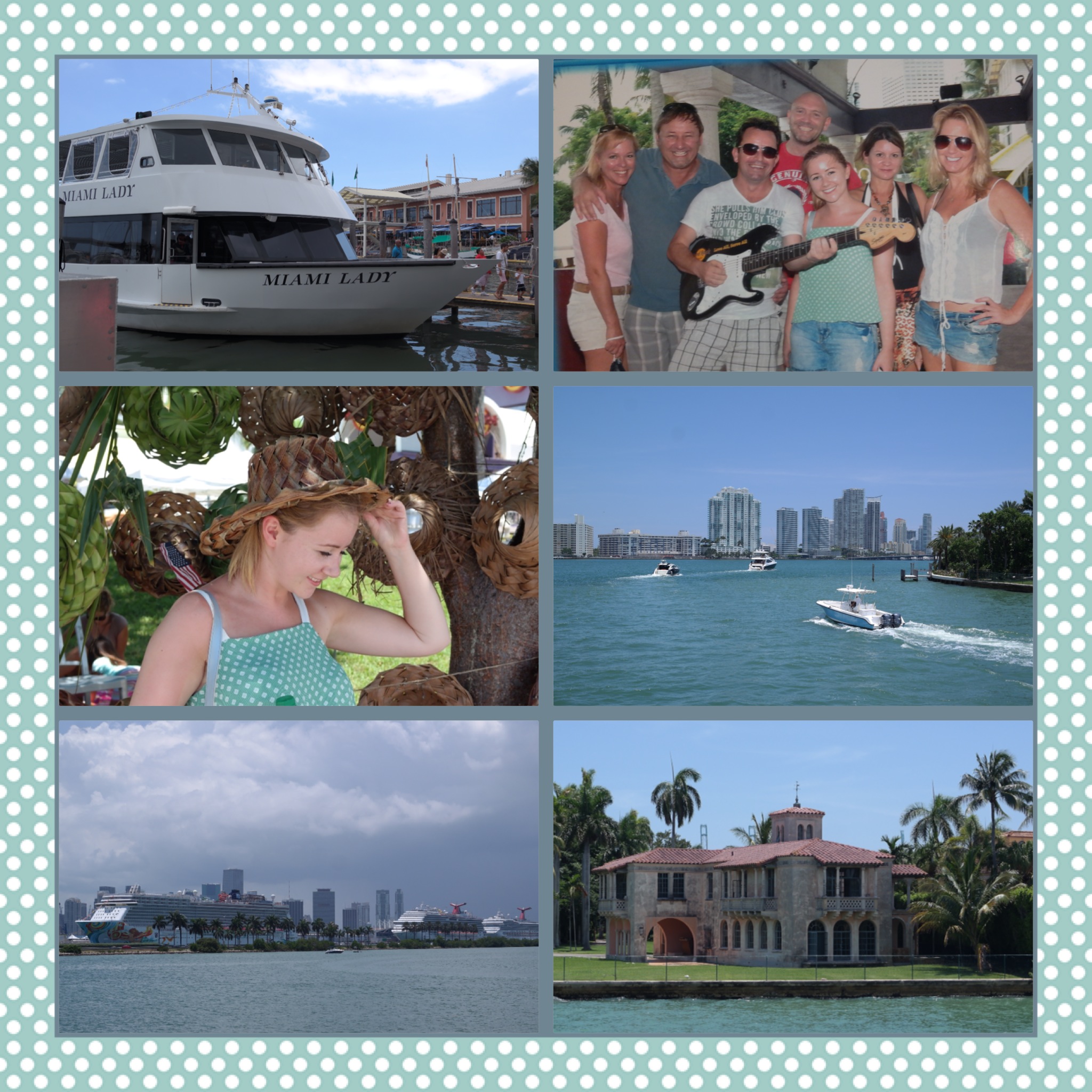 Bayfront Park
Bayfront Park is situated on Biscayne Boulevard close to the Port of Miami, looking out on Biscayne Bay. It has been around for quite some time, and is certainly historic by South Florida and Miami standards, with its construction beginning in 1924. Bayfront Park first opened in 1925 for the general public, looking very different from today. The original park was lined with different species of Palm trees, exotic fruit trees and flowers. Its construction was no mean feat:
'A retaining wall was built and the pumping of bay bottom, whose depth ranged from two to fifteen feet in the location of the proposed park, began. Pumping went on day and night for seven months until today's park had been created' (www. miamibayfrontpark.com).
Nowadays, Bayfront Park is more of an event venue and a place to take a nice stroll. Bayfront Park host the Ultra Music Festival yearly, as well as Independence Day and New Year's Day festivities, and many other events. The park sees hundreds of thousands of visitors every year.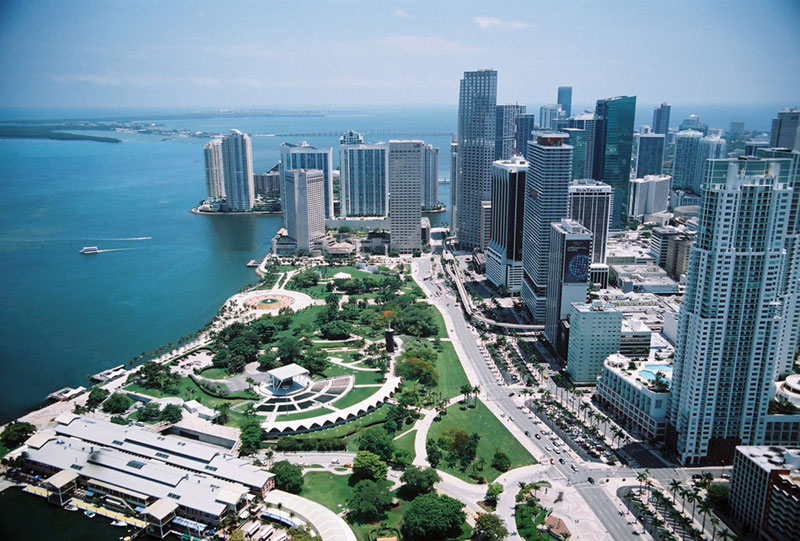 Bayfront Park
(Image credit www.bayfrontparkmiami.com)
Bayfront Marketplace – Shop And Eat!

Bayfront Marketplace, the shopping and entertainment area to the north of Bayfront Park, was built in 1987. It complements an existing marina and is framed by Bayfront Park to the south and American Airlines Arena to the north.
The shopping area/mall features all the modern shops you would expect in any mall (albeit smaller versions), as well as plenty of local vendors selling souvenirs and unusual trinkets from little stalls. Additionally, there are plenty of eateries serving the local specialities and Cuban food, as well as the world famous Hardrock Café.
Then, of course, with the marina right there, you have the opportunity to take different themed boat-trips around the area. For example, there is a speedboat for those who want a little thrill, as well as more traditional vessels and even pirate themed boats! Additionally, you also have the possibility to take the water taxi and get to South Beach leaving the car behind. There is something for everyone here!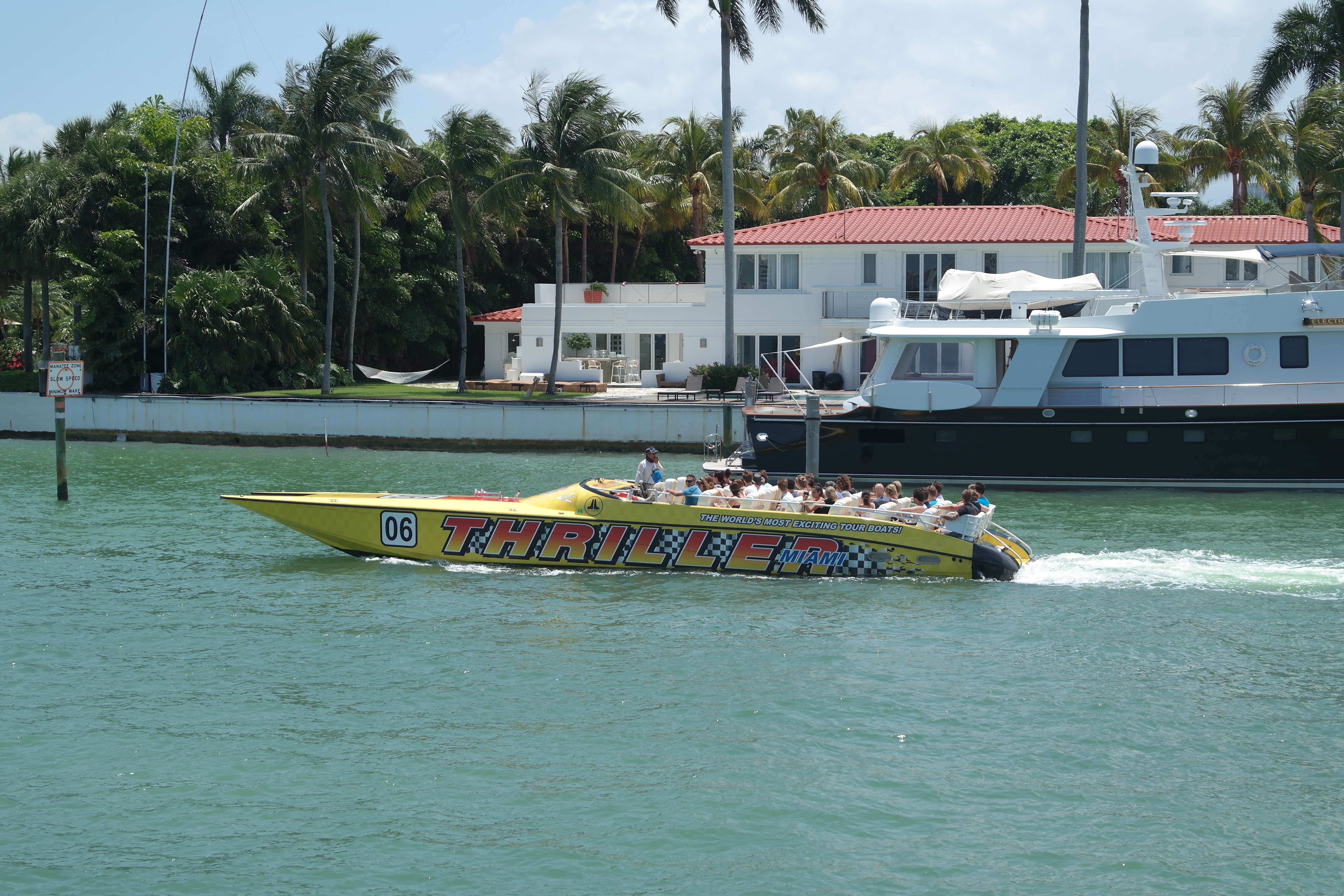 Anyone For Some Speed?
Whatever you do, if you are in Bayfront Marktplace, you must not miss the dancing! In the middle of the mall and vendor area outside, there is a bandstand with seating and dance floor area, where local bands play music and people of all ages meet to dance. If you head there for a weekend afternoon out, do check out the live music area in the middle of the mall by the water. You will see 90 year-olds dancing with 5 year-olds and all ages in between, and trust me: you will be entertained by the 'regulars', who know all the songs and steps!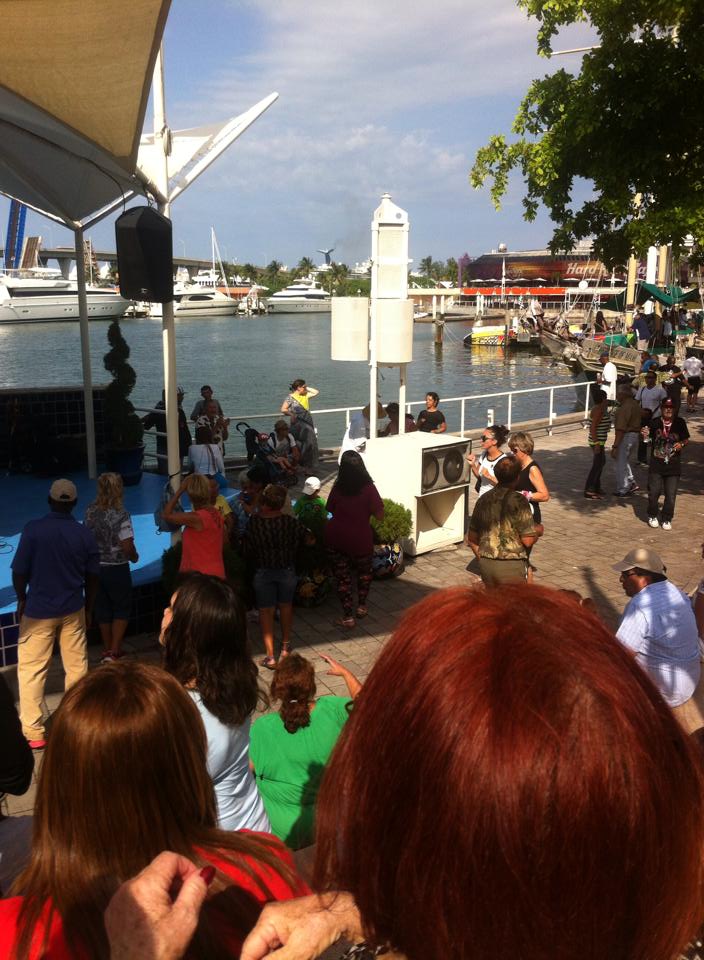 Bayfront dancing
Explore Miami By Water
We elected to go on a little boat-trip on the Miami Lady. Now, if like me, you have been spoilt by 'friends with boats', who have taken you all around the area on a little private excursion, including down the Miami river (something this boat won't do), then you might want to skip this part. At nearly $30 for an adult, I did think it was a bit steep for an hour and a half, but then I speak as an 'almost' local.
If you are a tourist wanting to explore the area, or want to show your visiting family what Miami is all about, and are not blessed with friends with boats, then this is a great way to see the waterfront areas. The trip will take you past the exclusive fisher island, and you will cruise past some of the mansions on star island, both tied to early developer Carl Fisher. Exclusive properties started to spring up in the 1920's here.  Both islands are highly exclusive and the houses are owned by many well known celebrities, including the well-loved local girl Gloria Estefan and her husband Emilio.
You will also get to see the cargo area of the Port of Miami, which is always interesting with huge cranes, and large cargo vessels being loaded and unloaded. In the distance there are the passenger cruise ships to look at also.
This is pretty much all this type of boat-trip will do. As we had a few tourists amongst our group of friends, we had some fun on this cruise, and then decided to have lunch at Bayfront Marketplace, where you are absolutely spoilt for choice, at prices that are nowhere near South Beach level, which explains the high percentage of locals frequenting this park and mall.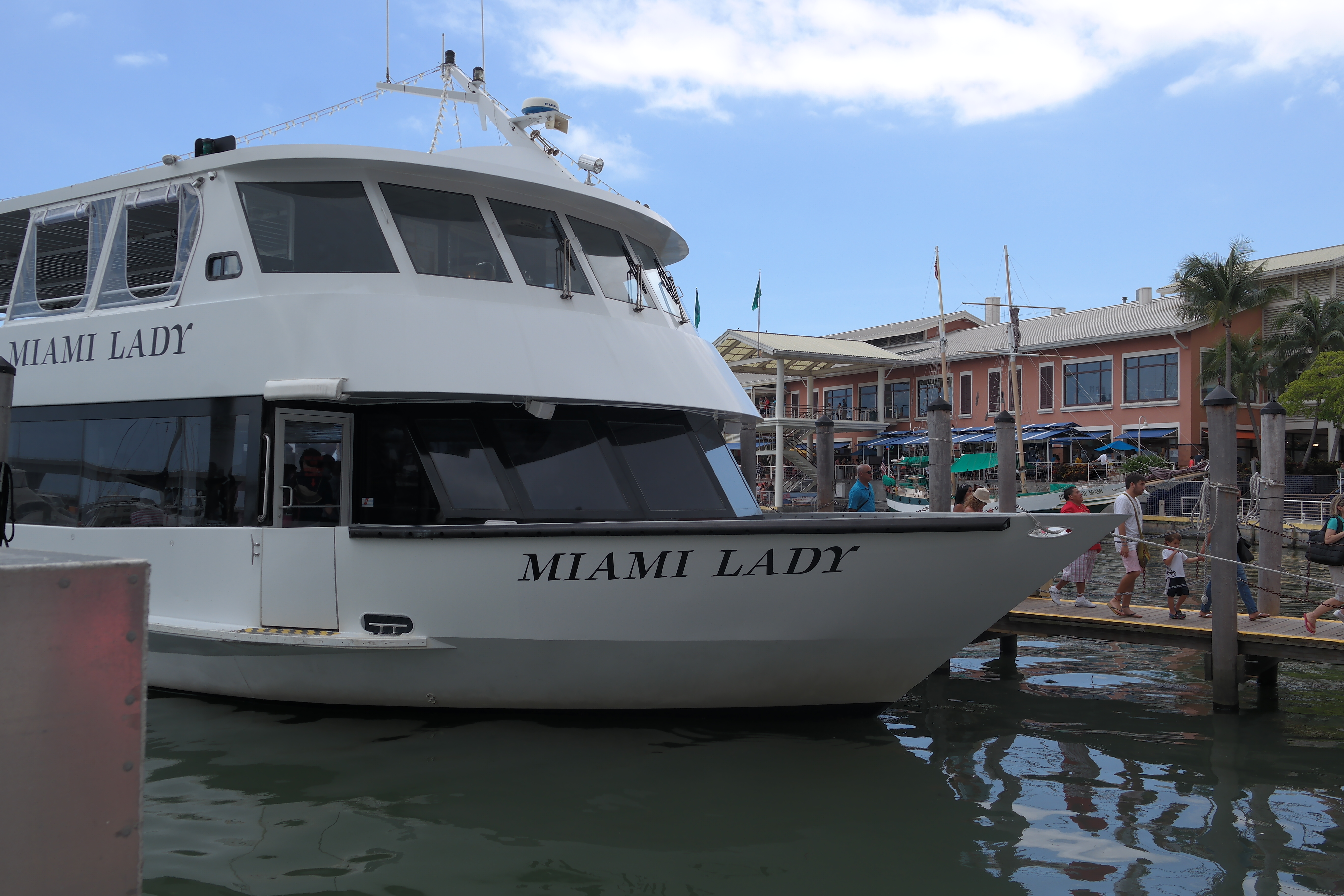 Miami Lady at Bayfront
Still Time To Spare?

And now? You spent a good few hours at Bayfront Park and Marketplace and have more time to spare? Well, great. From this location, you have all kinds of possibilities.
You can finish the evening off in style and treat yourself to a lovely dinner at an amazing venue and a Miami Institution, the Biltmore Hotel in Coral Gabels. There probably isn't a better way – in my humble opinion – to round off the day, than with this relaxing place, especially after some heavy sightseeing.  Want to know why? See my post about the Biltmore Hotel:
Too plush and pricey for you? Want to go somewhere informal by the water? Watch the locals taking their boats out? Ok! I have you covered! Hop into the car, get yourself to Key Biscayne which is not far from Bayfront, and sit yourself down at Whiskey Joe's. Oh I love that place for many reasons. The food is fabulous for the price (solid bar food, great fish sandwiches). Feels like The Keys, and it has a very chill atmosphere with mostly local boating folks. They even have a happy hour! Check out their website: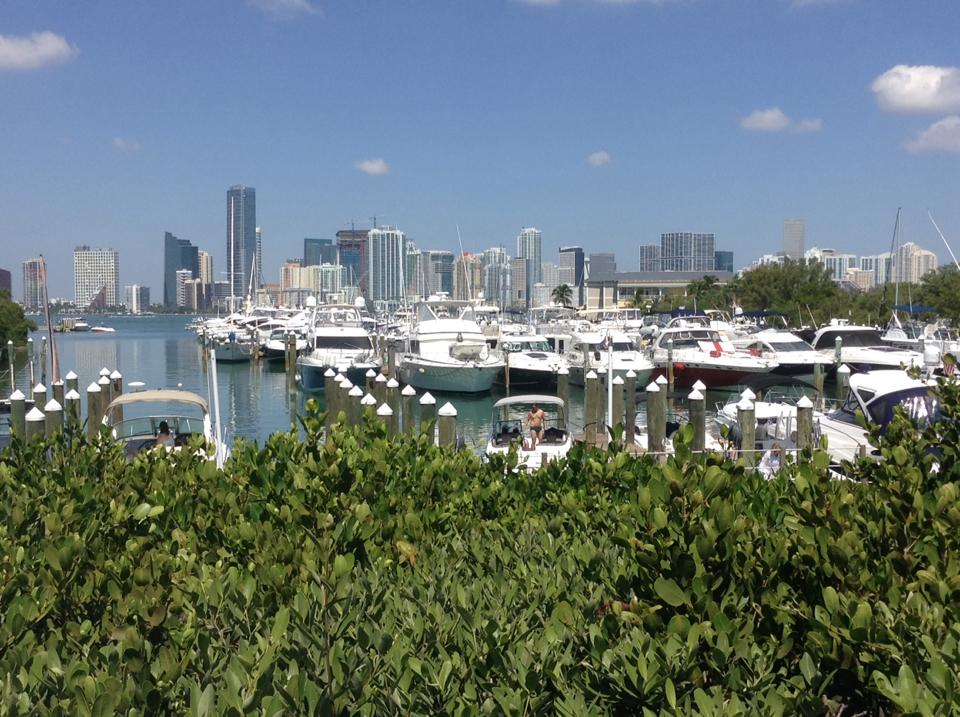 Whiskey Joe's View
Alternatively, of course South Beach is just a bridge away from Bayfront, or a water taxi ride. We elected this time, on account of having tourists with us, to take a little detour via South Beach on our way home. Of course, South Beach never disappoints when it comes to people and venue watching. The art deco buildings, the many eateries, entertainment venues and shows you can see, are always worth a visit. The old faithful Clevelander always has 'showtime' at night, and The Palace is always a fun place to walk past and catch a glimpse of a singing and dancing drag queen.
Want to go where the locals go? There are plenty of options to eat just off the main beaten track on South Beach, just a couple of blocks in from the beach on Washington Ave. However, if you want to stay close to the action, and are feeling ready to spend a couple of bucks, I recommend the Ritz Carlton outside area just north of the 'strip' on South Beach. It is an oasis of calm, with lovely ocean views and often sporting live music. This time, however,  we went with 'Nikki Beach Club', which is south of the main strip, almost at the southern tip of South Beach.
Nikki Beach Club is still a little pretentious for my taste, with $5 water bottles (shock, horror!), but it is right on the beach and definitely worth a visit. It is also slightly hidden and a hang out for local young to middle aged professionals. Bring your bikini, the beach is right there, they have fresh water showers and beach chairs on the property. We spent a nice hour there and even had some dancers to watch: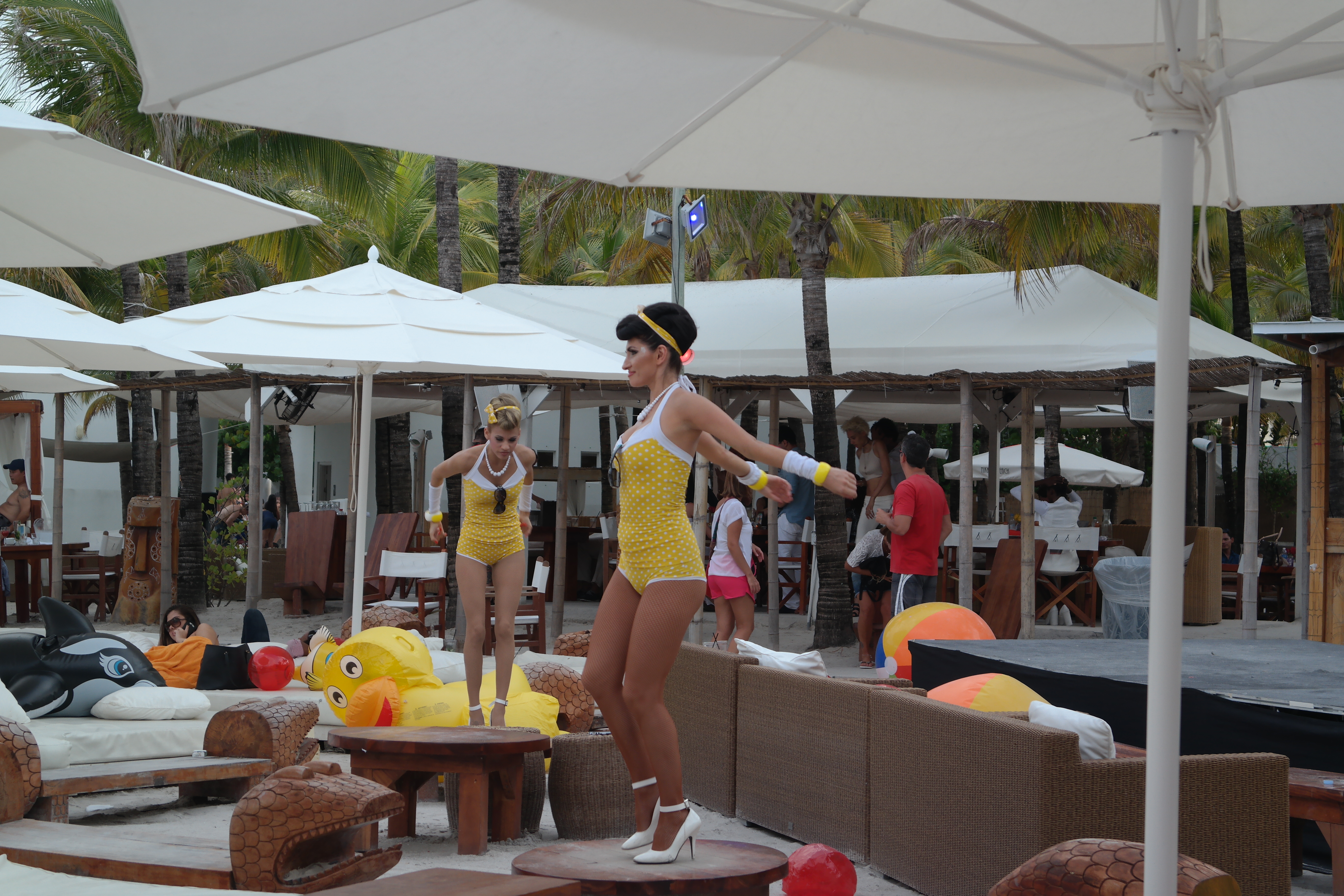 Not to forget, if you are in South Beach, there is also Lincoln Road for more shopping and eating, and if you head there don't forget to pop into the art gallery 'Art Center South Florida', where you don't just see art, in fact you get to look inside the artists studios and might be lucky enough to catch them 'at work'. Always a favorite of mine!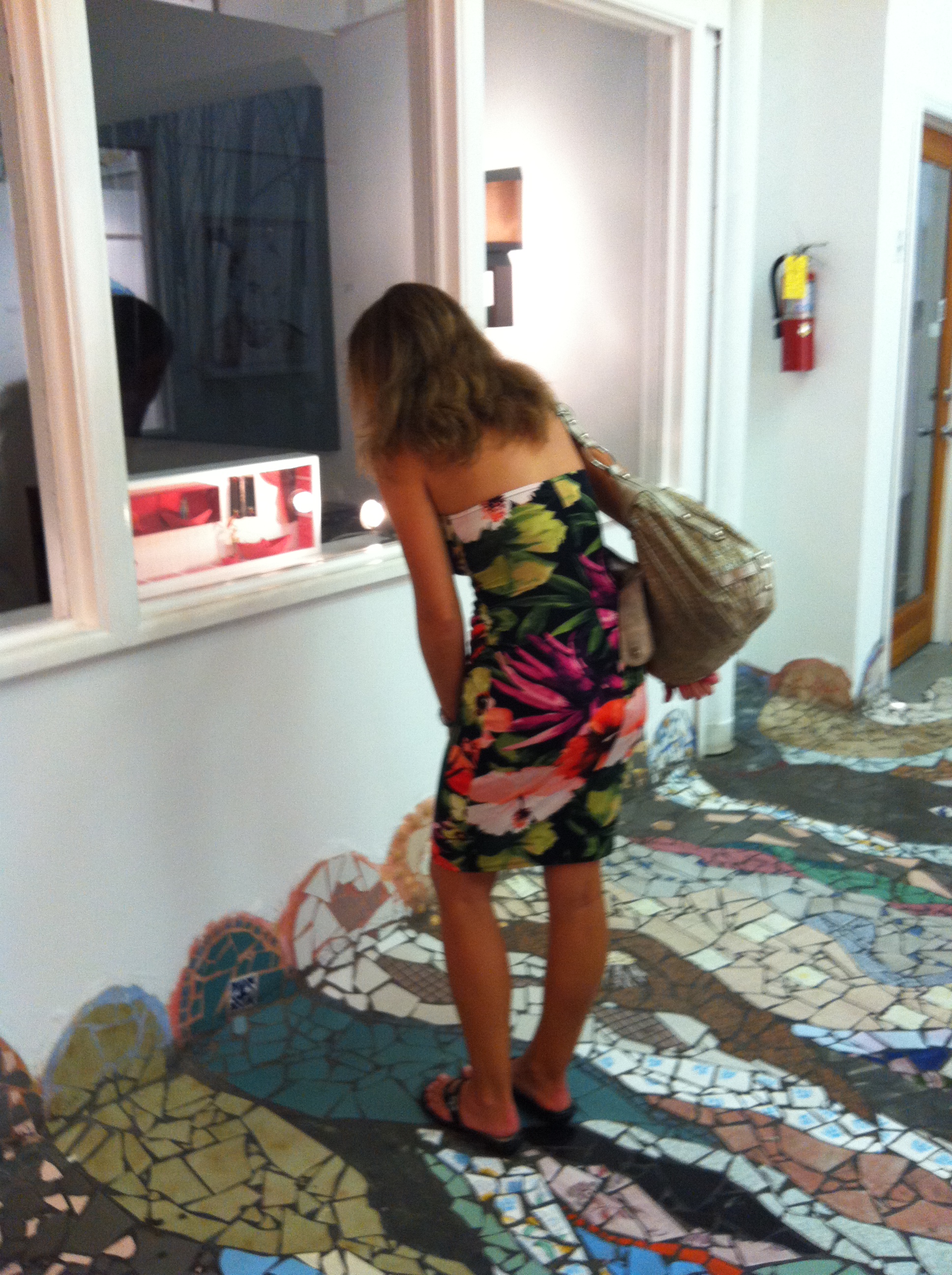 Art!
Personally, I am a big fan of ending my day at Monty's Sunset on the southern end of South Beach, part of the marina complex. Why? Well, most tourists don't find their way here, and you will be mixing and mingling with the locals. Other than its location, there is nothing very special about this place, it is just a large sports bar type establishment, but they do have a pool and they also have a fabulous view of the sunset. This is my 'go to' place to finish a day off in Miami, and it also doesn't break the bank!
This just a little collection of things to do in Miami that might not be the typical tourist path. The possibilities are endless, and I certainly only scratched the surface, but if you follow the steps above, I guarantee you will have a great day out in Miami and you will not need to take out a mortgage to cover it!
Further Reading:

Miami Then and Now (Then & Now)
Fodor's South Florida 2014:
with Miami, Fort Lauderdale, and the Keys (Full-color Travel Guide)